What Is the Best Shoe Cleaner This 2023?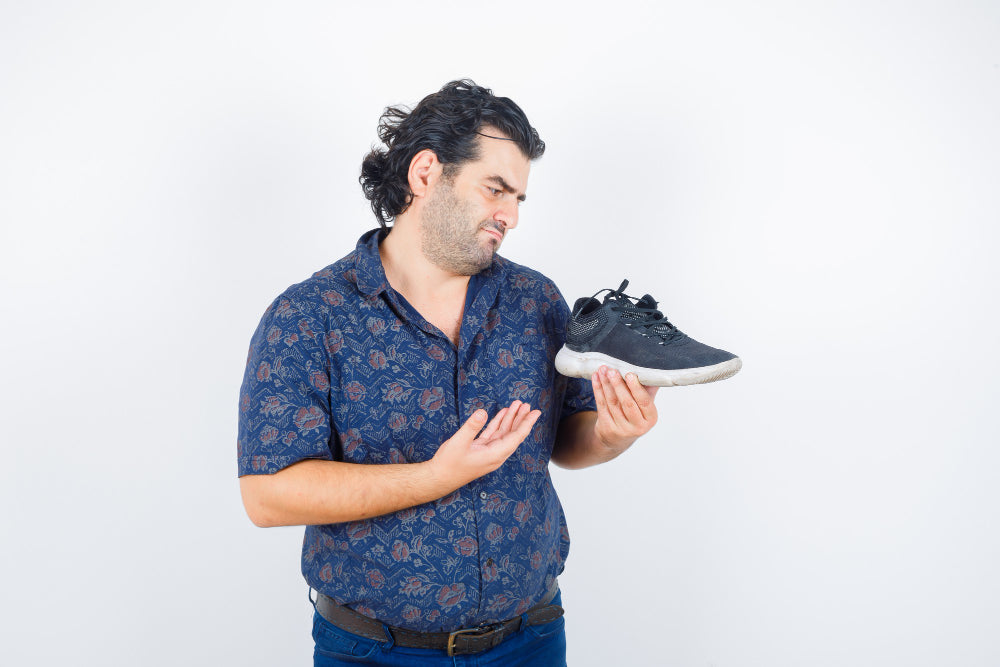 Are we talking about a sneaker cleaner, or the best shoe cleaning products for suede shoes or leather?
Regardless, the right shoe cleaner goes a long way, not just for your shoes and boots, but also for your image and confidence.
Picture this: you're stepping out in your favorite suede shoes, only to notice a stubborn stain that dampens your shine. Or, you're in your top-notch leather shoes, but dirt and stains are stealing your thunder. That's where top-tier shoe care products come in.
Designed to tackle these common issues, the right sneaker cleaning products will turn your stained shoes into spotless wearables, adding life and gloss to your footwear.
Best Shoe Cleaner for Leather Shoes
Leather shoes require special care to maintain their style and longevity. The right cleaning products can significantly extend the life of your footwear. Top-tier choices like Jason Markk, Reshoevn8r, and Stone and Clark all offer excellent leather shoe cleaning solutions.
Jason Markk's Essentials Kit is an all-rounder for footwear maintenance. It includes a 4oz cleaning solution, a standard brush, microfiber towel and a premium bristle brush. This pack covers all the basics, ensuring your shoes are treated with the care they deserve.
Reshoevn8r, another top contender, offers an impressive shoe cleaning starter kit. This set includes an all-purpose cleaning solution, a microfiber cloth, and a shoe brush. The all-purpose solution works great on various materials, making it a versatile pick for anyone's cleaning collection.
Stone and Clark Leather Cleaner - 12PC Leather Shoe Shine & Care Kit for Men and Women
However, for the best overall choice, Stone and Clark's 12pc Leather Shoe & Shine Care Kit is hard to beat. This comprehensive kit includes a cleaning brush, microfiber towel, and shoe polish, making it an indispensable tool for both men and women. The high-quality microfiber towel ensures gentle cleaning and polishing, while the robust bristle brush efficiently removes dirt. 
The all-in-one cleaning solution is perfect for keeping your shoes in tip-top condition. If you're after a well-rounded, all-purpose shoe cleaning kit, Stone and Clark's offer is a perfect pick. The top-notch quality and comprehensive tools included are unparalleled, earning it the title of 'best overall' in leather shoe cleaner kits.
Best Cleaner for Sneakers
Jordans, Nikes, or Adidas, every sneakerhead knows the joy of sporting clean, crisp white sneakers. Unlike nubuck or leather, keeping a pair of white shoes clean is a challenge in itself. Angelus sneaker cleaners have made a name in the market for their ability to deep clean and remove stubborn scuffs, lint, or dirt from your beloved kicks.
They offer sneaker wipes and cleaner wipes that are easy to use and provide an instant clean, a white shoe whitener that restores the original brilliance of your white shoes, and a specialized suede cleaner for your suede sneakers. Despite offering top-tier cleaning products, they also manage to put their products on sale frequently, giving you more bang for your buck.
Stone and Clark All-In-One Sneaker Care Kit
However, for an even more comprehensive solution, consider our all-in-one sneaker care kit. Catering to all your sneaker cleaning needs, it includes a 250ml sneaker cleaner for a deep clean, a 250ml deodorizer to keep your shoes smelling fresh, and a 250ml Water and Stain Repellent to protect your kicks from the elements.
It also includes a soft bristle brush for a gentle clean, a suede brush for your suede sneakers, and a sponge for application. This all-in-one kit is a must-have for every sneakerhead who values their collection and wishes to keep their sneakers in peak condition.
Tips When Cleaning Your Sneakers and Leather Shoes
The thing about sneakers and leather shoes is that they can be damaged when cleaned improperly or with inappropriate products. For sneakerheads, their precious collection is more than just footwear; it's a symbol of individuality and style. Thus, proper cleaning and maintenance are crucial. Here are some tips from top cleaning experts:
Use the Right Cleaner:

A concentrated cleaner, especially designed for footwear material, should be your go-to. For example, for suede shoes, using a cleaner for suede like Tarrago Suede Renovator is one of the best ways to ensure you won't cause damage.

Scrub Gently:

If your footwear has intricate design details or delicate material, a soft scrub is recommended. A harsh scrub can potentially damage the surface.

Don't Forget the Sole:

The shoe's sole may wear and tear quickly due to constant contact with the ground. Regular cleaning can help maintain its integrity.

Use a Stain Remover:

As secret sneaker cleaners, stain removers can do wonders. They work on the principle of penetrating the surface and lifting the dirt or stain particles.

Avoid Over-Cleaning:

Cleaning too frequently can cause the material to degrade. Clean your shoes only when necessary.

Dry Properly:

After cleaning, always let your shoes dry naturally. Avoid direct sunlight as it can cause discoloration.
Sneaker Pro Cleaning & Deodorizing Kit
To make the process easier, Stone and Clark offers the Sneaker Pro Cleaning & Deodorizing Kit. This comprehensive kit includes a 5.7oz cleaner solution, a 1.35oz deodorizer spray, a soft bristle brush for delicate cleaning, and a hard nylon brush for more robust cleaning needs. This kit is the perfect ally for every sneaker enthusiast, ensuring your footwear always looks its best.
Why Material Matters When Choosing a Shoe Cleaner
Now, you might be asking, "Why does the material of my shoes matter when choosing a shoe cleaner?"
The answer lies in the unique cleaning needs of different materials. For instance, the best cleaner for white shoes often contains agents that can brighten and restore the shoe's original color.
On the other hand, canvas sneakers need a gentle approach that won't compromise their fabric.
Outdoor shoes like hiking boots require a sturdy cleaner capable of dealing with tough dirt and grime.
The best sneaker sole cleaner can penetrate deep into the crevices of the sole, removing stubborn dirt particles. A foam cleaner might be your best bet for this task. The foam formula latches onto dirt and lifts it off the surface, enabling easy removal.
Investing in the best cleaning products for your shoes not only ensures their durability but also maintains their aesthetic appeal. Remember, as an affiliate, we may earn from qualifying purchases when you buy through links on our site.
Choosing the right shoe cleaner is essential to keeping your footwear in optimum condition. So, consider your shoes' material and pick the right product for the best cleaning results.
Key Takeaways
We have thoroughly researched the best all-purpose cleaners for different shoe materials.
Whether you own leather or suede, canvas or synthetic, there's a specialized solution for you. Our all-in-one kit comes with everything you need for an effective clean, including brushes, deodorizer, and protectant.
These products can also be used to extend the life and maintain the quality of your footwear. Don't compromise on your footwear's care. Invest in our top-rated cleaning solutions and witness the difference for yourself. Shop now and give your shoes the care they deserve.
Subscribe to our newsletter and receive a selection of cool articles every weeks