Stone And Clark
Regular price
Sale price
$29.99
Unit price
per
Sale
Sold out
Buy On Amazon.com
Buy On Amazon.ca
Premium Bundle - Get more value for money with this complete sneaker cleaning kit for your sneakers. It includes a 5.7oz cleaner sol, 1.35oz deodorizer spray, 1 soft bristle brush, and 1 hard nylon brush.
Clean Without Worries - Keep your kicks pristine without damaging or fading them. Our shoe cleaner solution effectively removes stains, marks and spots without any harsh or abrasive components.
Versatile Shoe Cleaning Kit - This shoe cleaner kit can be used on any sneakers. The soft brush is for sneakers with soft materials like suede while the hard bristle brush is for hard materials like the sole.
Don't Let Odors Stop You - The deodorizer in this shoe cleaner sneakers kit effectively minimizes odors so you feel fresh and clean even if you wear your sneakers all day. Step out in confidence!
Great Gift Idea - Any sneakerhead and shoe collector would love to have this ultimate sneaker cleaner kit at their disposal! This shoe care kit can be given on birthdays and other special occasions.
Share
View full details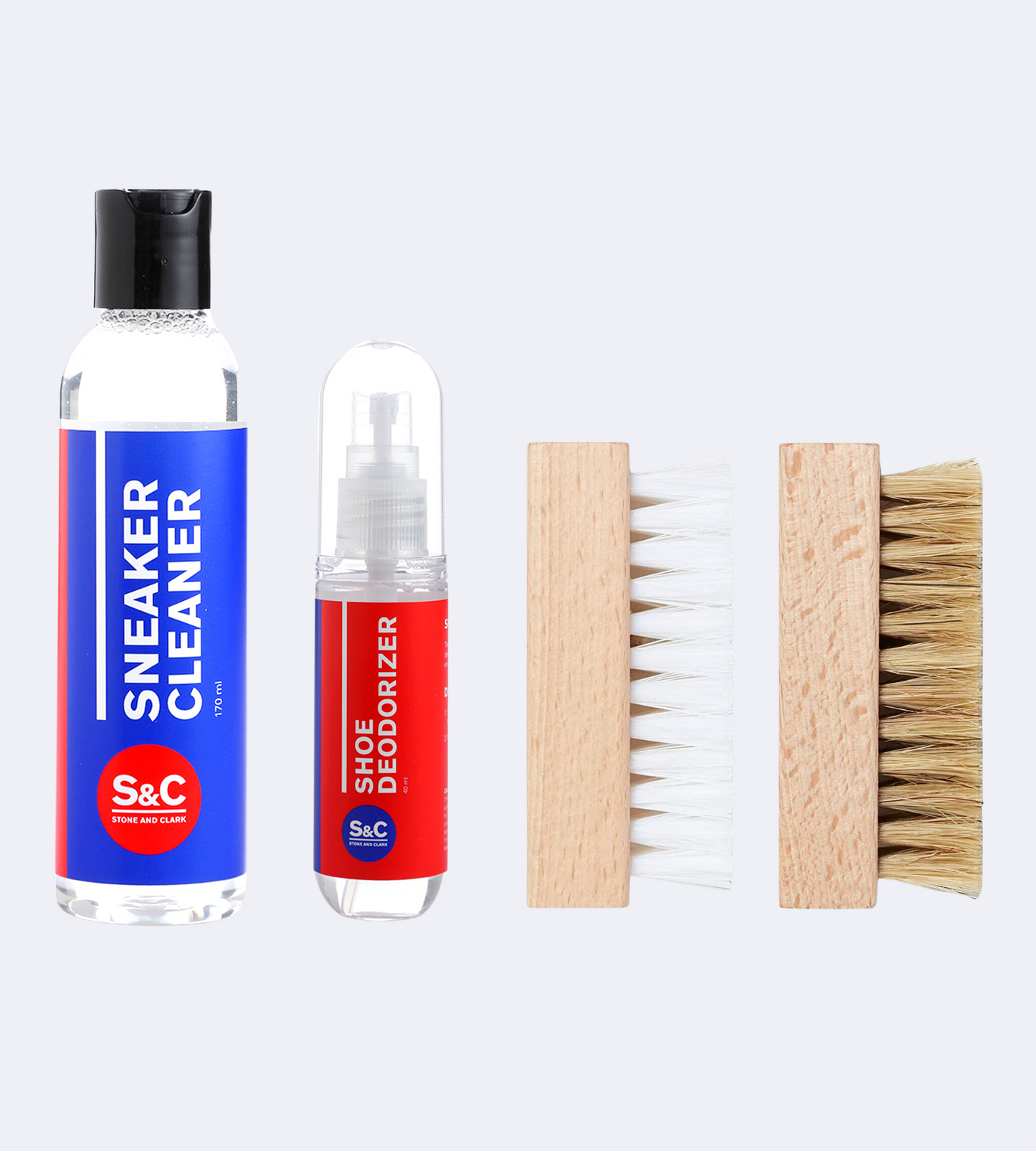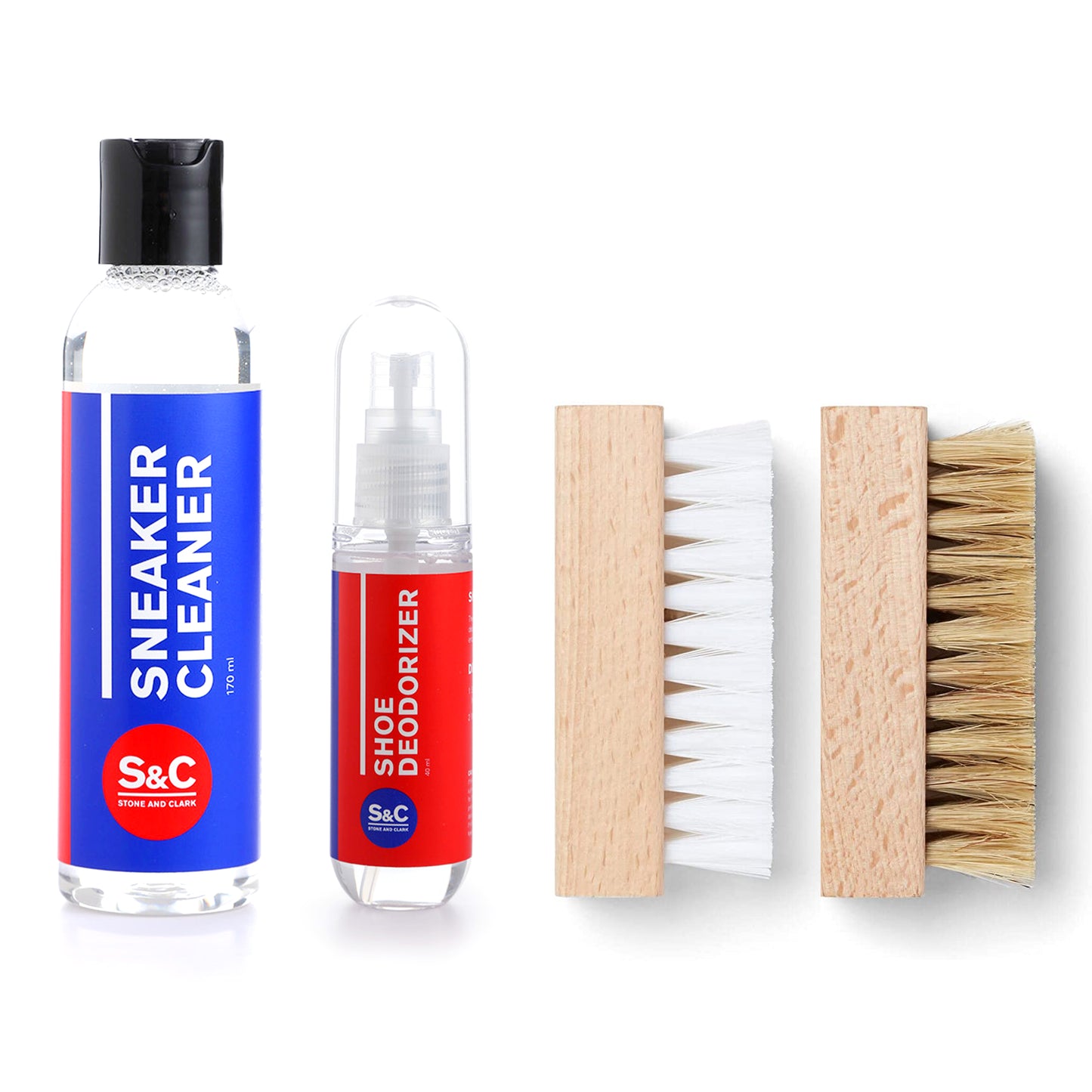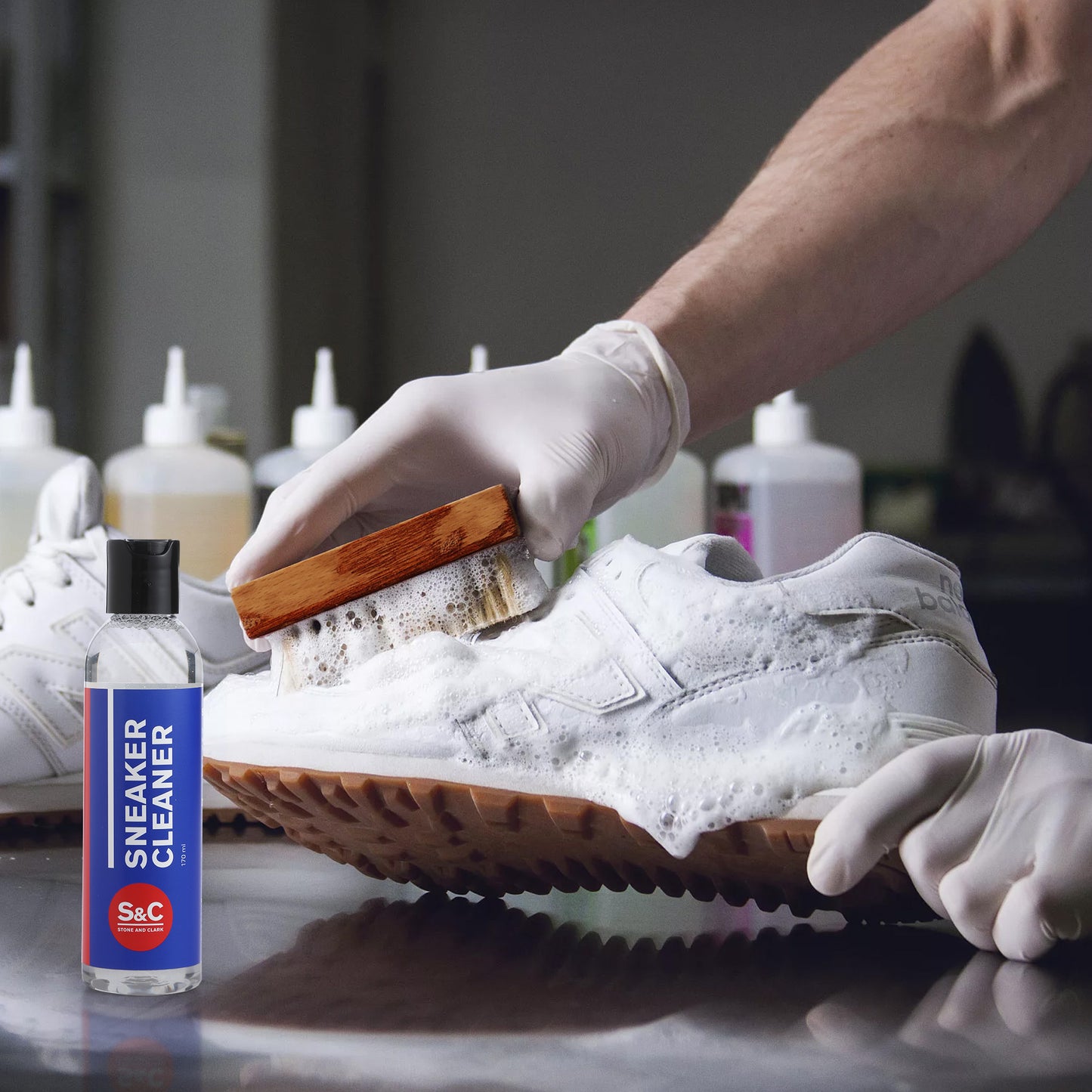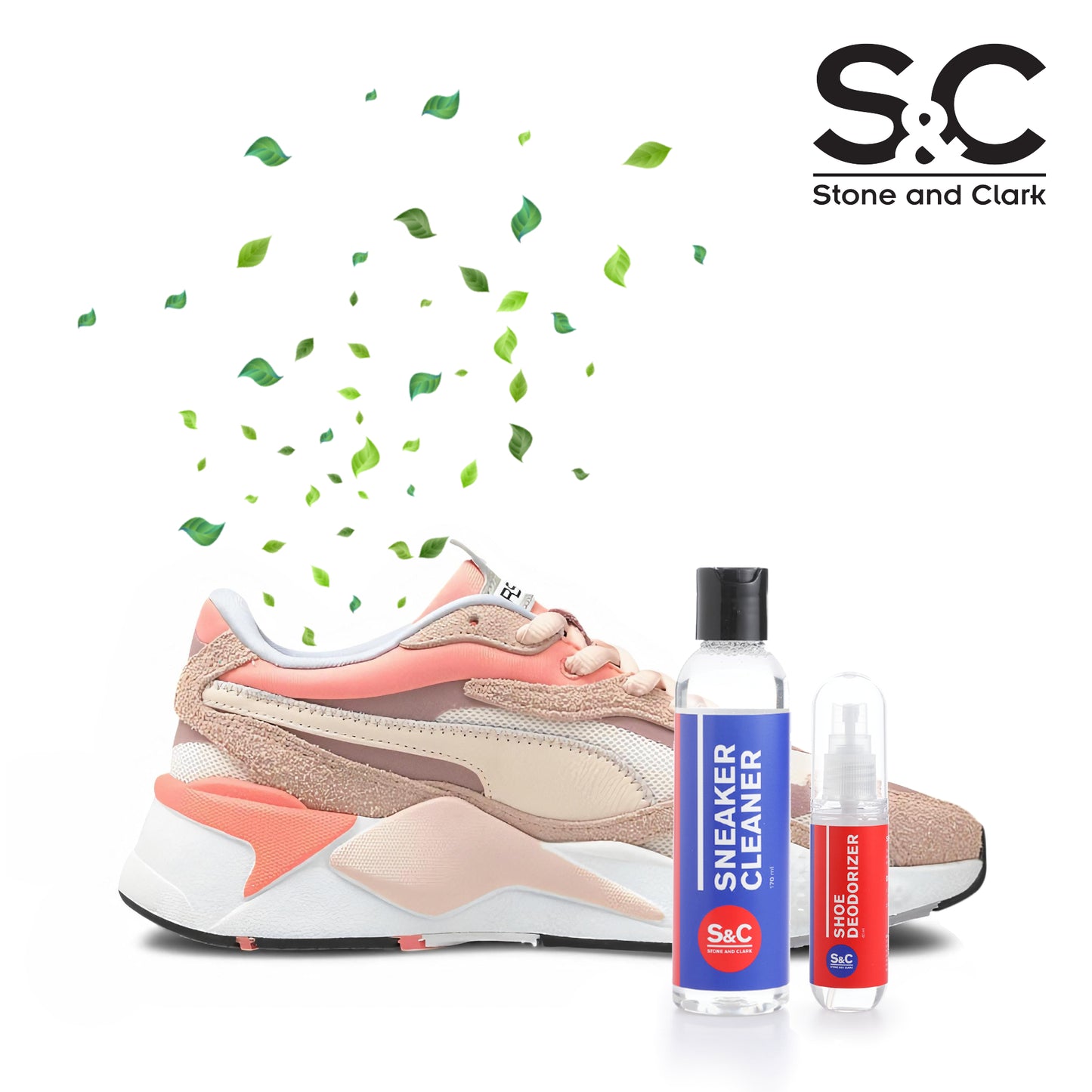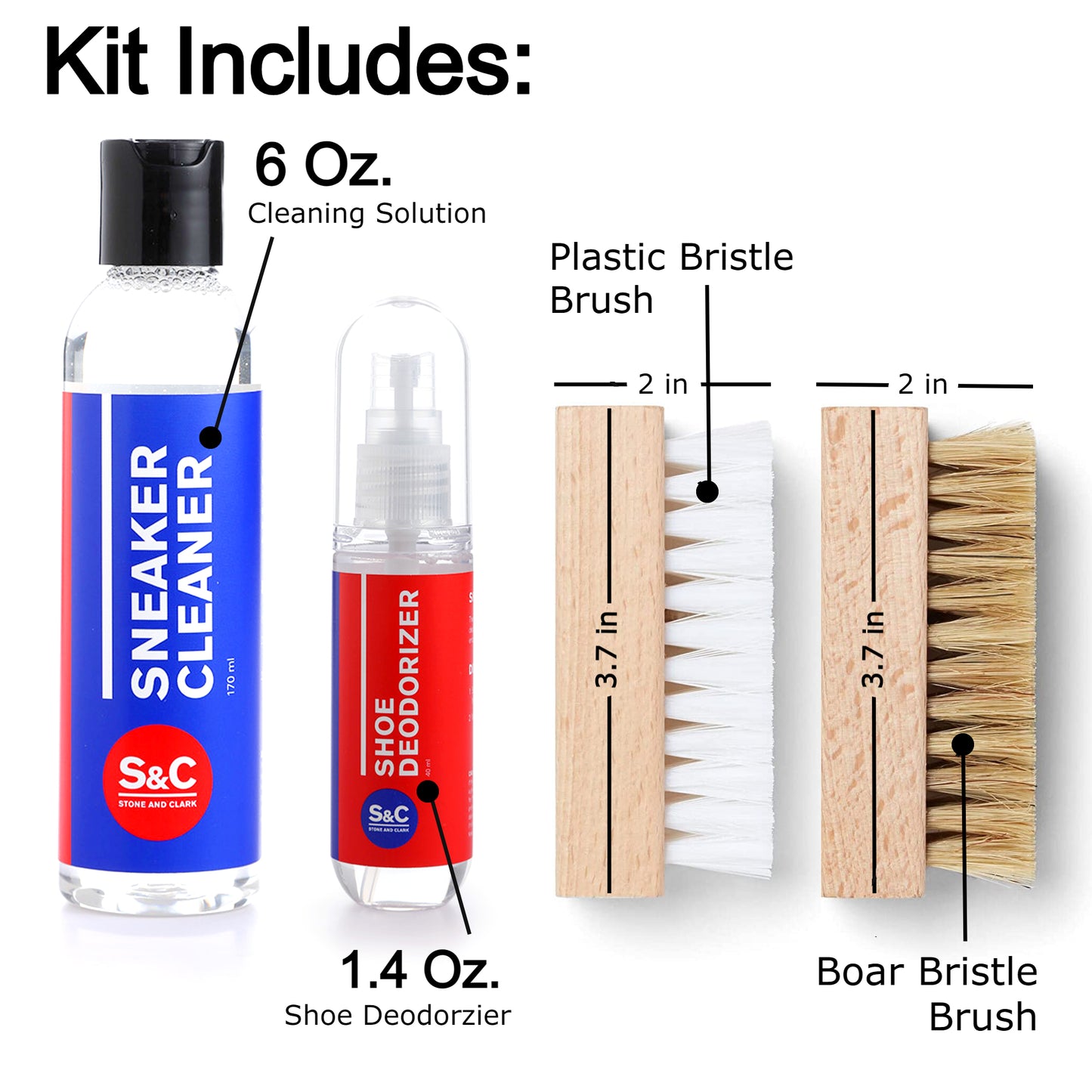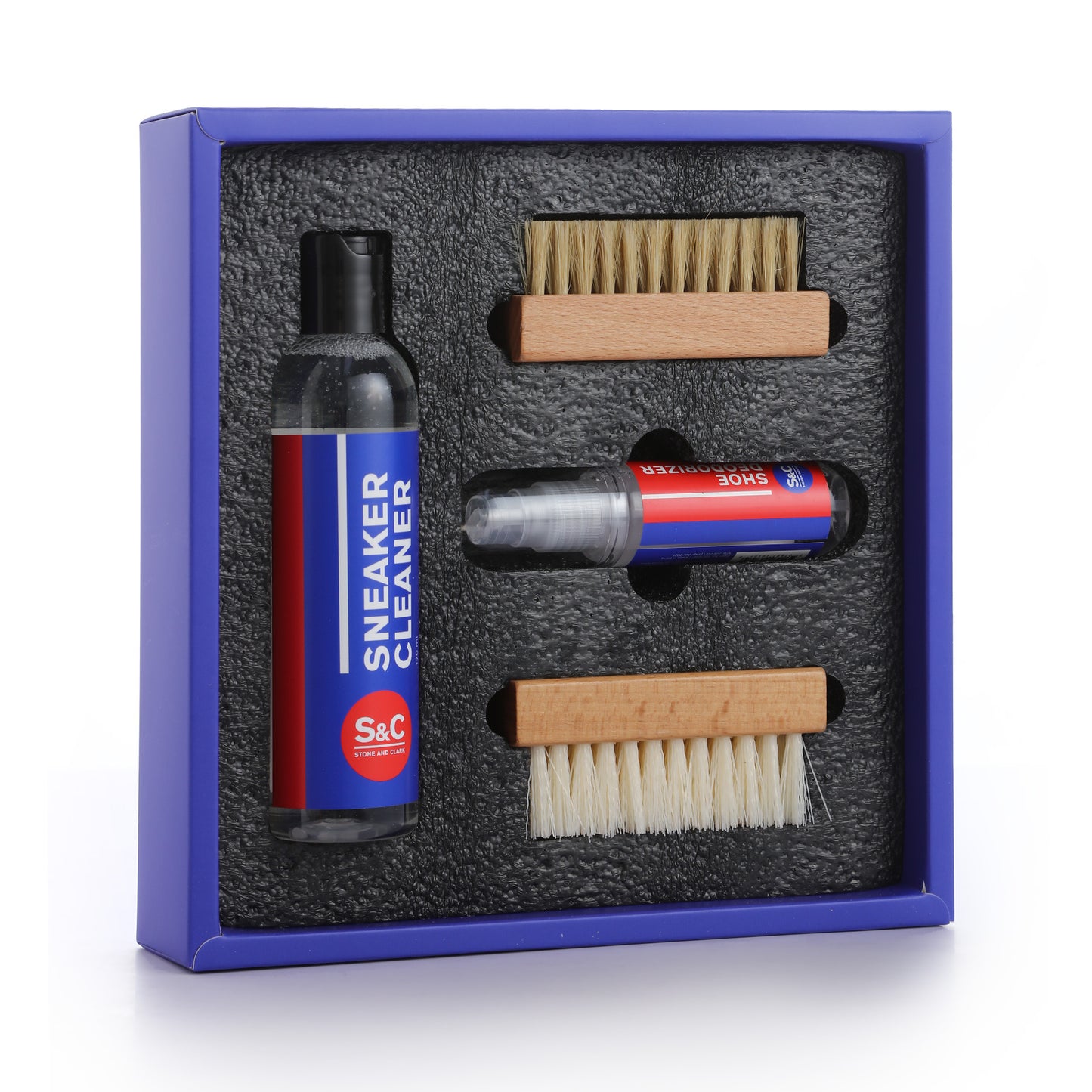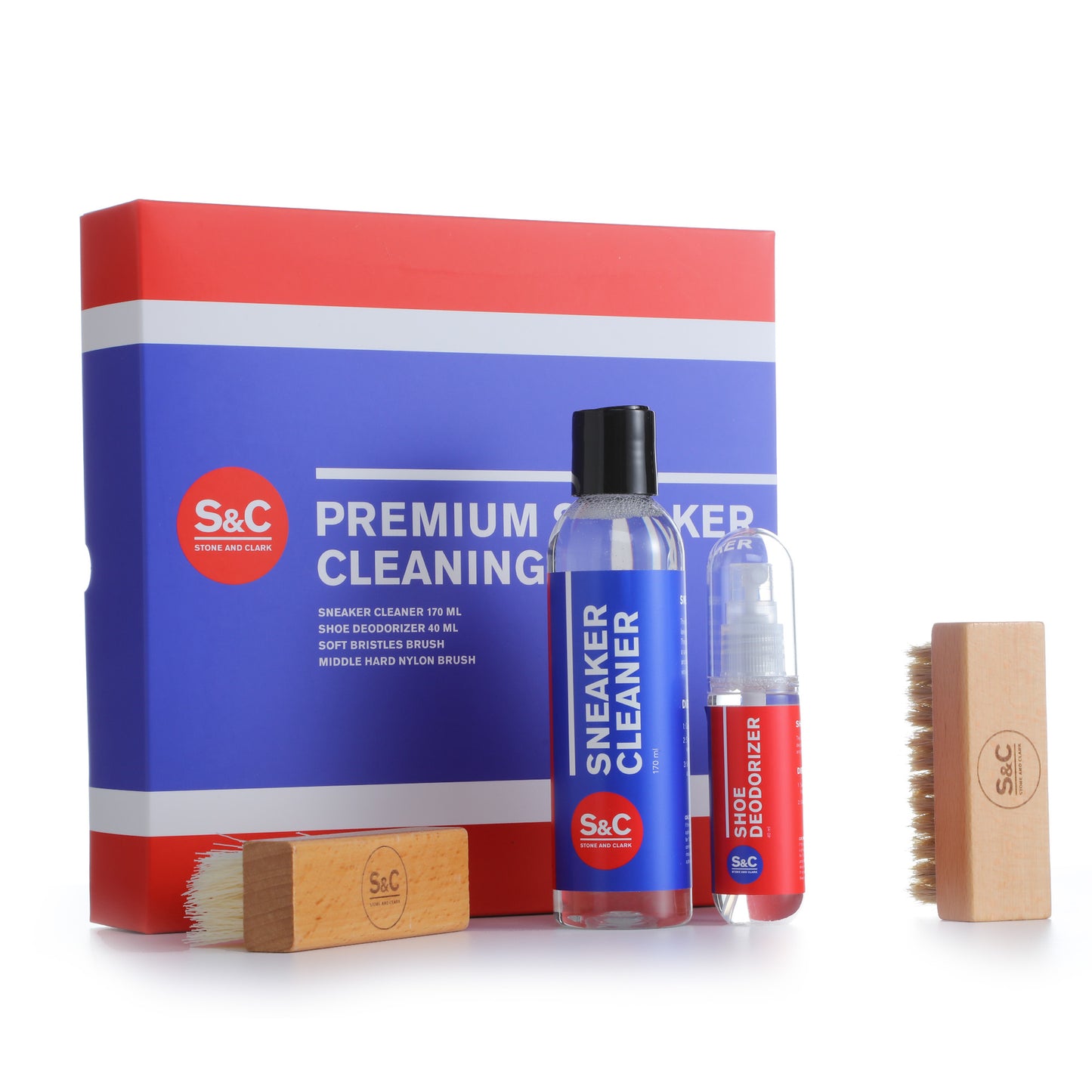 Always Put Your Best Foot Forward
Your sneakers are not just apparel that you wear on your feet. They're a reflection of your unique personal style and the adventures that define who you are. They're a story waiting to happen.
From band practice to the boardroom, sneakers look effortlessly cool virtually anywhere. Take time to take good care of your kicks so you're always ready for whatever adventure comes your way. It doesn't have to be complicated, with the right cleaning kit, anything is possible.
The Premium Sneaker Cleaning Kit by Stone and Clark is a sneakerhead staple.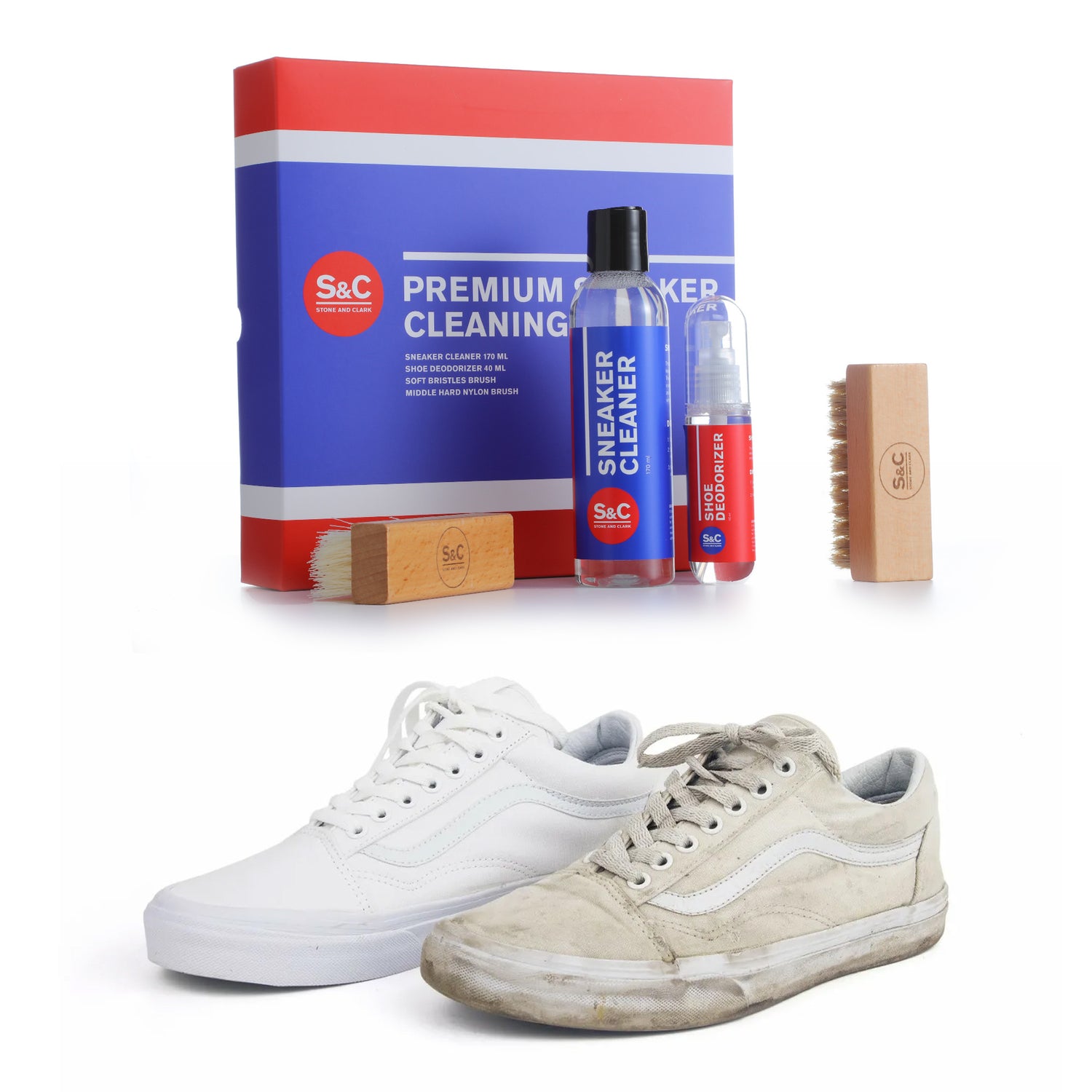 Make Old Favorites Look Brand New
Other shoe cleaning and deodorizing agents contain overly strong ingredients that could do more harm than good to your beloved kicks. Invest in a cleaning kit that thoroughly cleans without fading or causing discolorations
on your shoes. The two brushes included in the kit were designed for different cleaning needs. Use the soft brush to remove debris, mud, and stains from the upper part of your shoe and the hard nylon brush for the midsole and sole.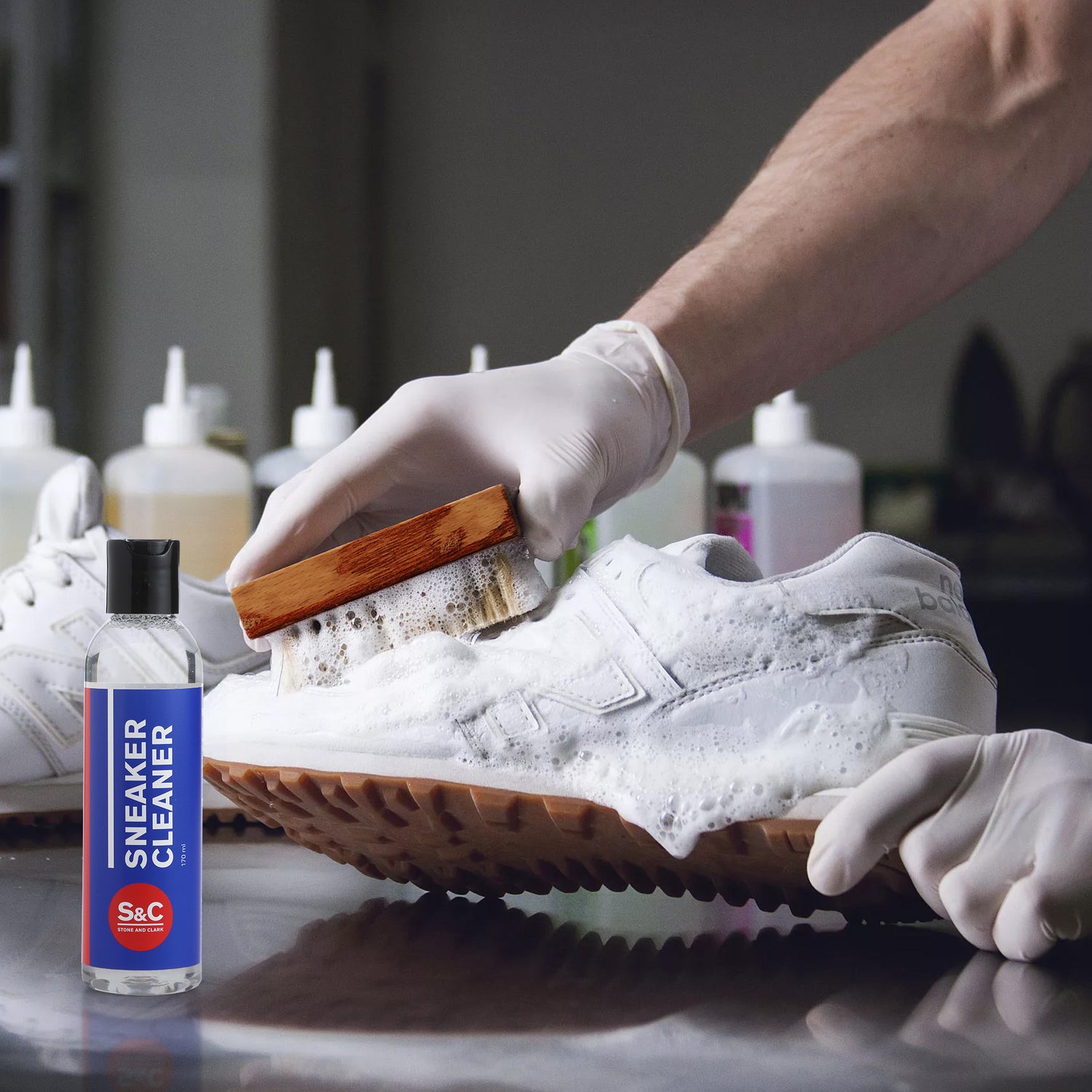 Our Brushes Works Hard So You Don't Have To
Do you regularly hang out at the skatepark? Make sure to regularly remove dirt and dust stuck in your sneakers so that your footwear lasts long. It's a good thing that this set's brushes come with ergonomic handles that give you a firm yet comfortable grip. Both brushes are easy to hold and maneuver so you can easily clean out even the most hard to reach corners and sections of sneakers and brogue shoes.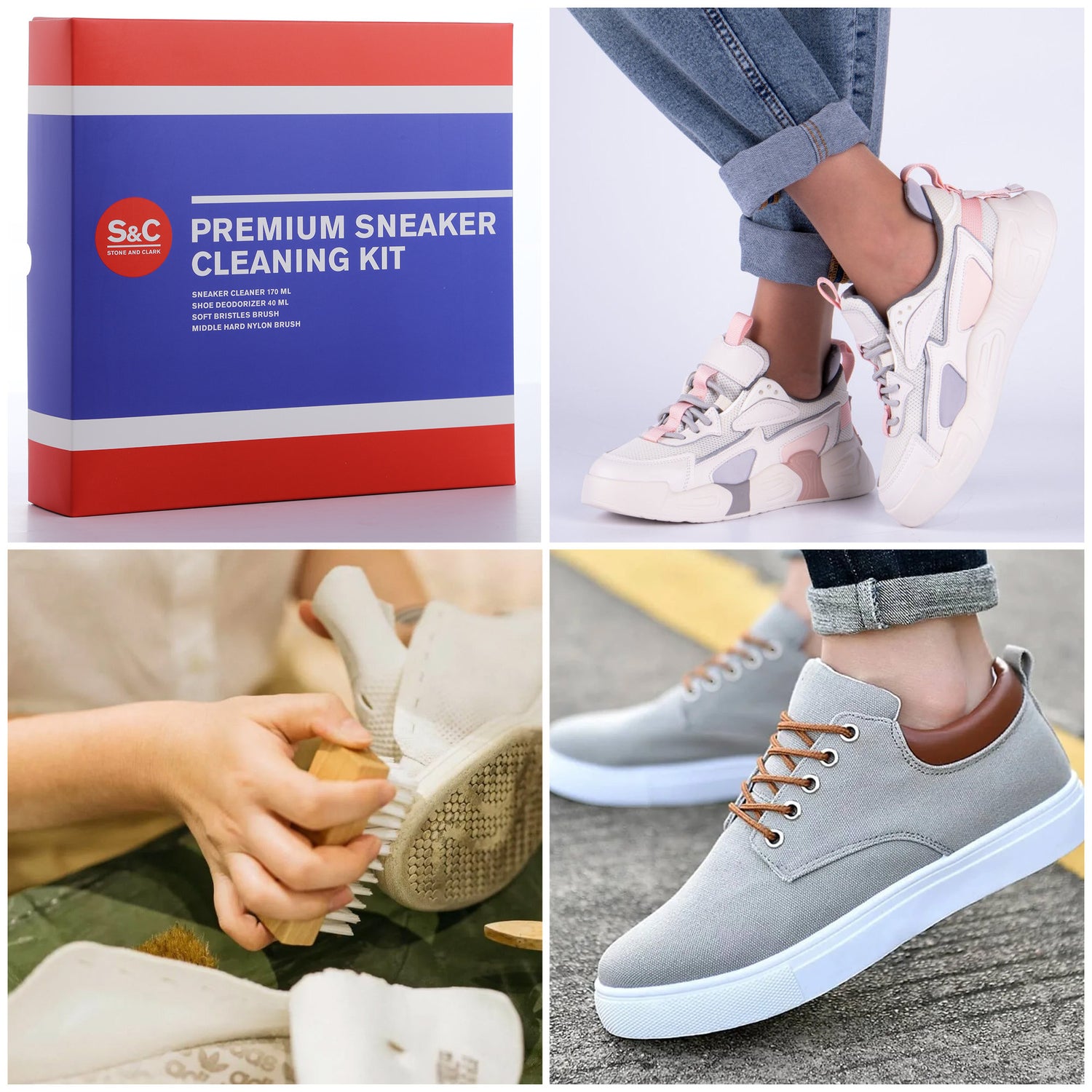 Made for Your Unique Lifestyle
Just like you, sneakers are versatile and made for the unpredictable adventures of life. Make sure you and your kicks are always ready to catch the next wave by keeping this cleaning kit close. With a uniform size of 9.4x3.2x3.6cm, the brushes are compact enough to fit inside your travel bag or the glove compartment in your car. This way, you can easily take them along when you travel or need to quickly clean your footwear before important life
events.
Multicolumn
Made by Sneakerheads for Sneakerheads

It took years to build your sneaker collection, so don't just hide them away in a box. They're meant to be worn in your adventures through life. This premium set is made especially for your dynamic lifestyle.

A must-have for any sneaker collector and enthusiast, this is an all-in-one kit that comes with all the products you need to brush away any sneaker problem and keep your kicks protected from the daily grind.

Save Time, Money & Energy

Focus on having a great time and we'll focus on keeping your sneakers in pristine condition. Both newbies and seasoned sneakerheads will appreciate how straightforward and effective this set is.

With this premium kit you can give your sneakers the expert care they deserve. The brushes come with a 1.8cm bristle size, which lets you effectively target tiny corners and remove tenacious debris stuck in them

A Brand You Can Trust

We are a brand committed to helping you create the life that you want and to enjoy it to the fullest. This commitment drives us in the creation of our unique offerings.

Our premium range of products are carefully designed to give you modern solutions that will elevate your lifestyle. Whether it's fitness or fashion, we're here to give you practical, cost-effective, and responsibly-made products that will help you look, feel, and be at your best.
Frequently Asked Questions
What items are included in the Sneaker Pro Cleaning & Deodorizing Kit?

The kit contains a 5.7oz cleaner solution, 1.35oz deodorizer spray, a soft bristle brush, and a hard nylon brush.
Is the cleaner solution safe for all types of sneakers?

Yes, it's designed to effectively remove stains without causing damage or fading.
What is the purpose of the hard nylon brush?

It's for cleaning harder materials like the soles of sneakers.
Can this kit be used on non-sneaker footwear?

While designed for sneakers, it can be effective on various types of shoes, but always check for material compatibility.
What types of stains can the cleaner solution handle?

It's effective on common stains like mud, dirt, and everyday wear marks.
Can the kit clean and protect sneakers from future stains?

It cleans effectively and regular use can help in preventing future stains.
Can I use the kit on colored and white sneakers alike?

Yes, it's suitable for both colored and white sneakers.
Is the cleaner solution harsh on the hands?

It's formulated to be skin-friendly, but it's always good practice to use gloves.
How effective is the deodorizer in eliminating strong odors?

It's formulated to tackle and neutralize strong odors effectively.
Is this cleaning kit suitable for professional sneaker care?

Yes, it's ideal for both personal use and professional sneaker maintenance.
Premium Sneaker Cleaning kit Set of 4
Great product and great price
this kit comes in handy
the cleaning solution works good on white and lighter color shoes, it's not a spray top like the deodorizer but just a couple drops should get you going, they include 2 brushes a soft and a hard and the box doubles as a storage case
Sneaker cleaning kit
Great quality sneaker cleaning kit. All you need to keep your sneakers looking new. Works great to clean up shoes
Great kit
This kit is great for sneakers. The brushes are soft and won't scratch your shoes and the cleaner does a great job of loosening dirt. The whitener is great. Good for touch ups and deep cleaning.
It works!
My son has been using this to keep his off-white tennis shoes clean and he said it works well and is easy to use. It included everything you need to keep your kicks clean