Stone And Clark
Regular price
Sale price
$34.99
Unit price
per
Sale
Sold out
Buy On Amazon.com
Buy On Amazon.ca
Product Specifications
Contents: 2 wooden brushes, neutral/black/brown wax polishes, buffing cloth, shoehorn, shine sponges
Case Material: PU leather
Ideal for: All leather shoes
Perfect for: Travel, military, business, and personal use
Gift Suitable for: Father's Day, birthdays, holidays, groomsmen
Size: 12 PCS
Share
View full details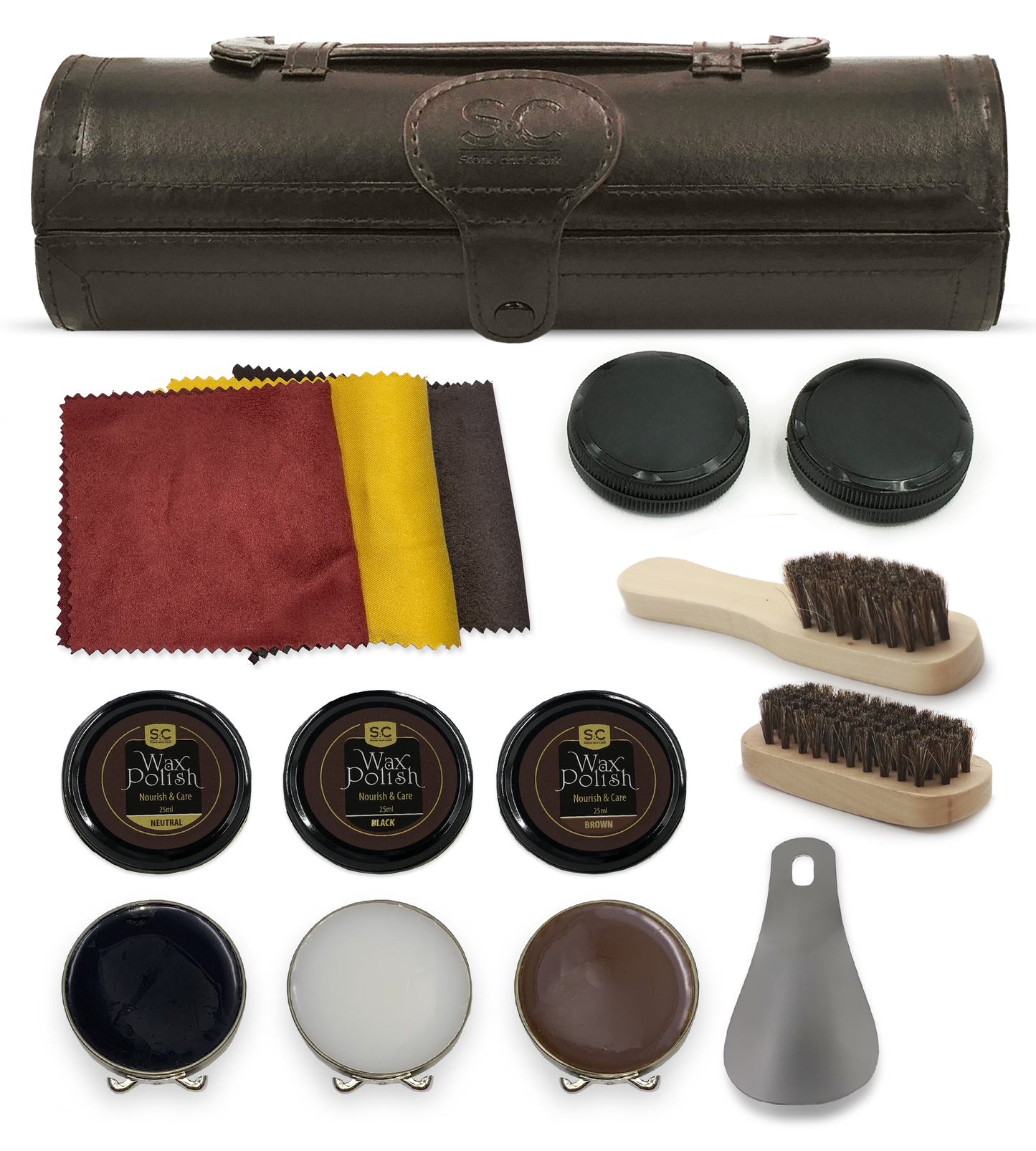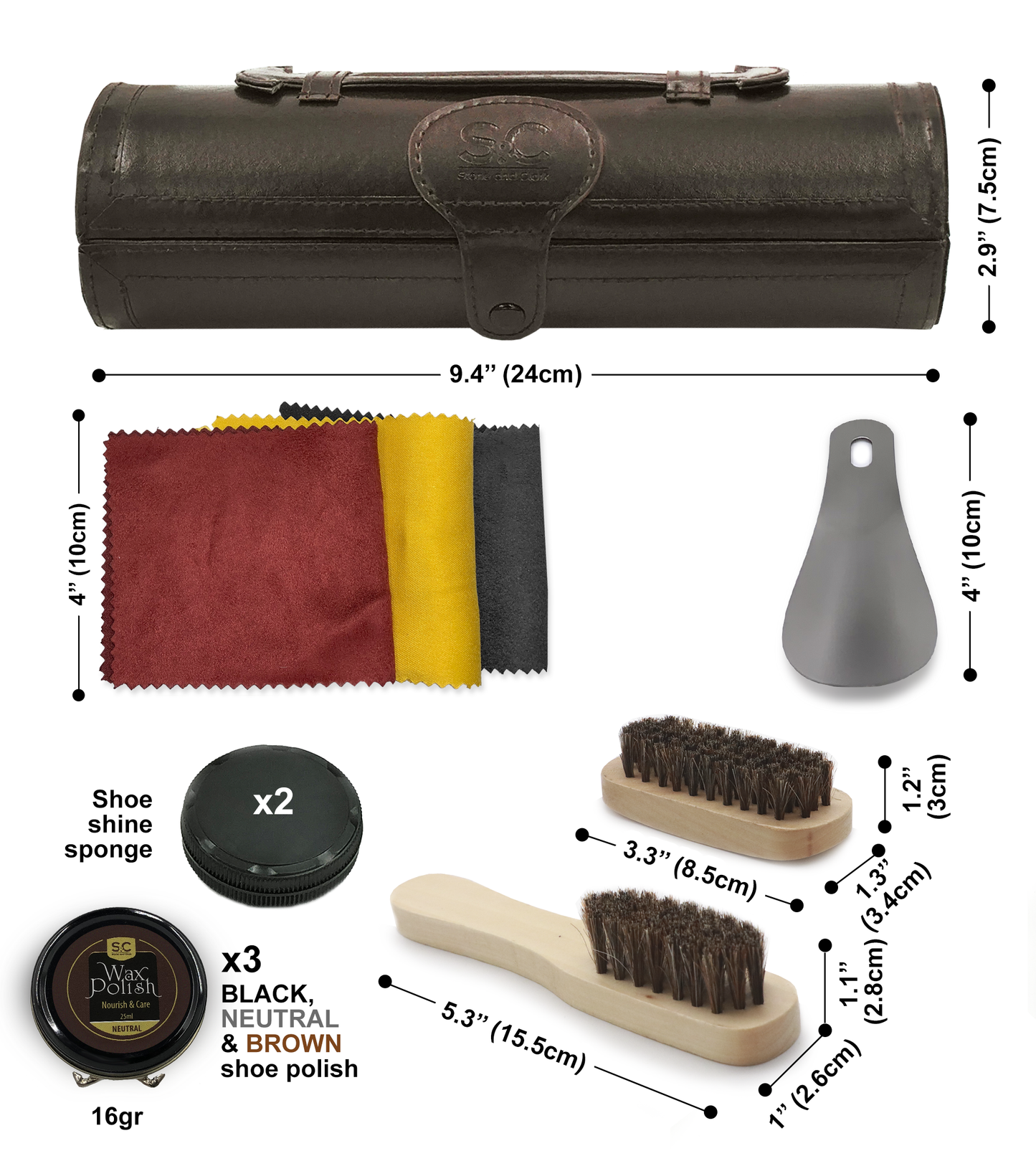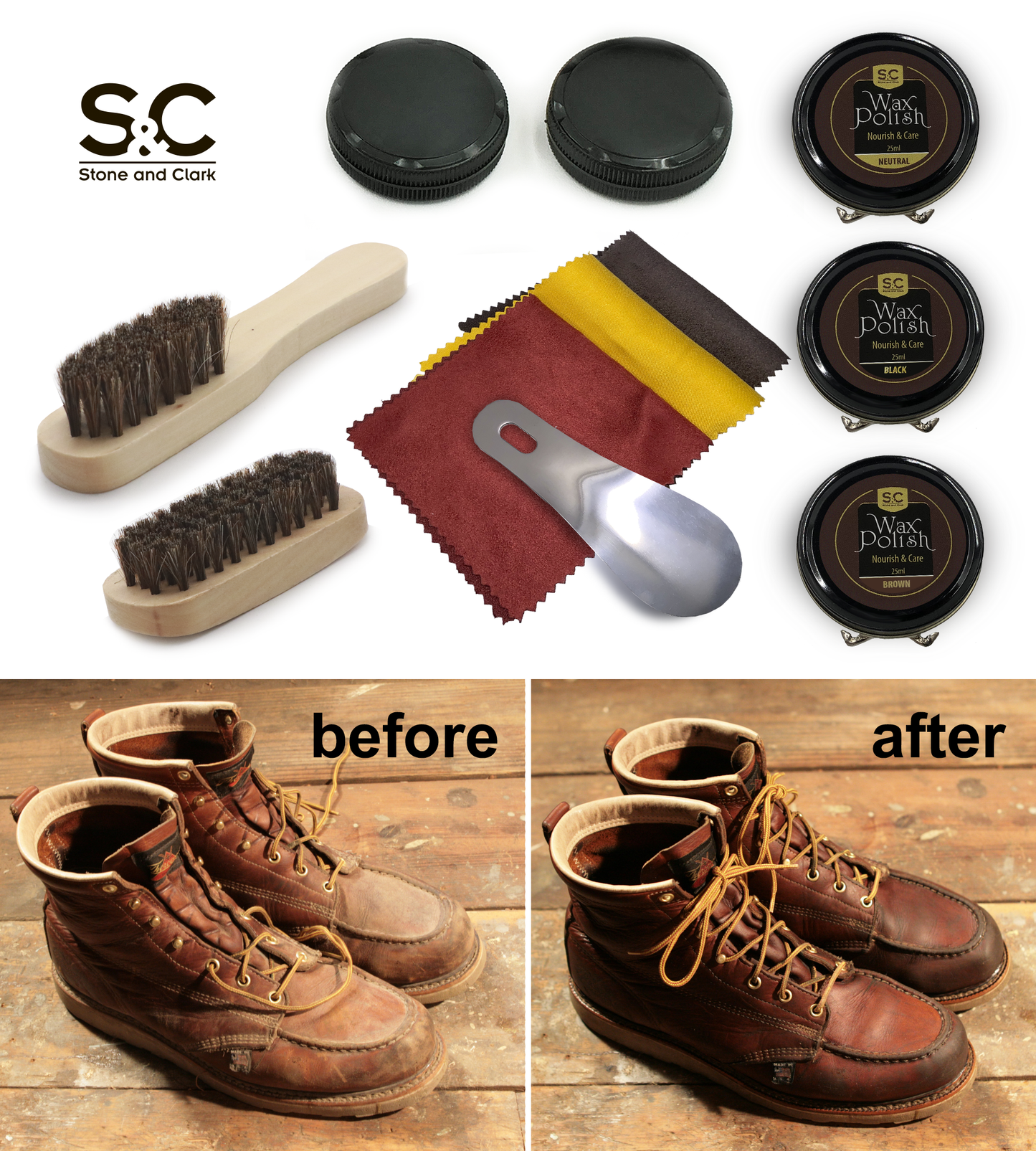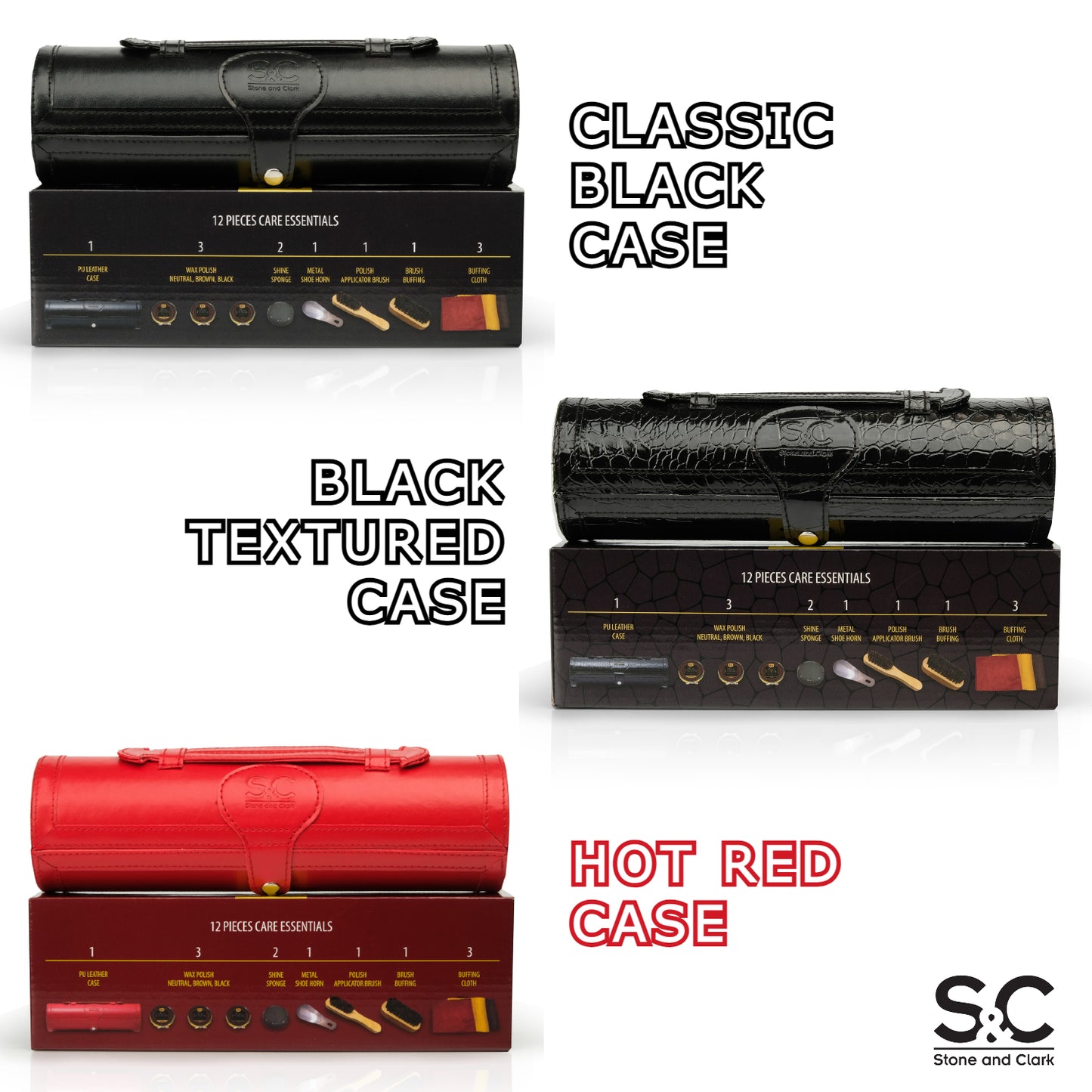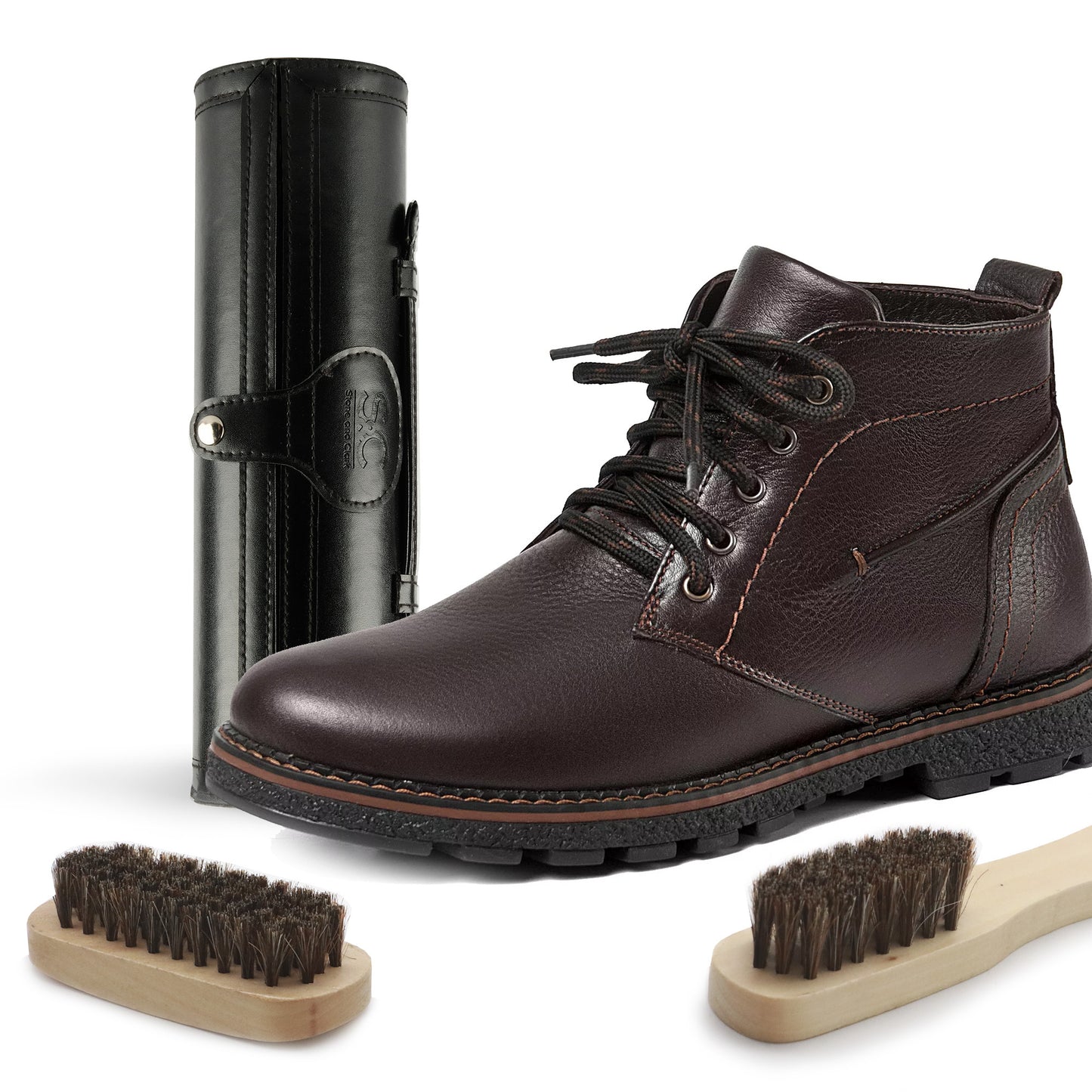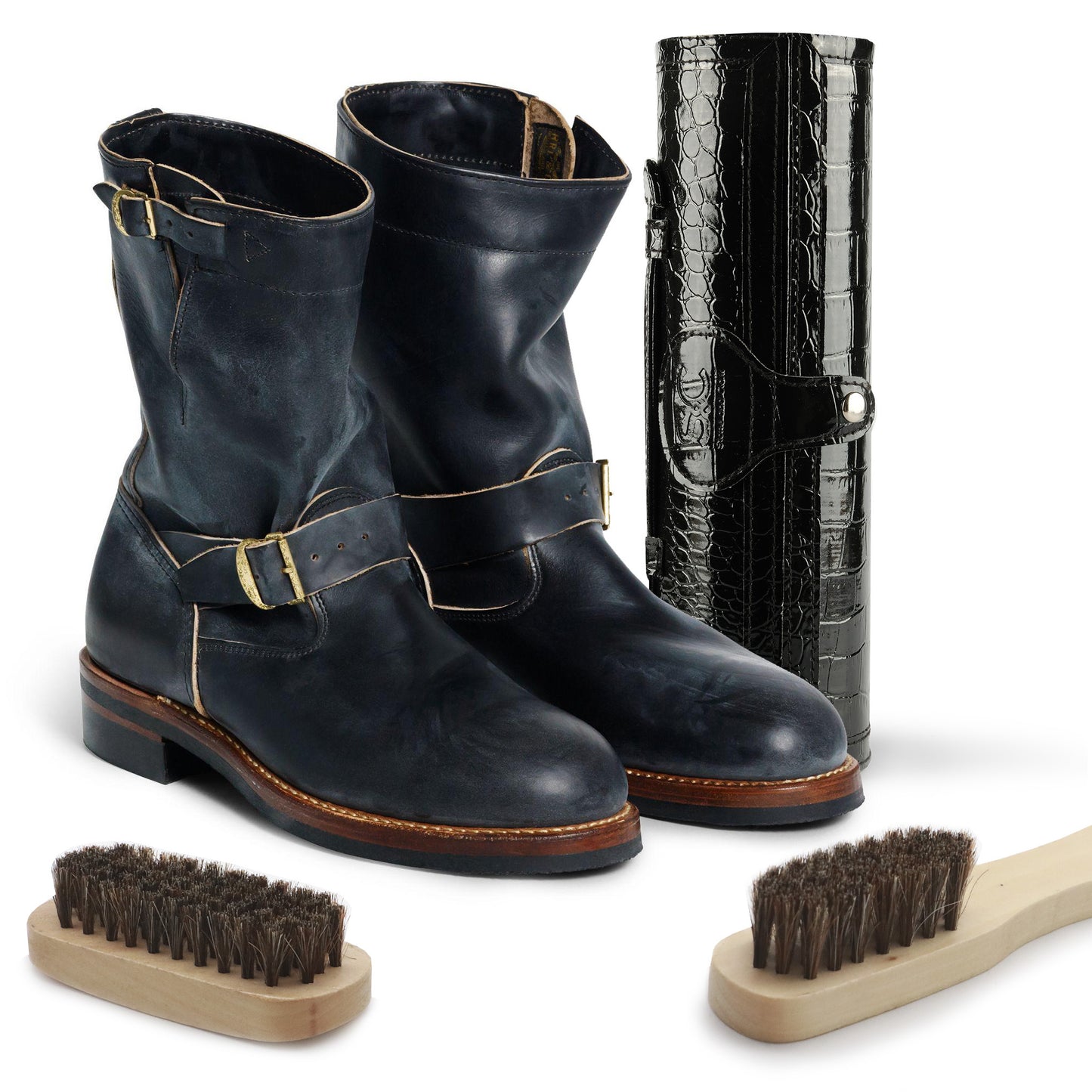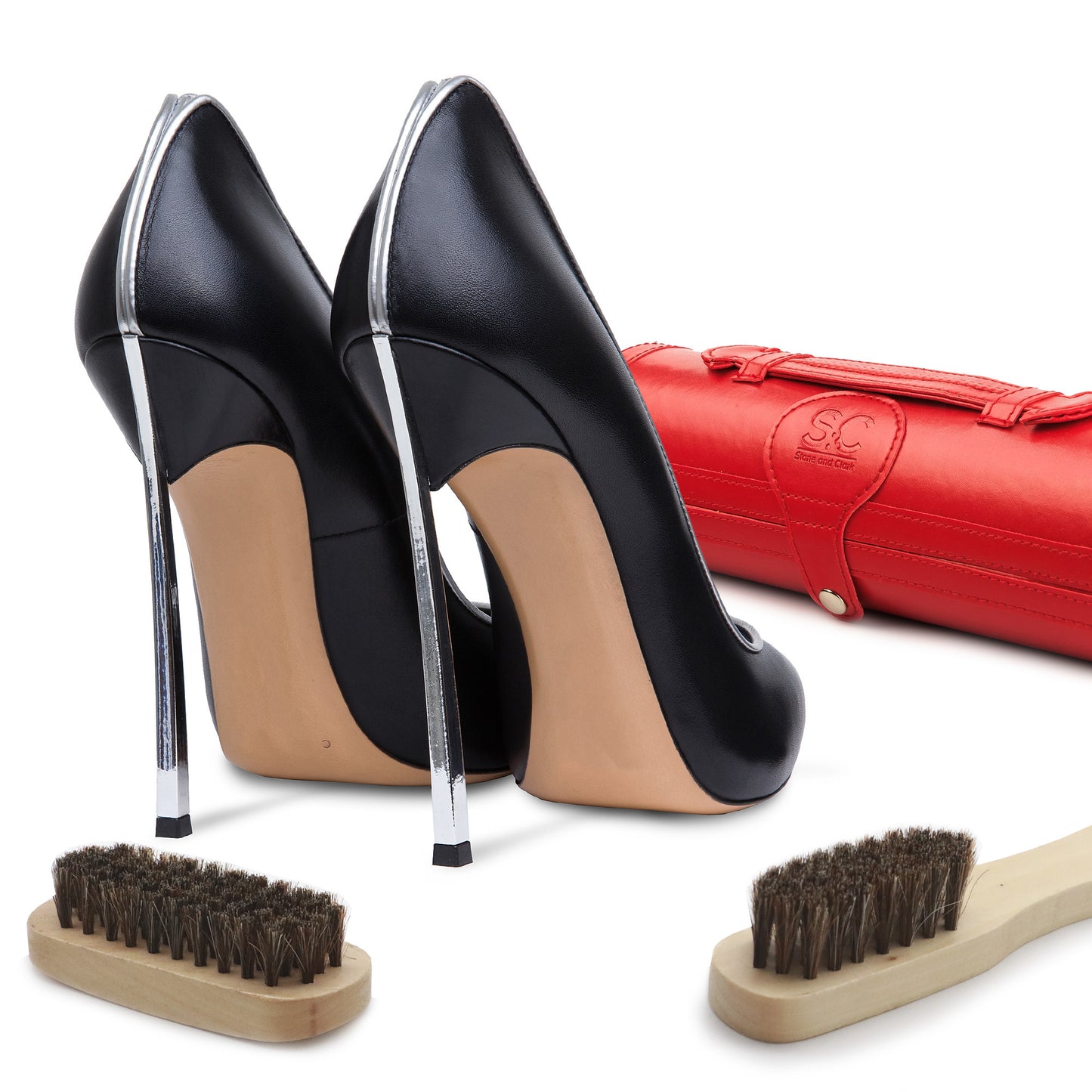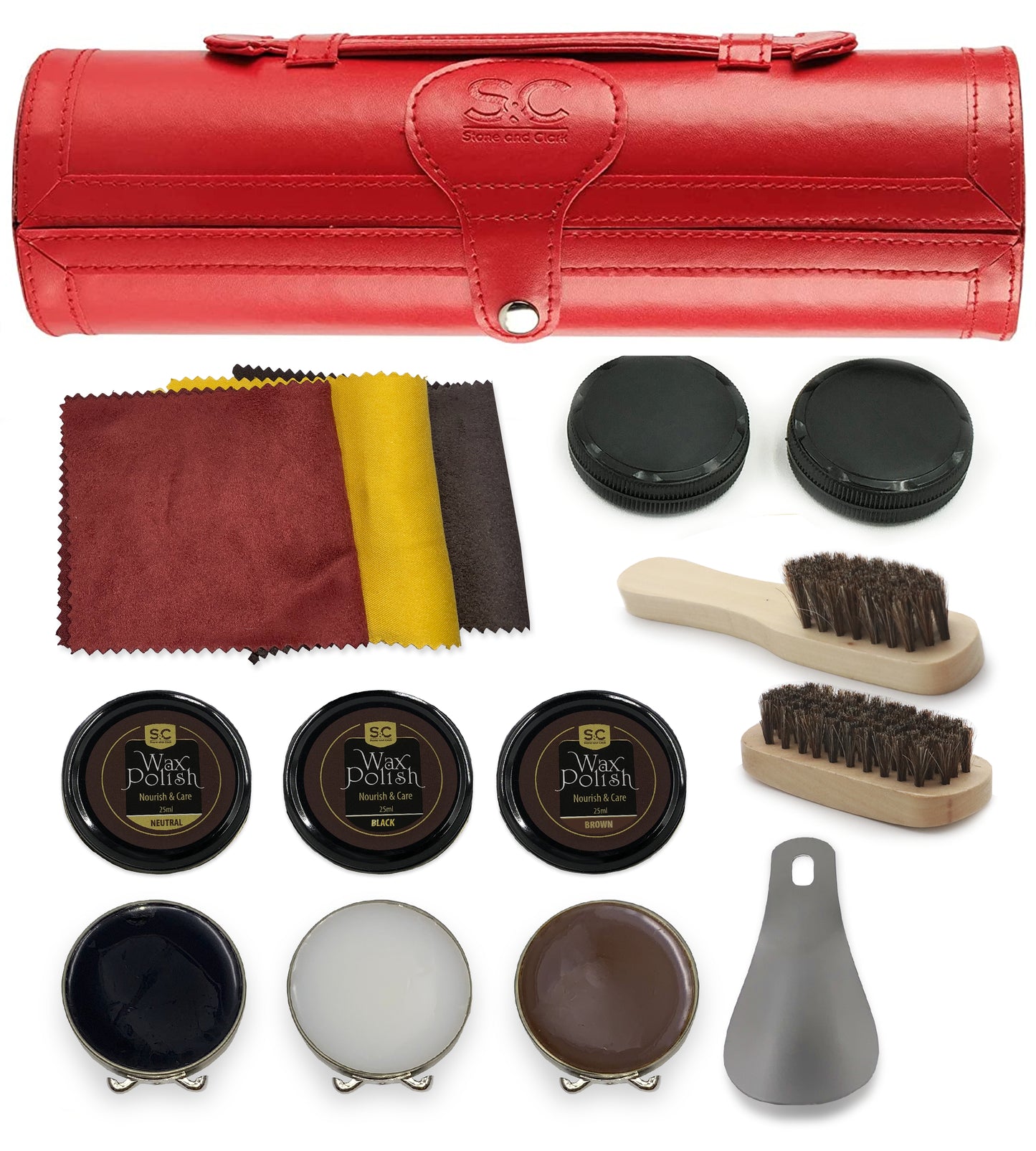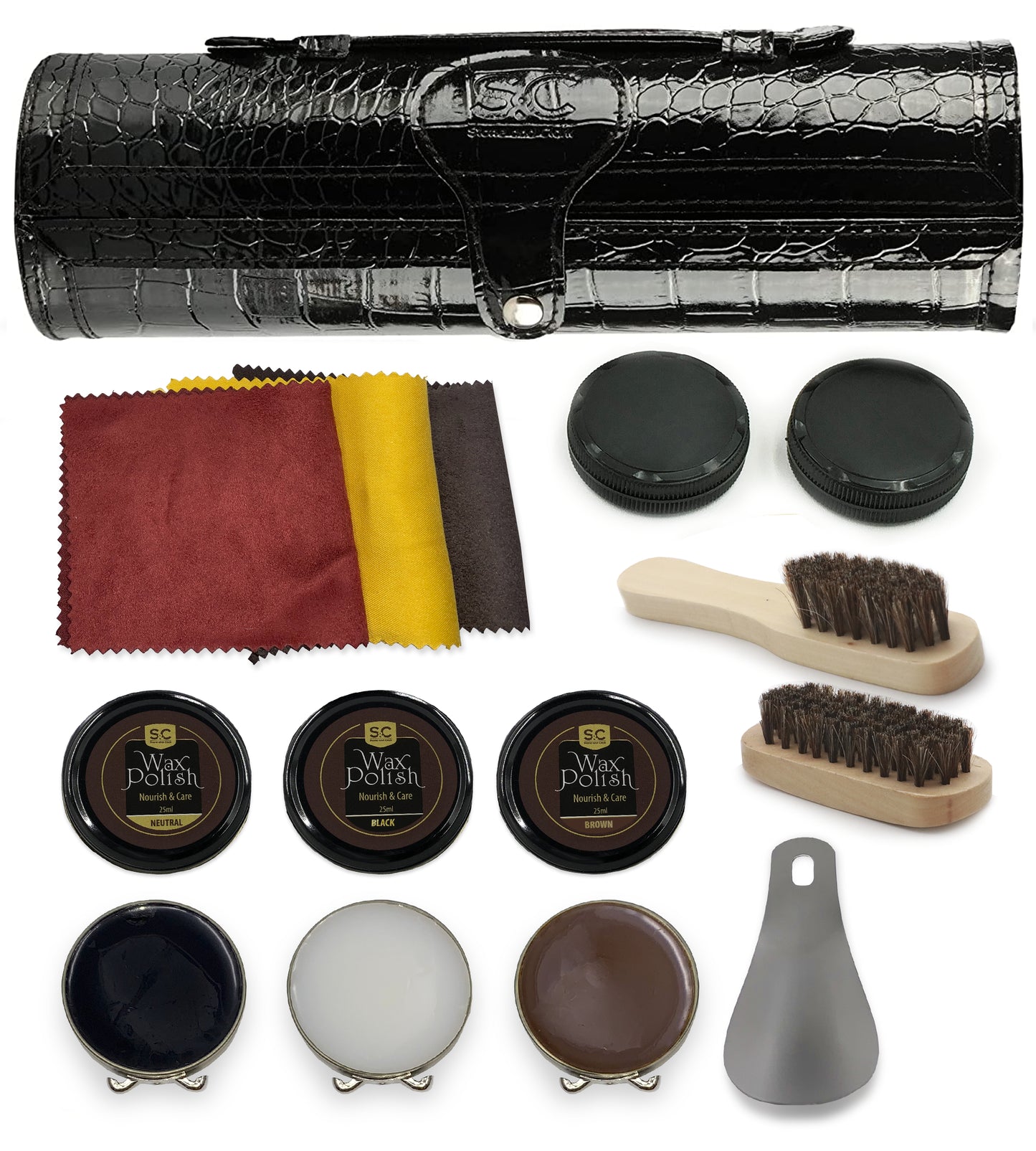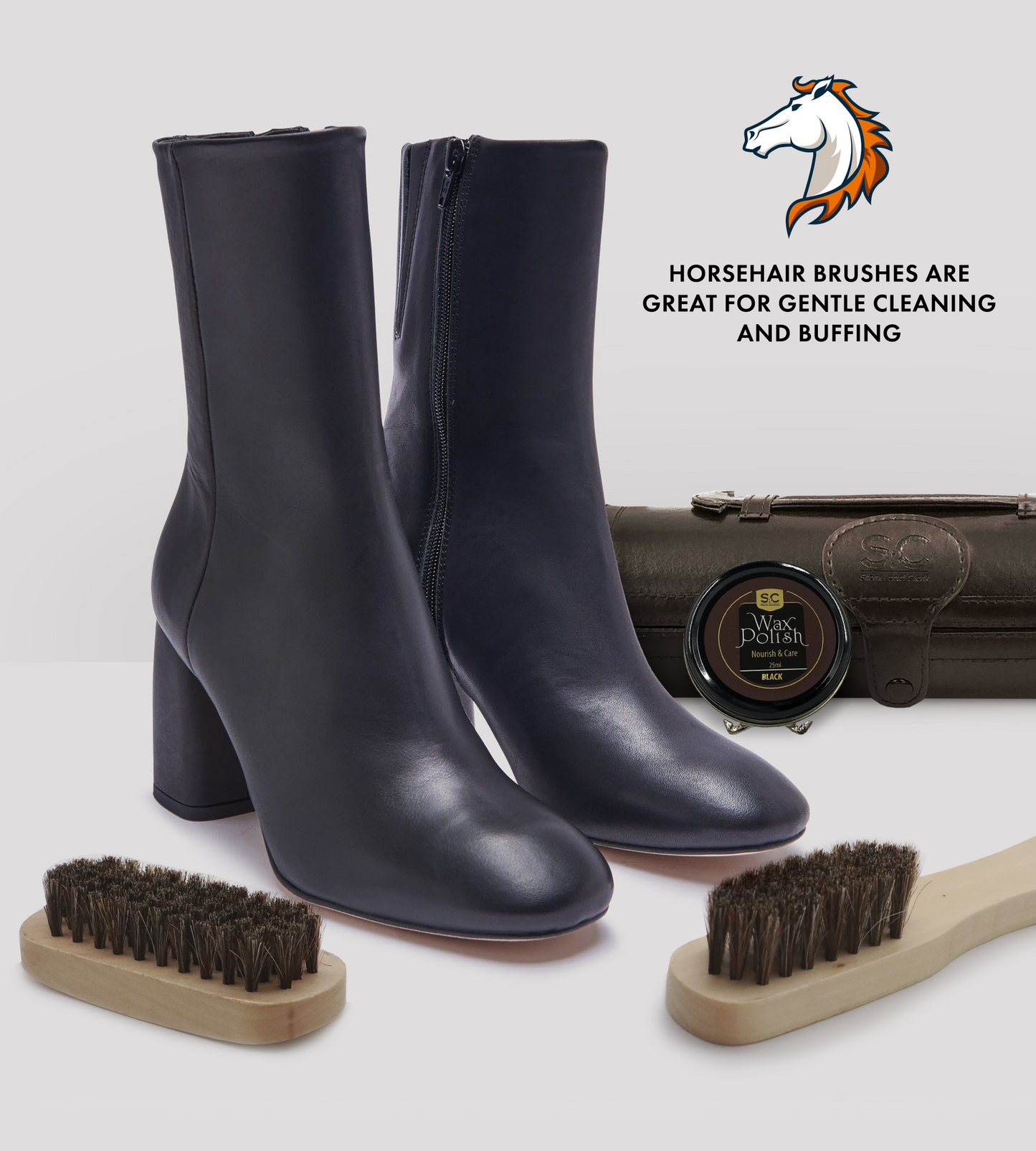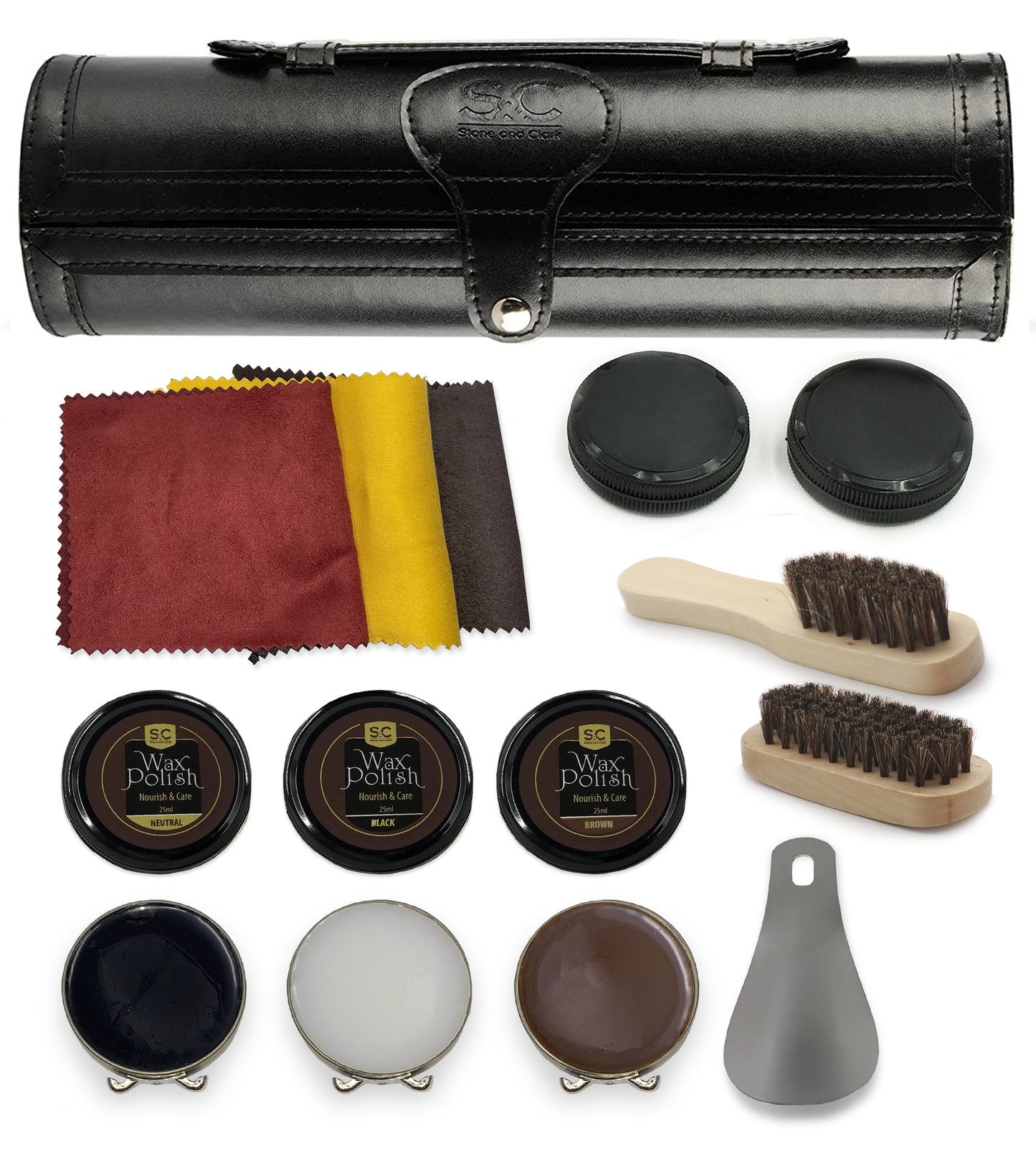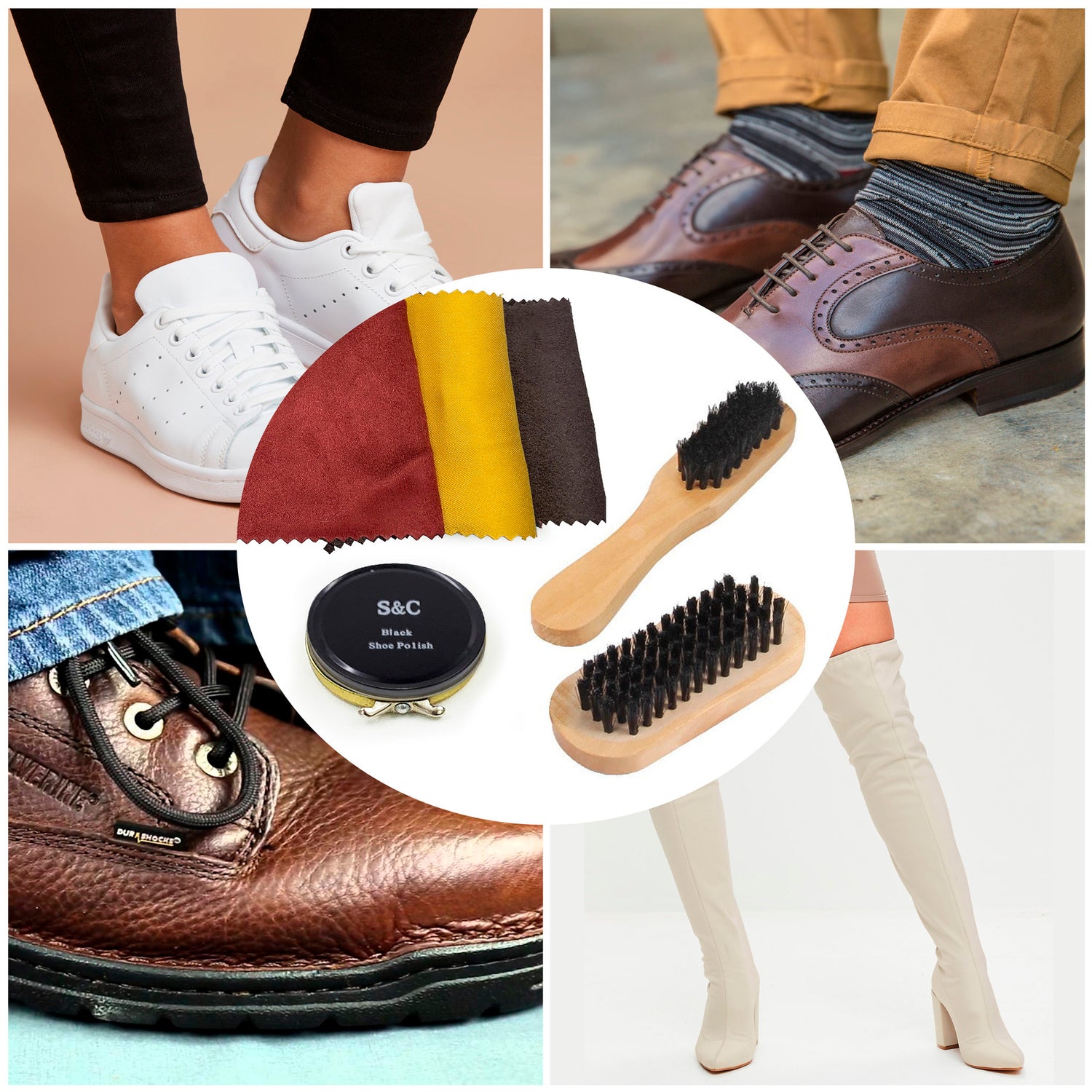 Give Your Shoes The Best
Don't settle for less than the best when it comes to your shoes. Preserve and protect your leather footwear with this polish brush kit, and always put your best foot forward. Use this leather shoe brush and polish kit for scuffs, scratches, and general polishing. Pack it with you for day trips, business travels, or just for a long day at the office. Keep your shoes clean, classy, and polished all day, every day.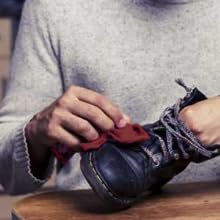 Step1 - Clean
Remove laces from shoes and clean them with a damp cloth or brush to remove any dirt or debris. Let it dry before applying polish.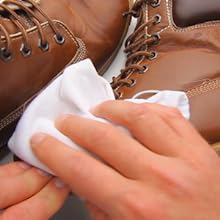 Step2 - Apply Polish
Use neutral or similar colored polish and the polish applicator brush to apply the polish in a circular motion across the entire shoe. This will protect the leather shoe from stains, and nourish and enhance its color. But be careful around stitching that may be a different color!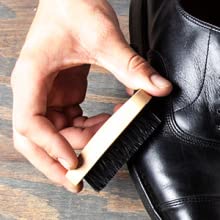 Step3 - Shine the Shoes
When you're finished, let the polish soak for a couple of minutes. Afterward, take the polish cloth or the buffing brush to properly shine the shoe with short but steady swipes.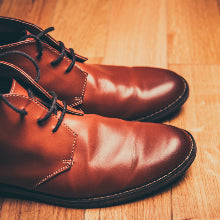 Step4 - Let Dry
Let your shoes and boots dry in the open air. Don't put your shoes in direct sunlight or near heaters as this can cause discoloration and crack in the leather.
FAQ
What does the 12PC Shoe Polish & Care Kit include?

Our kit comes with two wooden brushes with horsehair bristles, neutral, black, and brown wax polishes, a buffing cloth, a shoe horn, and shine sponges—all neatly enclosed in a stylish PU leather case.
Is this kit suitable for all types of leather shoes?

Yes, our shoe shine kit is designed for various leather materials, making it perfect for leather shoes, boots, and accessories, including genuine and synthetic leather.
What are the wax polishes included in the kit?

The kit includes neutral, black, and brown wax polishes, ensuring you have the right shade to match and enhance the color of your shoes.
How do I use the wooden brushes with horsehair bristles?

Use the brushes to apply and distribute the shoe polish evenly. The horsehair bristles are gentle on your shoes and ideal for achieving a professional shine.
Is the PU leather case durable for travel?

Yes, the sturdy PU leather case is perfect for on-the-go care. It's lightweight, compact, and portable, making it an excellent choice for military, business, and personal travels.
Does this kit work on women's shoes as well?

Absolutely! Our shoe polish kit is suitable for both men's and women's leather footwear.
How often should I use this shoe care kit to maintain my shoes?

 For best results, we recommend regular use to maintain the appearance of your shoes. How often you use the kit depends on the level of wear and tear your shoes endure.
Can I use the shoe horn on different types of shoes?

Yes, the shoe horn in the kit is versatile and can be used with various types of shoes, including dress shoes and boots.
Is this kit suitable as a gift for someone special?

Absolutely! This professional shoe shine kit makes a unique and thoughtful gift for occasions like Father's Day, birthdays, holidays, or even as a groomsmen gift. Of course, you can also treat yourself to the luxury of well-maintained shoes!
Perfect Polish Kit I loved so I Have Bought this one for a Gift.
THis Kit meets all your needs in a nice case for polishing boots and shoes.
I love the product,But the handle broke the day I got it.
The shoe shine kit, has everything I need to keep my shoes looking spiffy. If you buy it don't use the handle, hold it as a whole package.
Trousse complète et de qualité. Superbe de beau boîtier. Excellent
Excellent produit. Je le recommande.
Small and easy to use.
Soaks into the leather boots and gives a nice shine. I am use to the kiwi boot polish and the containers are smaller than I had hoped. It comes in a nice leather container good for traveling and normal use.
The case is small but we'll constructed
It is easy to travel with this product