Stone And Clark
Regular price
Sale price
$24.99
Unit price
per
Sale
Sold out
Buy On Amazon.com
Buy On Amazon.ca
Get Rid Of Grime - With robust bristles, our detail brushes are designed to remove excess polish, grime, and oxidation. Use it as a bar rail, tool, instrument, metal, or silver cleaning brush.

Clean Hard-To-Reach Places - Having trouble cleaning intricate patterns? This set has you covered! Our horse hair bundle brushes come in 6.69x0.83x1.18" and 5.91x0.67x1.18" sizes for tight spaces.

Polish Silverware - Use either brush for silverware or, as a handy horse hair jewelry brush. Keep silverware in pristine condition with the included microfiber towel and polish cloth for fine metals.

Safe Cleaning Tools - In making each detail or jewelry cleaning brush, we used premium horsehair to ensure that the bristles are soft and gentle on items. It won't cause scratches, nicks, or damage.

Made To Last - The handles of each detail brush is crafted using robust beech wood that won't break, crack, or get damaged easily so you can use it for years. It also flaunts a sleek wooden finish.
Share
View full details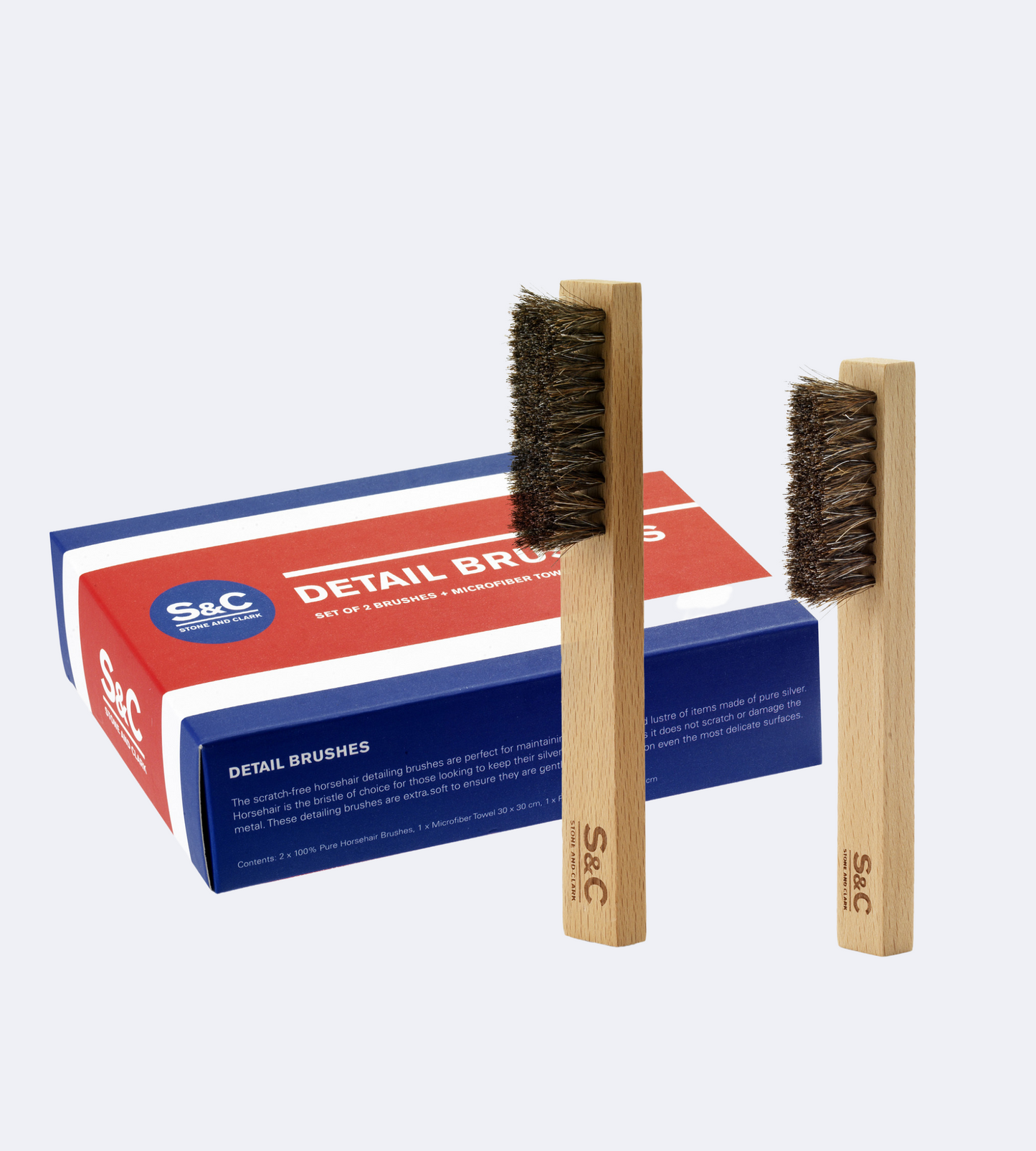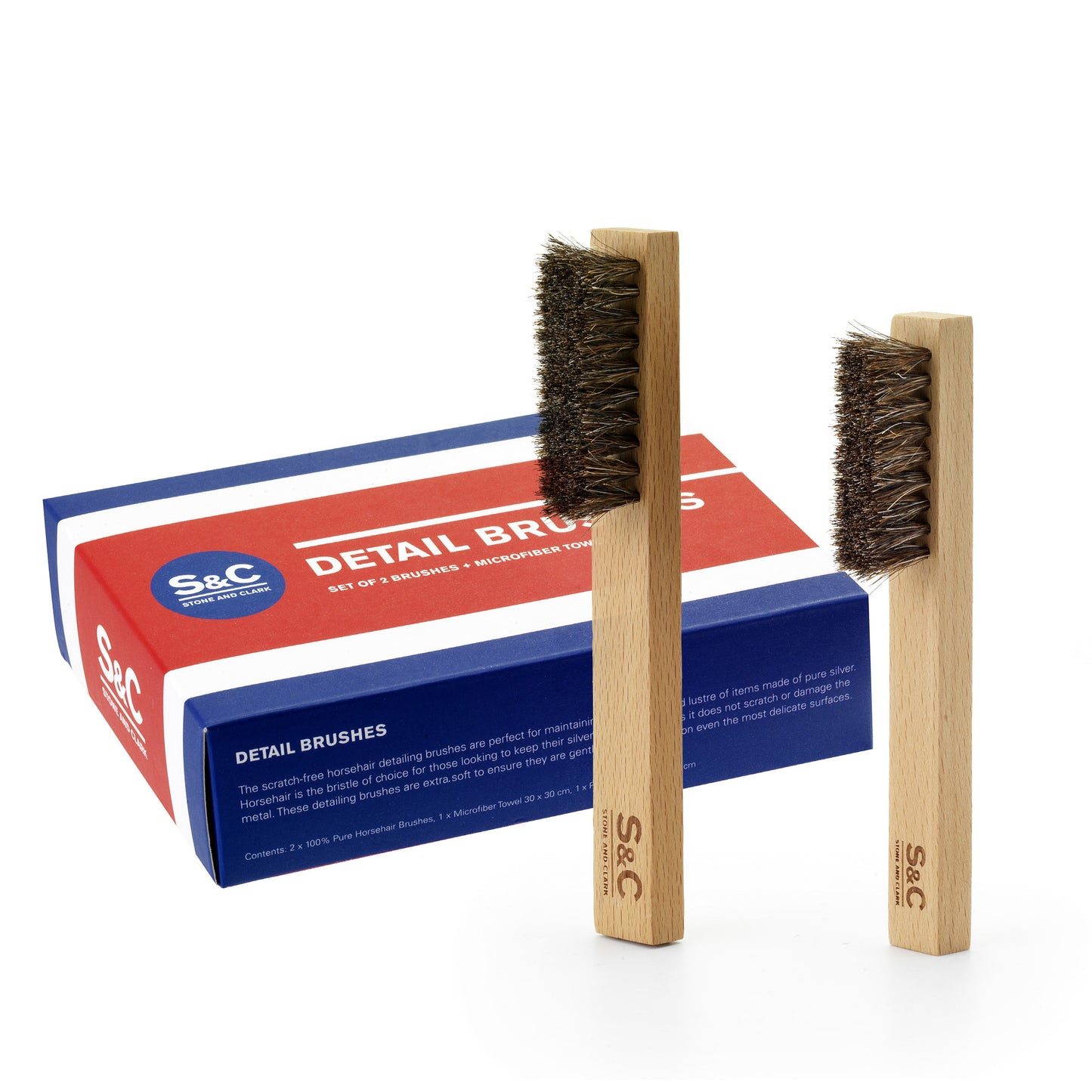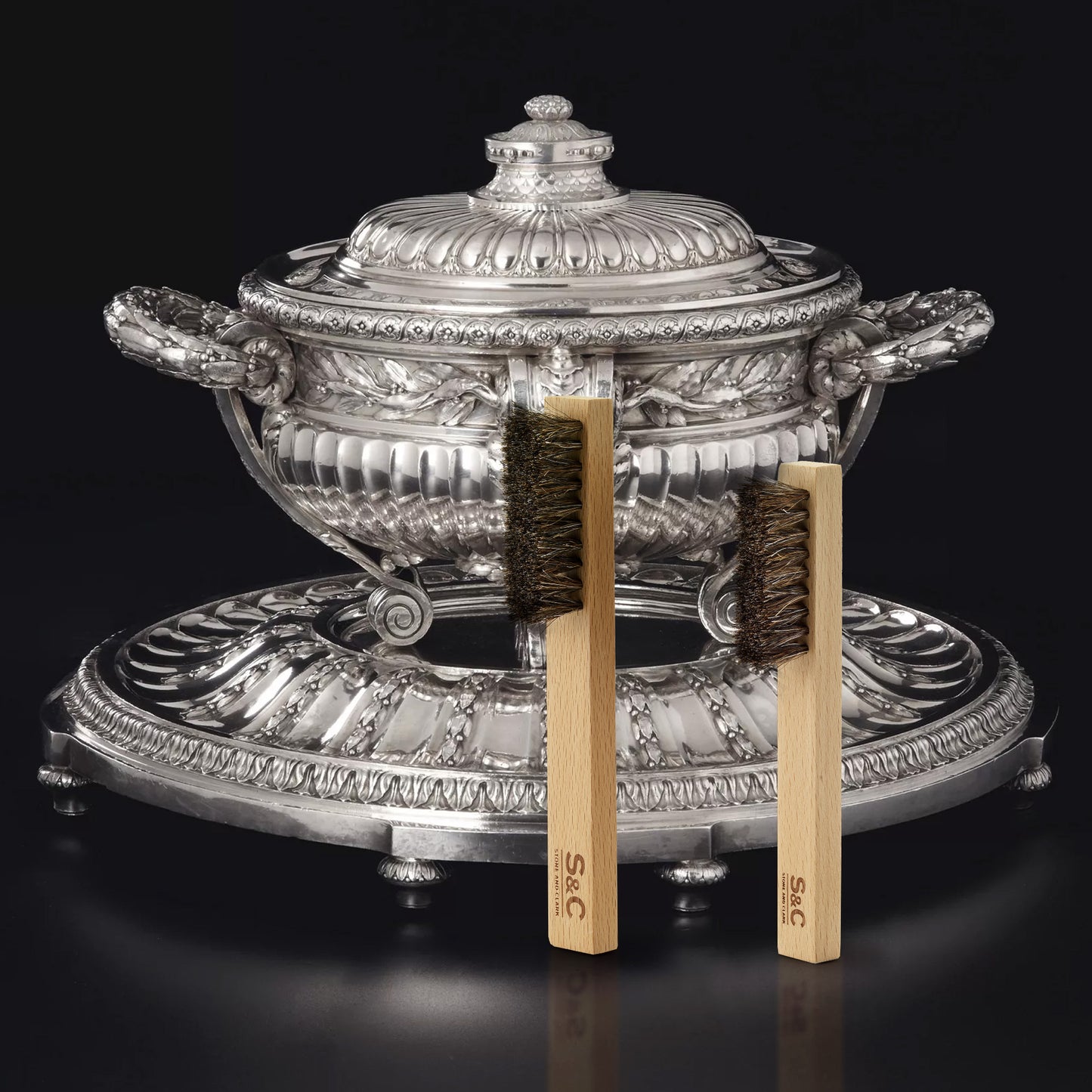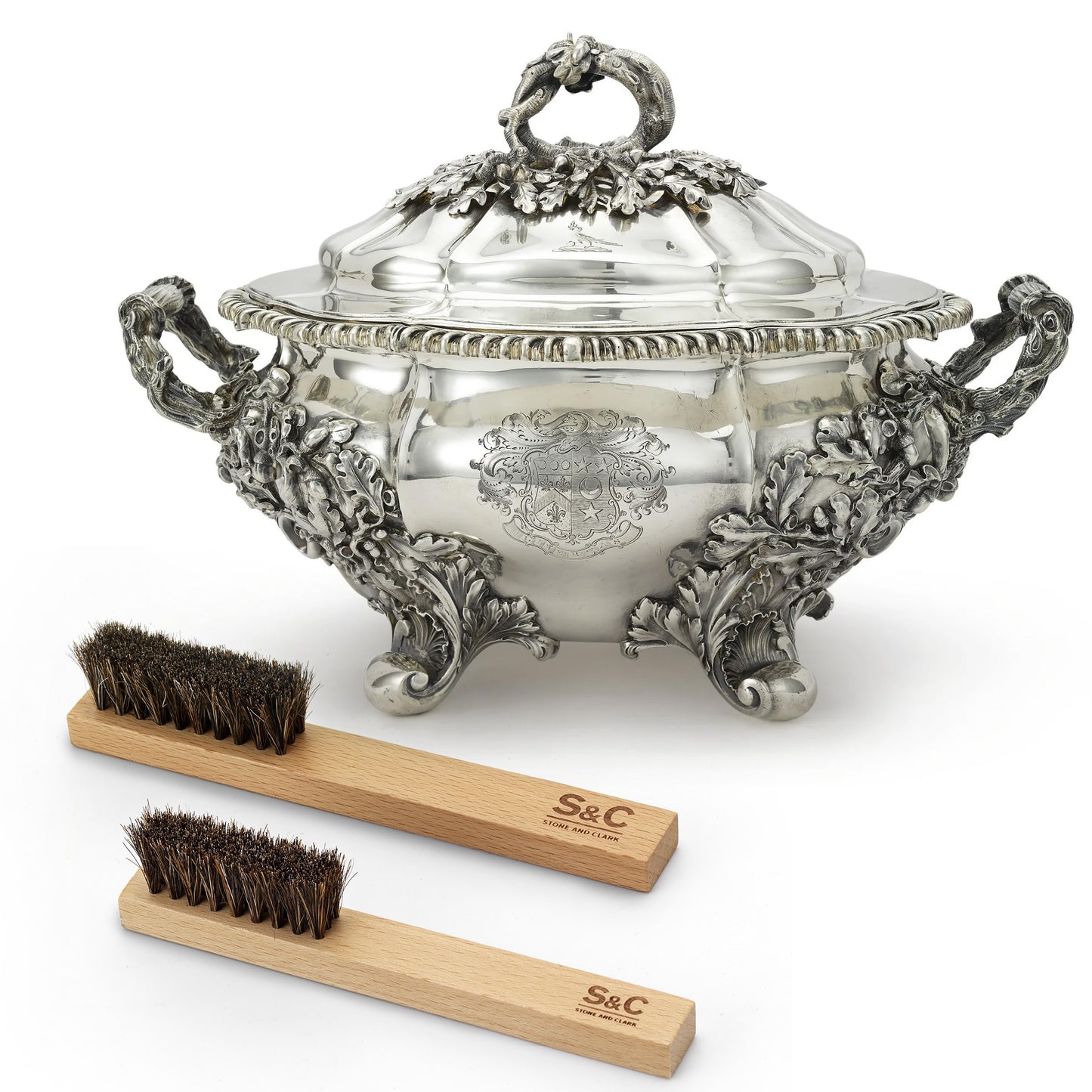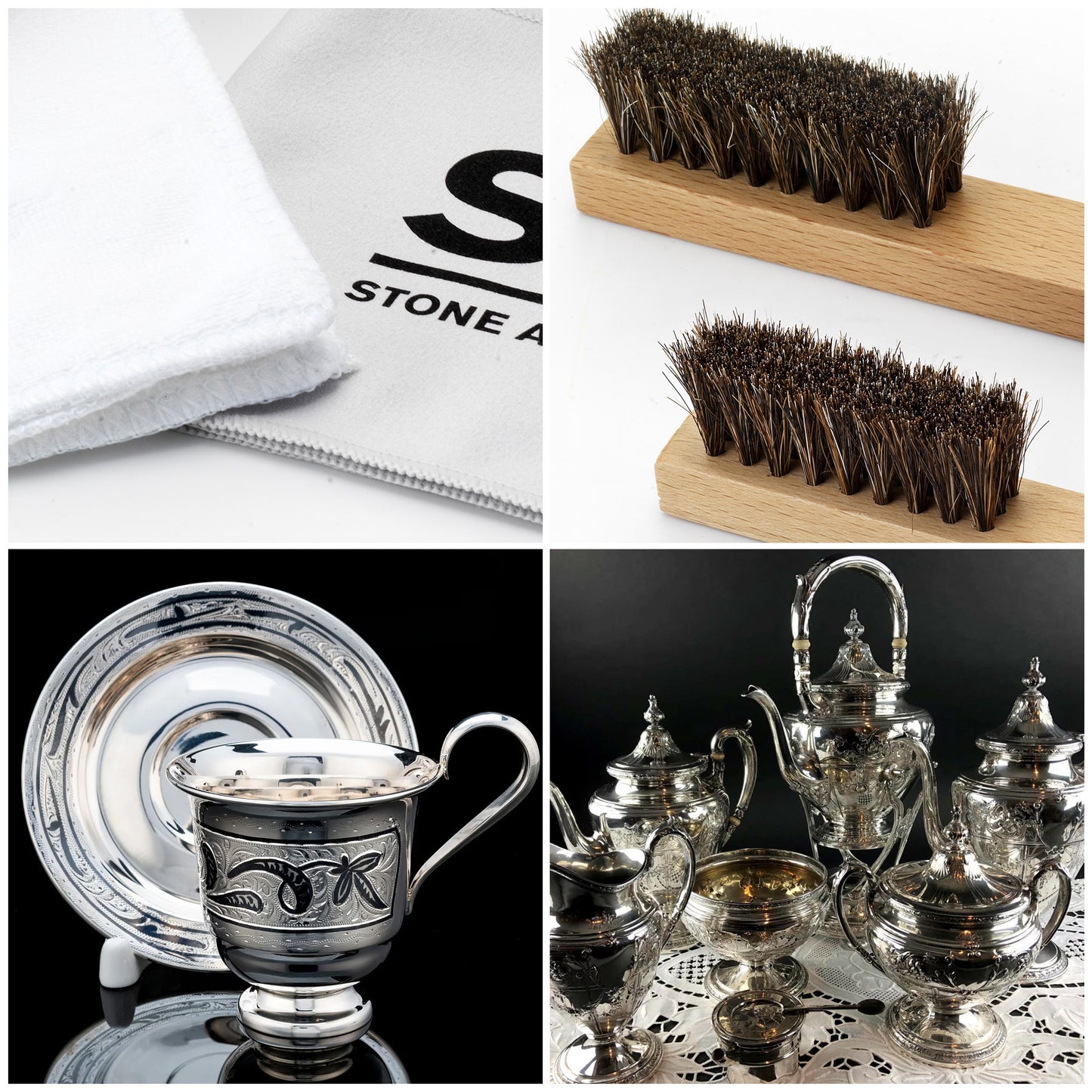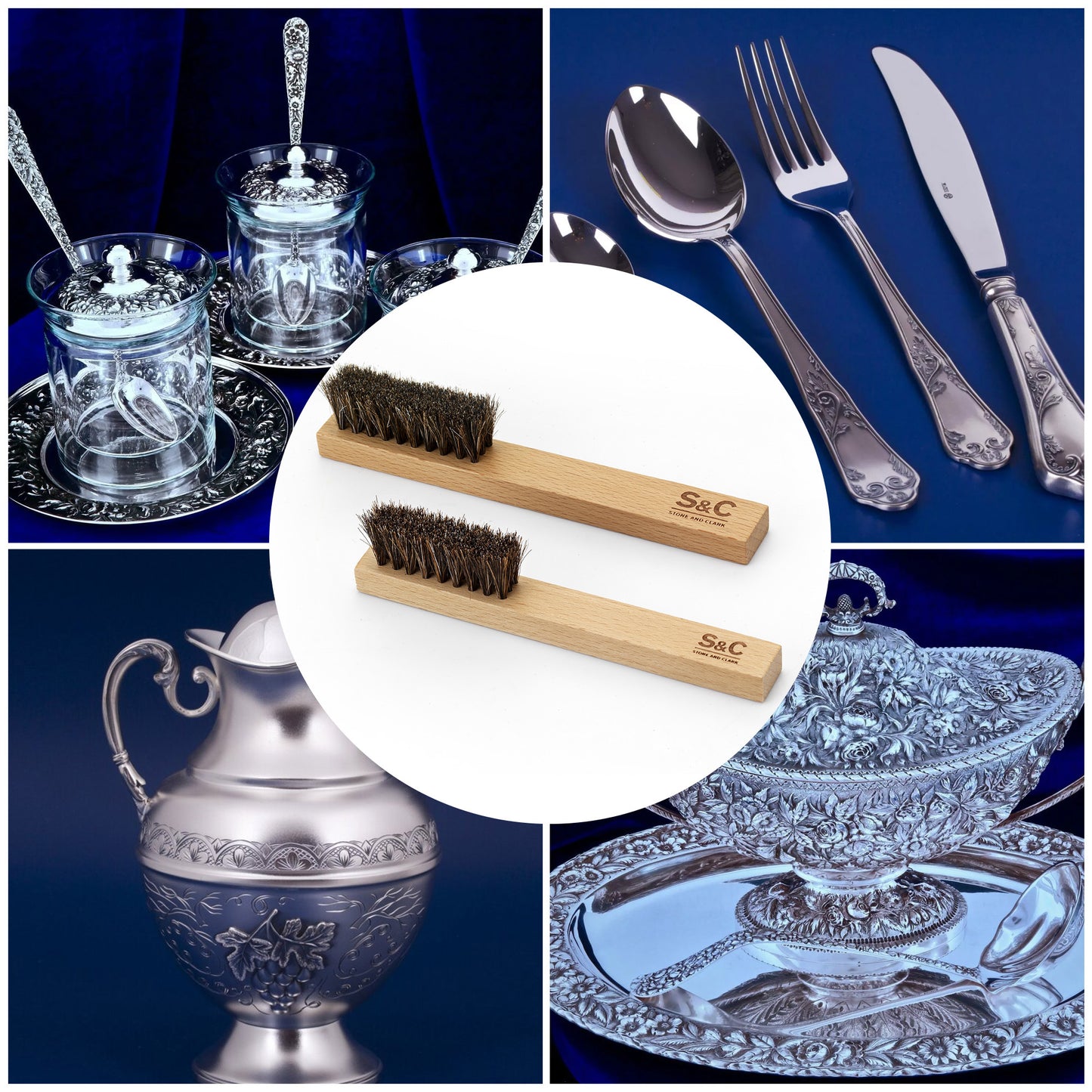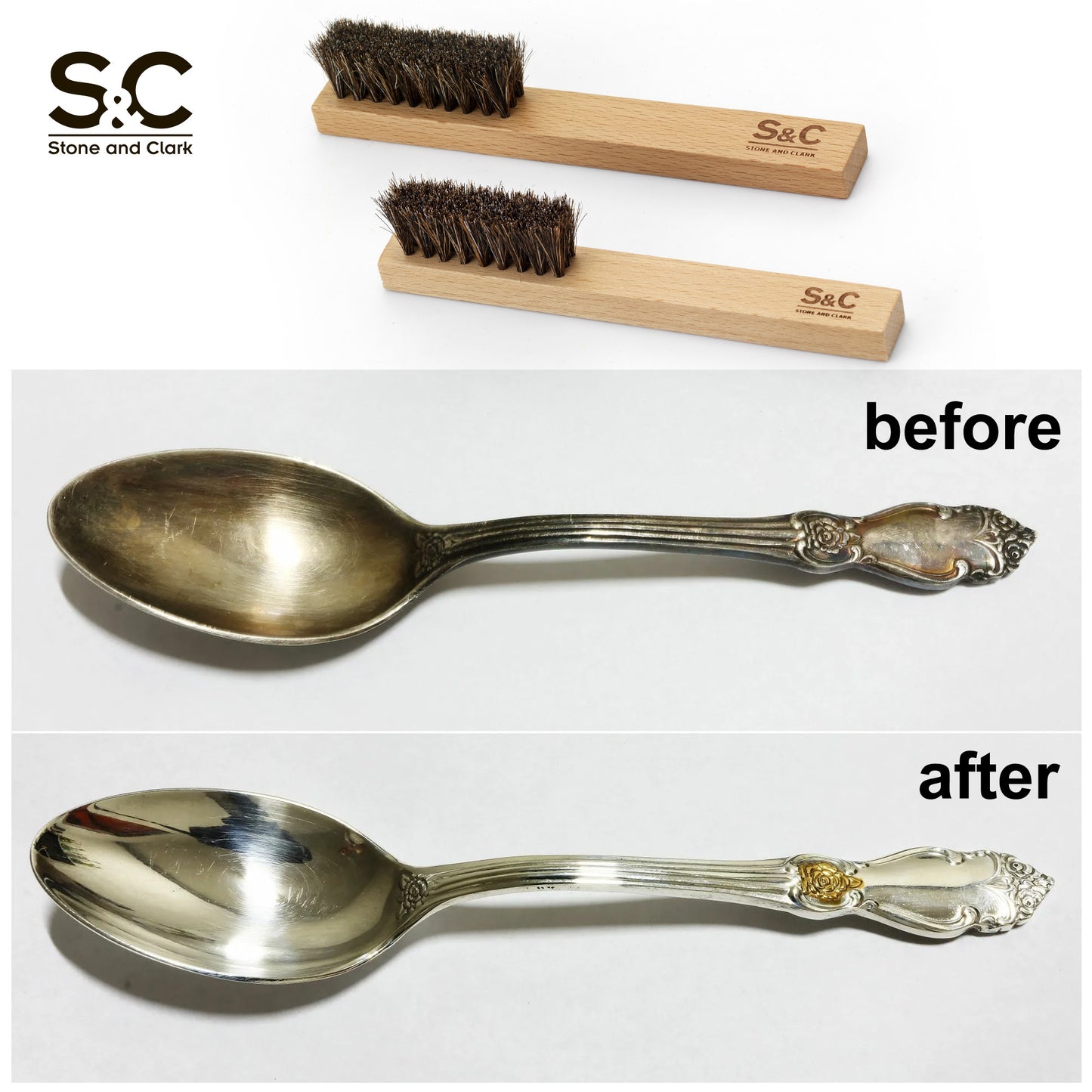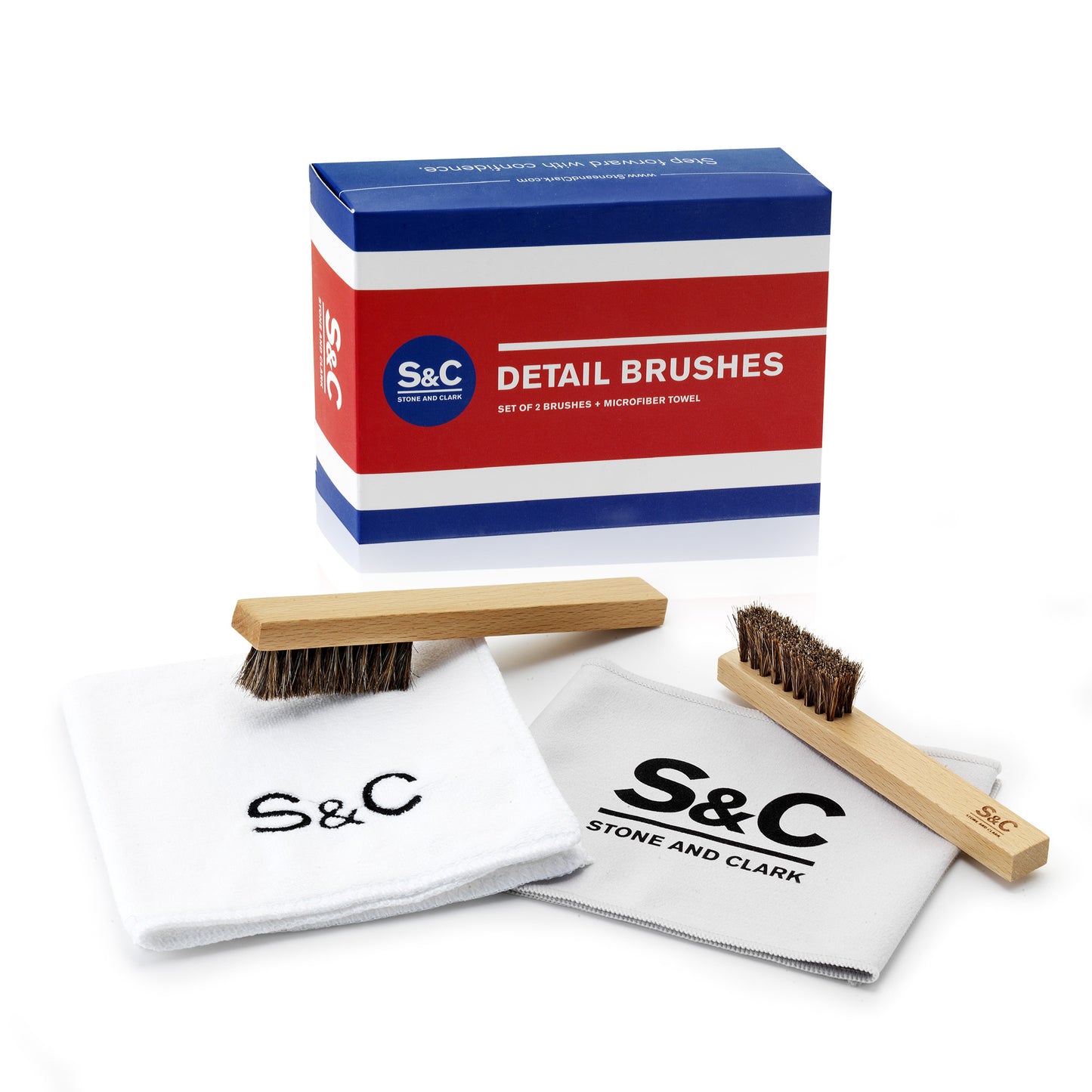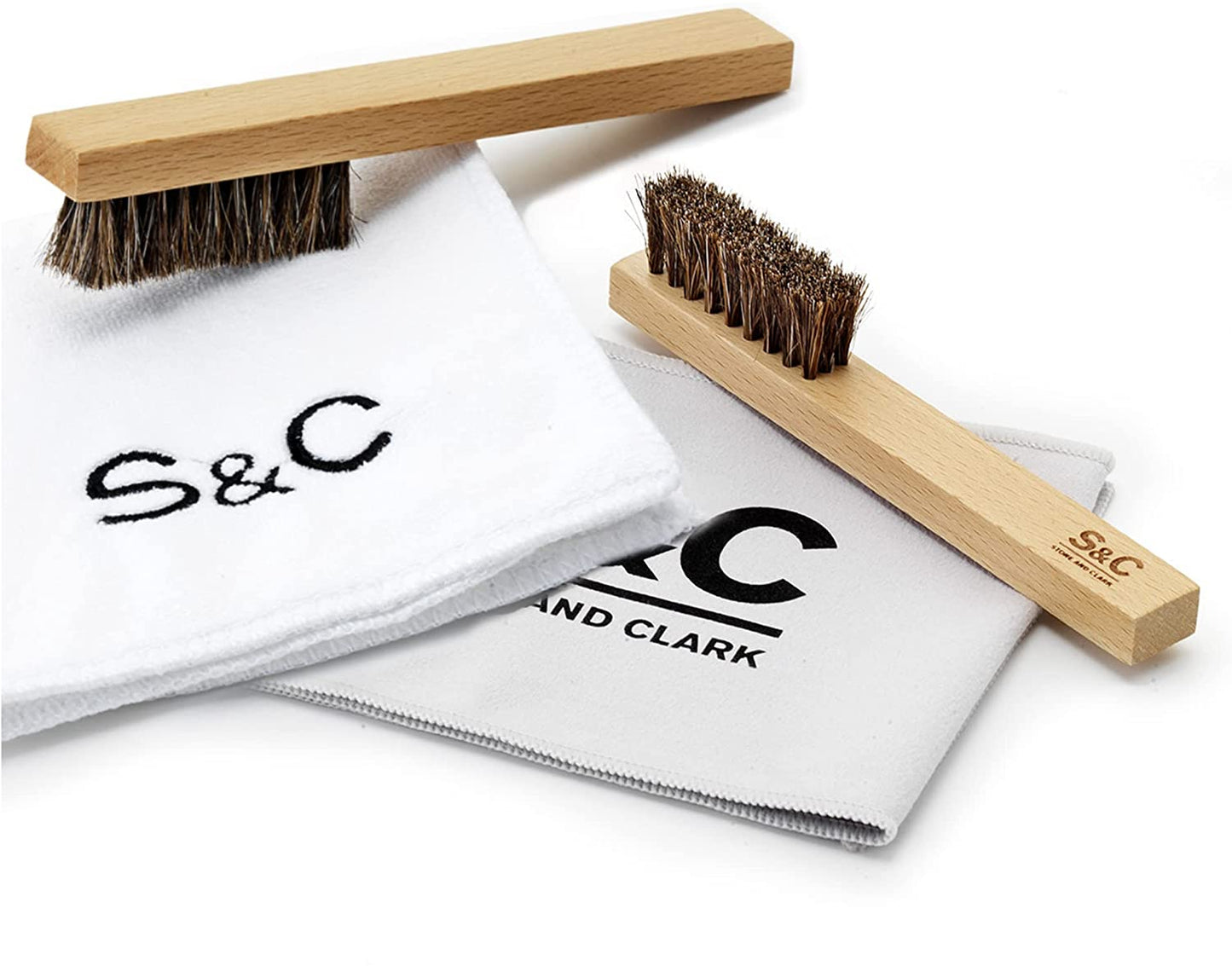 On The Lookout For A Brush That Can Help You Clean Tight, Intricate Surfaces?
Having intricately designed vases, antique jewelry, and premium leather items adds style and charm to our home. Their distinctly classy and luxurious appeal is enough to transform our living room, dining area, or office. But to keep it this way, it's important that we regularly clean them to prevent the formation of rust or the collection of dust. Using regular-sized brushes might not do the job, especially if your items have tiny details that are hard to clean. Good thing detail brushes exist to help you out!
The Detail Brushes from Stone and Clark help you keep anything spotless and polished.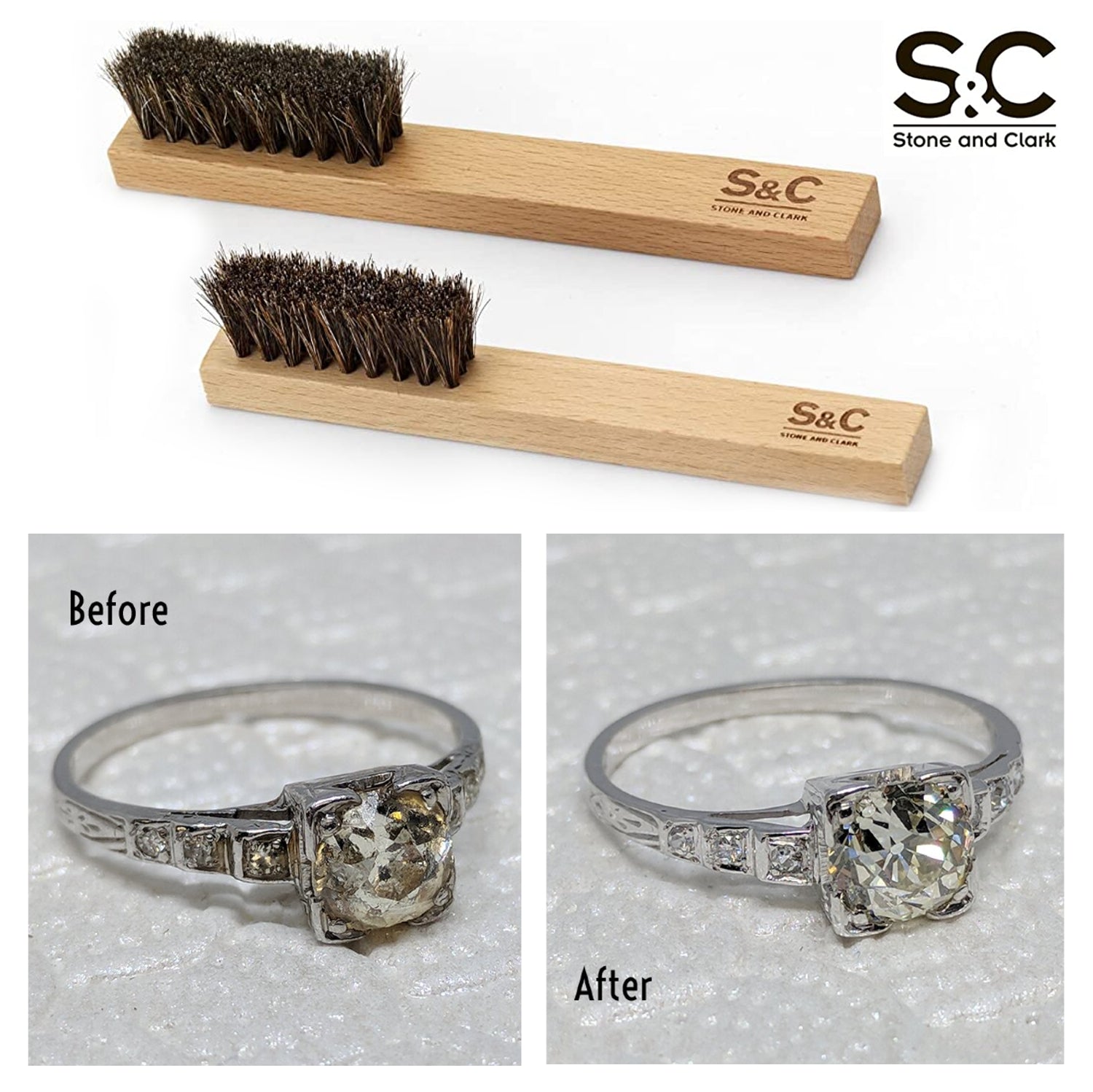 Restore The Lustre Of Valuable Items
Keep your silverware, leather apparel, and bar rails in pristine condition no matter how old they are! Our set comes with 6.69"x0.83"x1.18" and a 5.91"x0.67"x1.18" detail brushes, both designed to help you clean and polish valuables. Their fine bristles can easily get into intricate patterns and narrow spaces for a thorough clean. You also get a microfiber towel and a polishing cloth so you can wipe off excess wax or cream.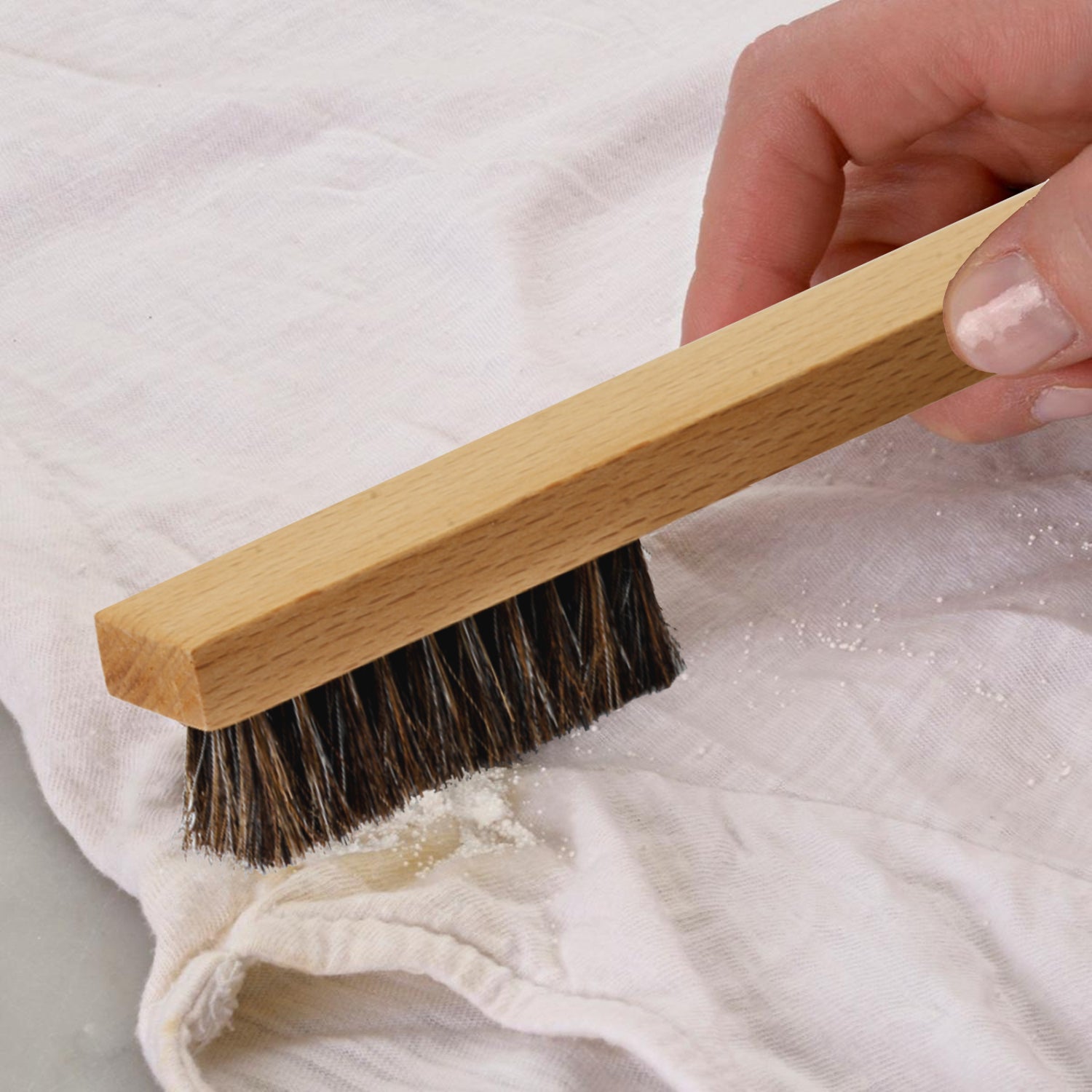 Gentle On Delicate Items
Made with natural horsehair, our handy detail brushes are equipped with ultra-soft bristles so you can efficiently clean your antiques, teapots, utensils, watches, jewelry pieces, coin collection, or even leather shoes without scratching or damaging them.
Since each wooden detail brush is made with natural materials, they make a safe alternative to synthetic cleaning tools!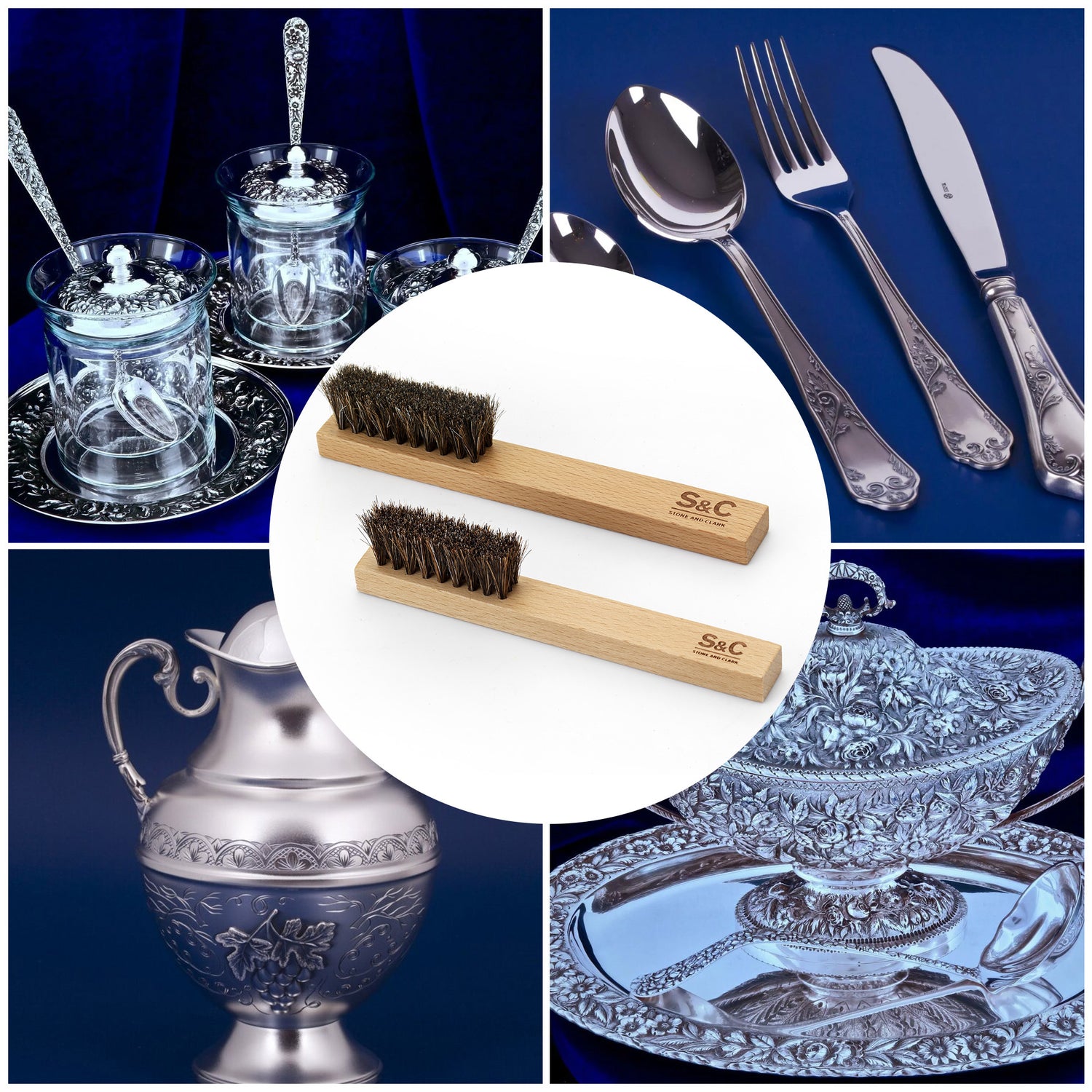 Invest In Long-Lasting Cleaning Tools
A good set of silverware, jewelry, and premium leather can last for many years if they're properly cared for. With that, it's essential to have a set of durable tools that can match the lifespan of your valuables and apaprel. That's why our detail brushes are equipped with robust, durable handles made of high-quality beech wood. This natural material won't easily break, crack, warp, or get damaged right away so you can use it for a long time.
A Breeze To Use

Using our detail brush is easy. Simply scrub your silverware or rails with small circular motions to remove dirt, grime, and dust. You can also use this to apply wax, cream, or polish to your leather shoes, coats, and gloves to restore their natural shine.

Thanks to their long handle, you can easily grip and maneuver these brushes so you can scrub your valuables without straining your hands!

Bring It Anywhere You Go

Going out of the country and want to make sure that your leather shoes, coats, bags, gloves, and jackets will always look great? Take these brushes with you on all your travels! This cleaning tool kit comes in a lightweight and compact design so you can easily stash it inside your purse, luggage, or essential travel kit. Now, you can make sure that your favorite suede nubucks and jewelry will always look fantastic!

Practical Gift Idea

On the lookout for a useful gift for your loved ones? How about a tool that'll help them keep their prized valuables in pristine condition?

Our 2-pack detail cleaning brushes come in a sleek wooden finish that makes them a nice and practical present to friends and family. Give this as a gift on birthdays, Christmas, Thanksgiving, Mother's Day, Father's Day, or any special occasion!
FAQ
What is included in the package of the Stone and Clark Jewelry Cleaning Brush?

The package includes a set of 2 detail brushes, each equipped with robust bristles, along with a microfiber towel and a polishing cloth for fine metals.
How do these detail brushes help remove grime and oxidation from jewelry and valuables?

The detail brushes are designed with robust bristles to effectively remove excess polish, grime, and oxidation from a variety of items, including silverware, jewelry, and metal objects.
Can these brushes be used to clean intricate patterns and hard-to-reach places?

Yes, the set includes two different sizes of detail brushes (6.69"x0.83"x1.18" and 5.91"x0.67"x1.18") to tackle intricate patterns and tight spaces, ensuring thorough cleaning.
Do the bristles of these detail brushes scratch or damage the items they're used on?

No, the bristles are made from premium horsehair to ensure they are soft and gentle on items, preventing scratches, nicks, or damage during cleaning.
How do you recommend using these detail brushes for jewelry cleaning?

Simply scrub your jewelry with small circular motions to remove dirt, grime, and dust. The brushes can also be used to apply wax, cream, or polish to restore the natural shine of your valuables.
How often should I use these brushes for jewelry and valuables cleaning?

The frequency of use depends on the level of wear and the specific items you're cleaning. For best results, use the brushes as needed to keep your valuables in great condition.
Can I take these brushes with me while traveling?

Yes, the cleaning tool kit is lightweight and compact, making it a convenient travel companion. You can easily stash it inside your purse, luggage, or essential travel kit.
How do I clean and maintain the detail brushes?

To maintain the brushes, simply tap or gently brush the bristles against a hard surface to remove any excess polish or dirt. Store them in a cool, dry place.
Can I use these brushes on delicate or vintage items?

While these brushes are gentle, for delicate or vintage items, it's advisable to perform a patch test in an inconspicuous area to ensure compatibility with the specific material.
Do the bristles of the detail brushes fray or lose their effectiveness over time?

With proper care and maintenance, the bristles should remain effective for an extended period. Cleaning the brushes and storing them correctly ensures their longevity.
Works well cleaning coins
A good brush for cleaning coins
Good value
This is a good quality product and excellent value.
works well
I'm Happy I was able to find this item, easy to use and much needed for my silver polish needs.
To soft
Felt like the brissels were to soft
Nice brushes
A little softer then I wanted but will still work well, it'll be better then the firmness I was looking for anyway. It's nice that you get 2 brushes, one is smaller then the other.