Stone And Clark
Regular price
Sale price
$24.99
Unit price
per
Sale
Sold out
Buy On Amazon.com
Buy On Amazon.ca
From Break-Ins To Restorations - The specially formulated mink oil for leather penetrates deeply into leather and helps nourish it from within to rejuvenate worn-out fabric and soften stiff ones.

Protect & Preserve - Using mink oil on leather shoes or boots puts a layer of protective coating on their surfaces. This barrier helps prevent water and other liquid from leaving stains on the footwear.

Complete Leather Care Kit - This leather shoe cleaning kit includes 100ml mink oil paste, a shoe brush, and a towel. It has everything you need to bring your leather shoes and goods back to life!

Use It With Other Leather Goods - You can also use this shoe shine kit for other leather products including clothes and accessories. It's also great for leather upholstered furniture and saddles.

Easy Application - Applying this leather oil on your items is easy using the included shoe cleaner towel. It dries quickly and won't leave any visible residue. Please test on a small area before applying all over.
Share
View full details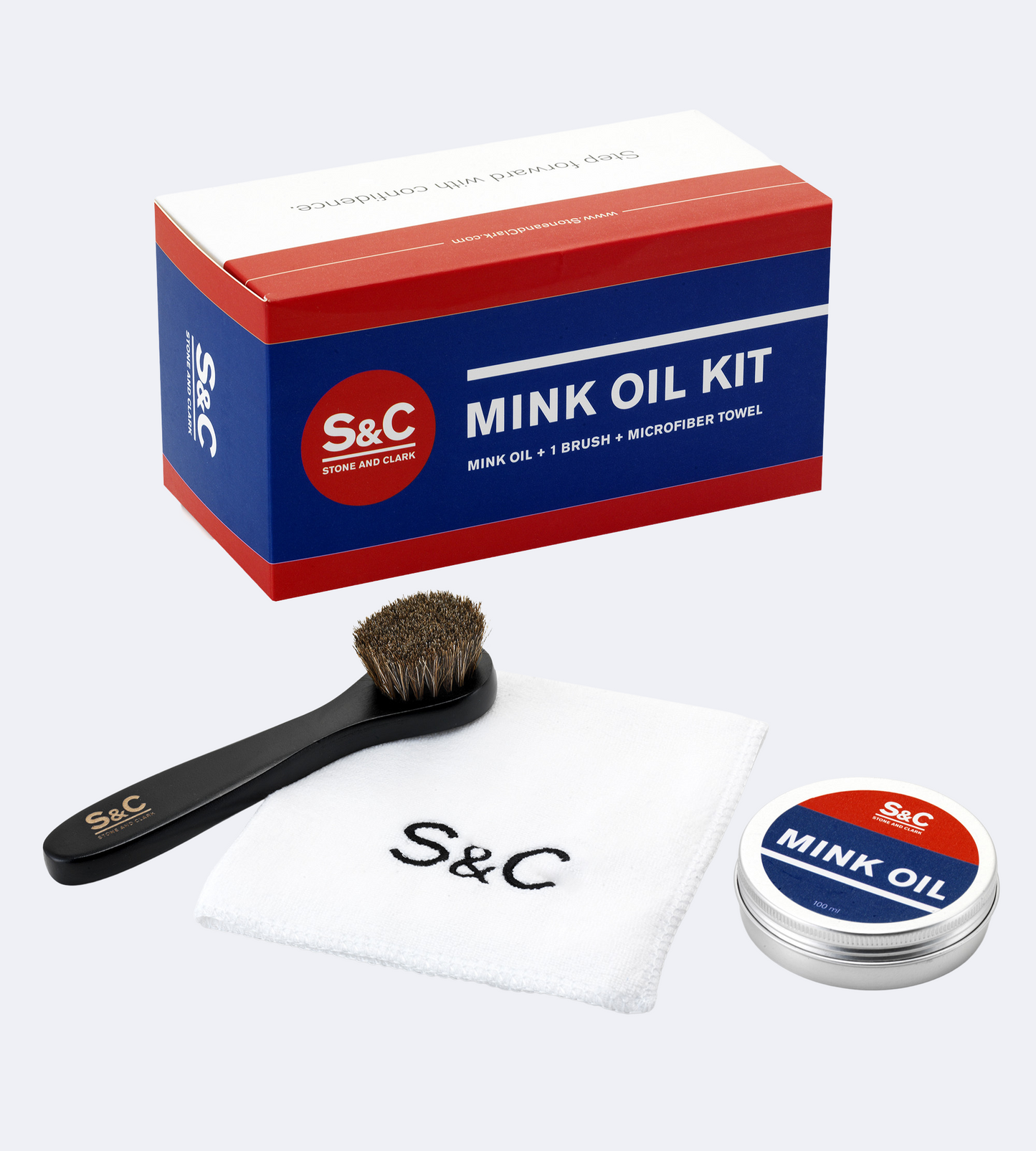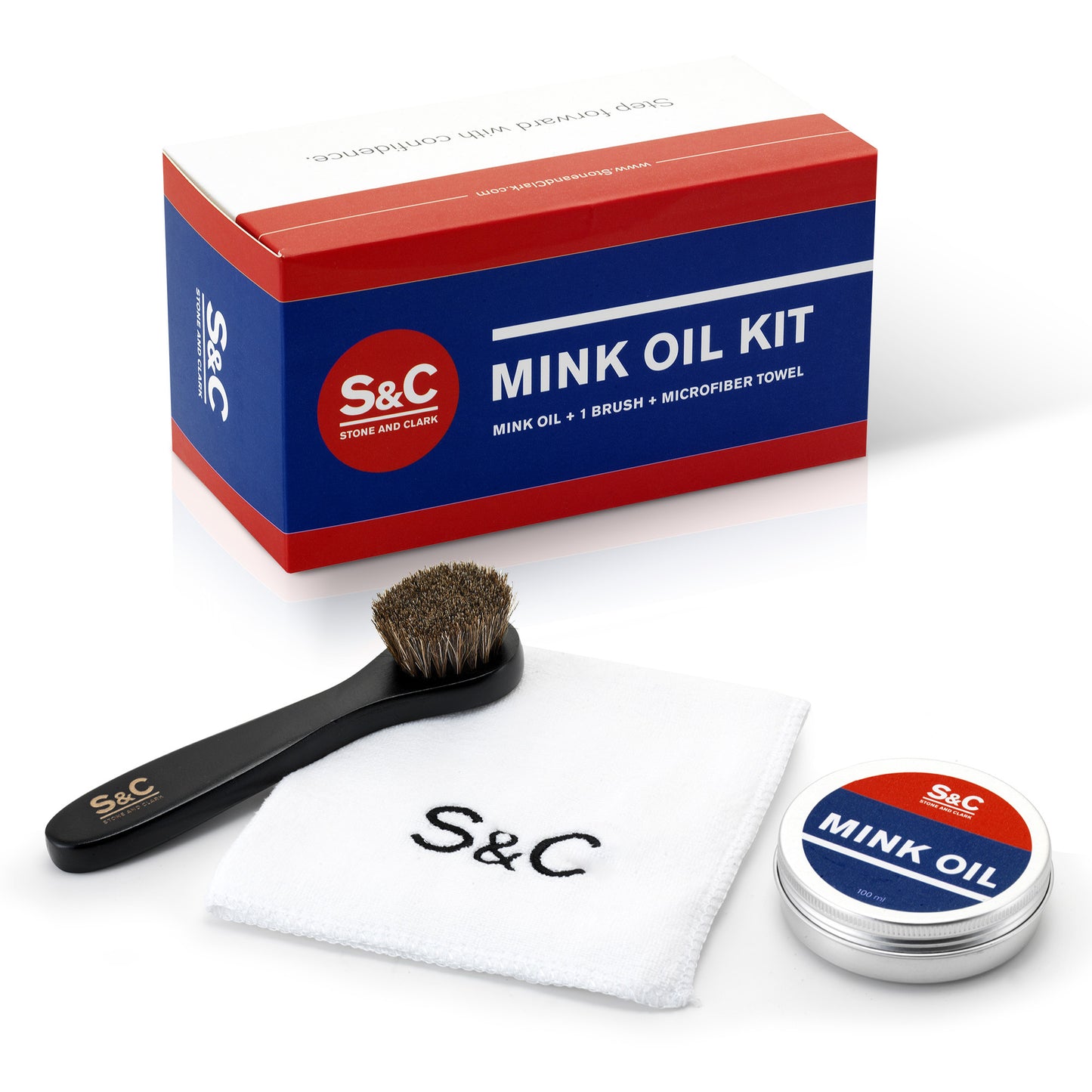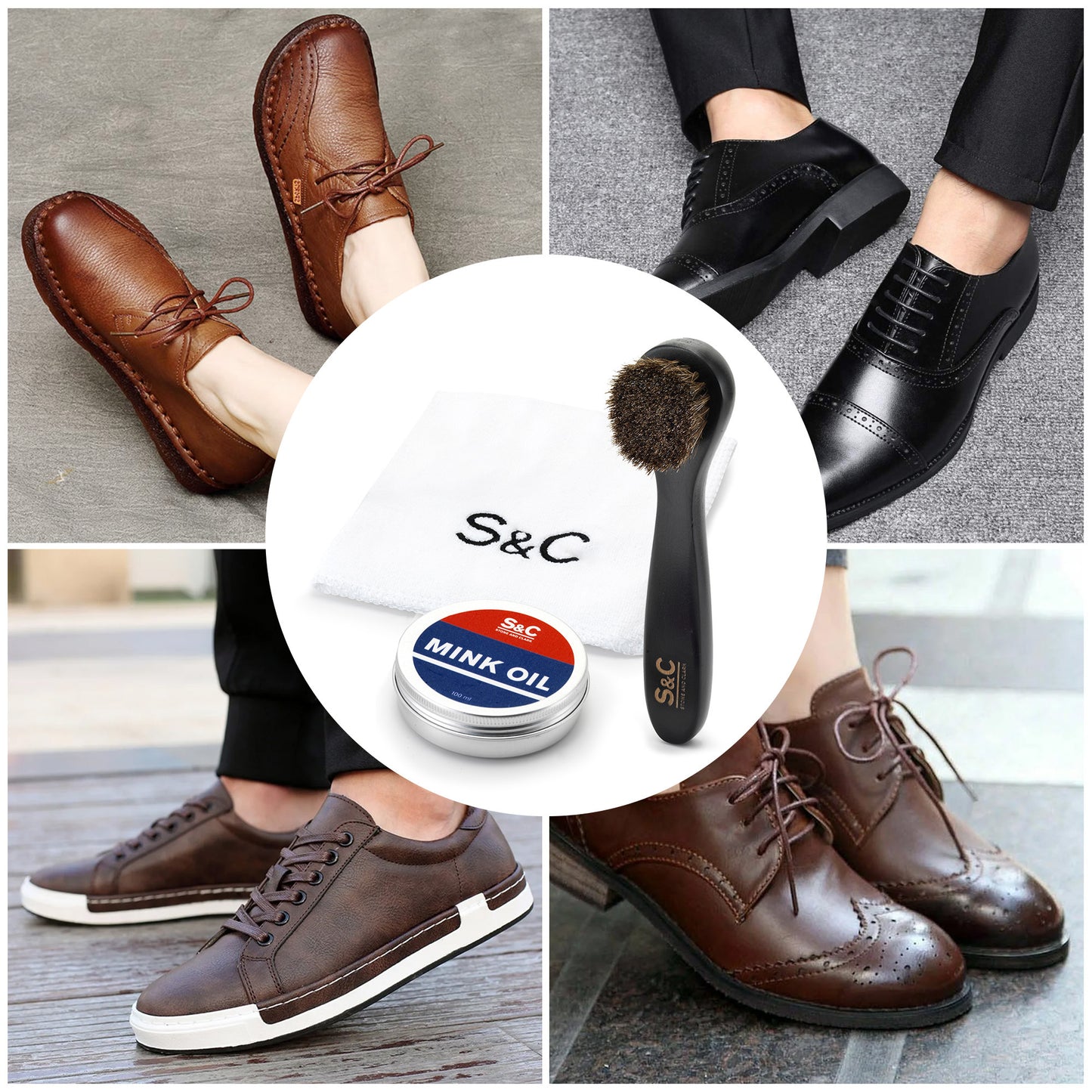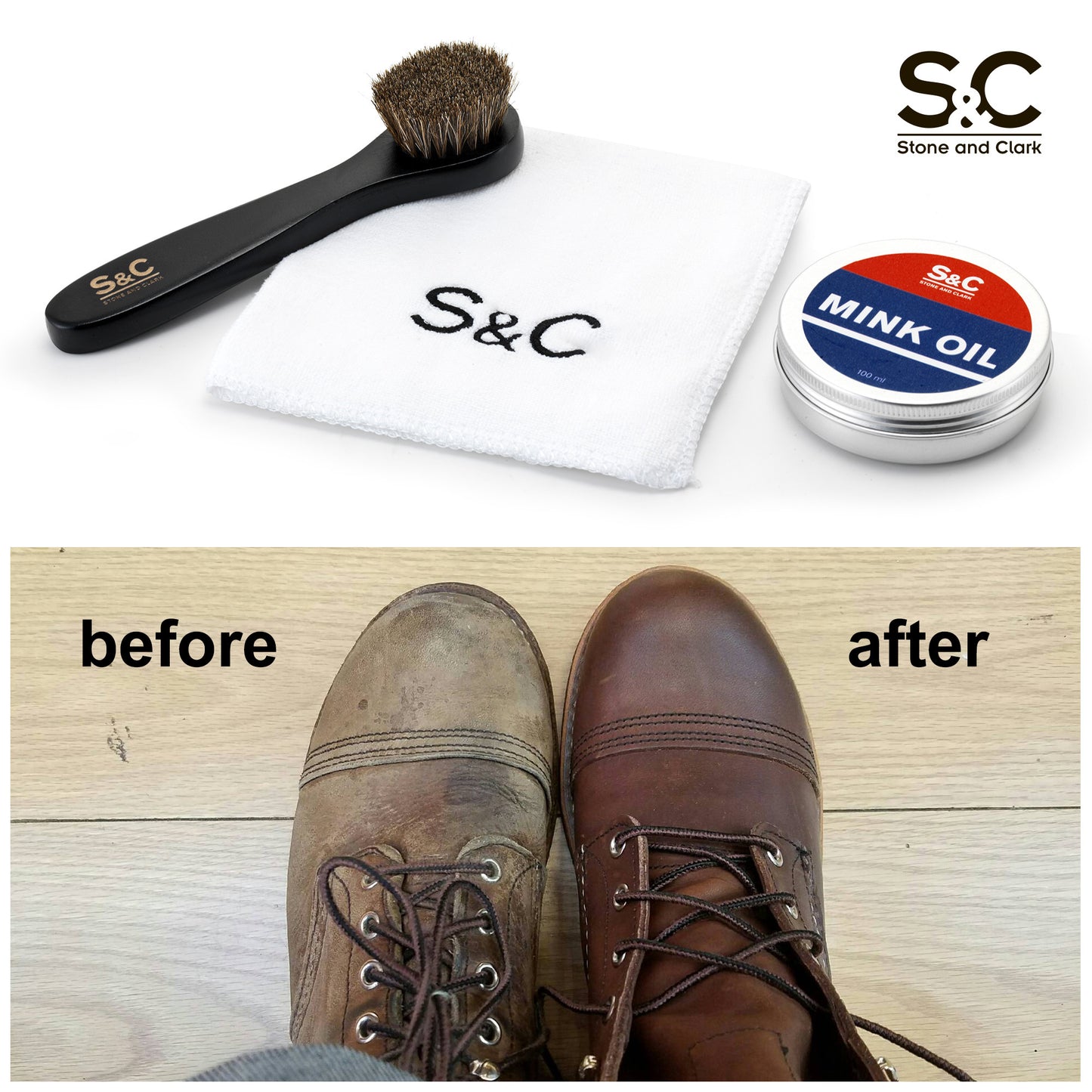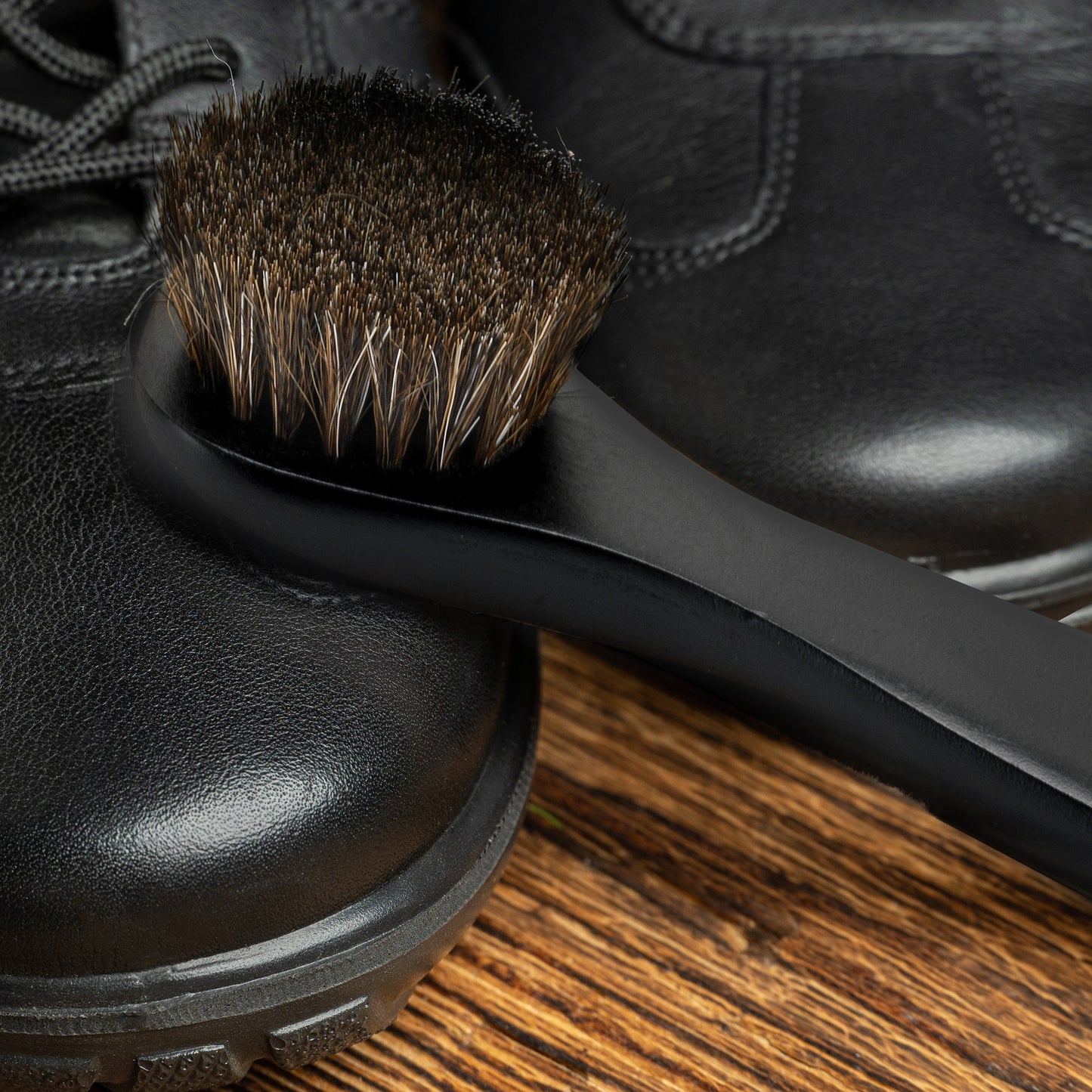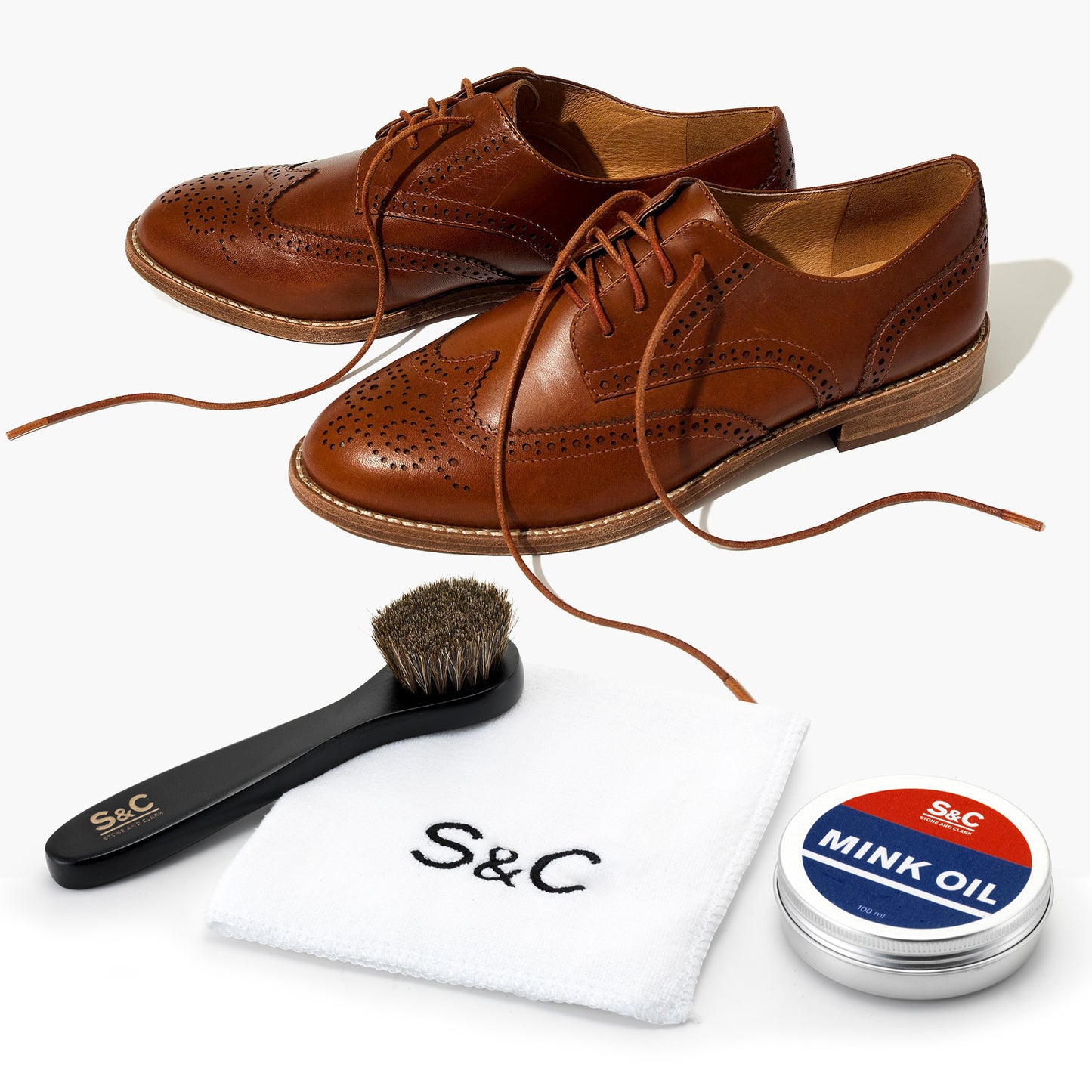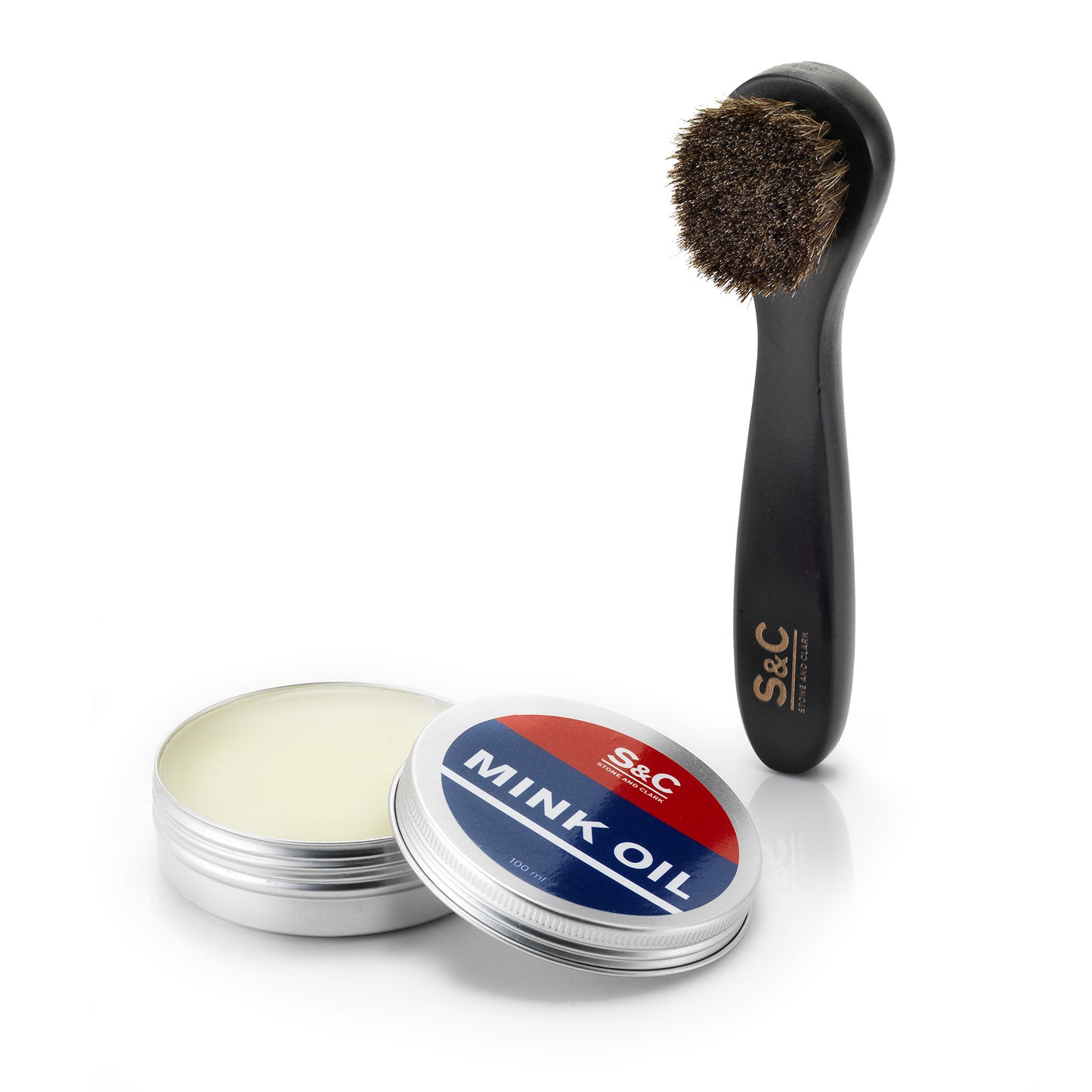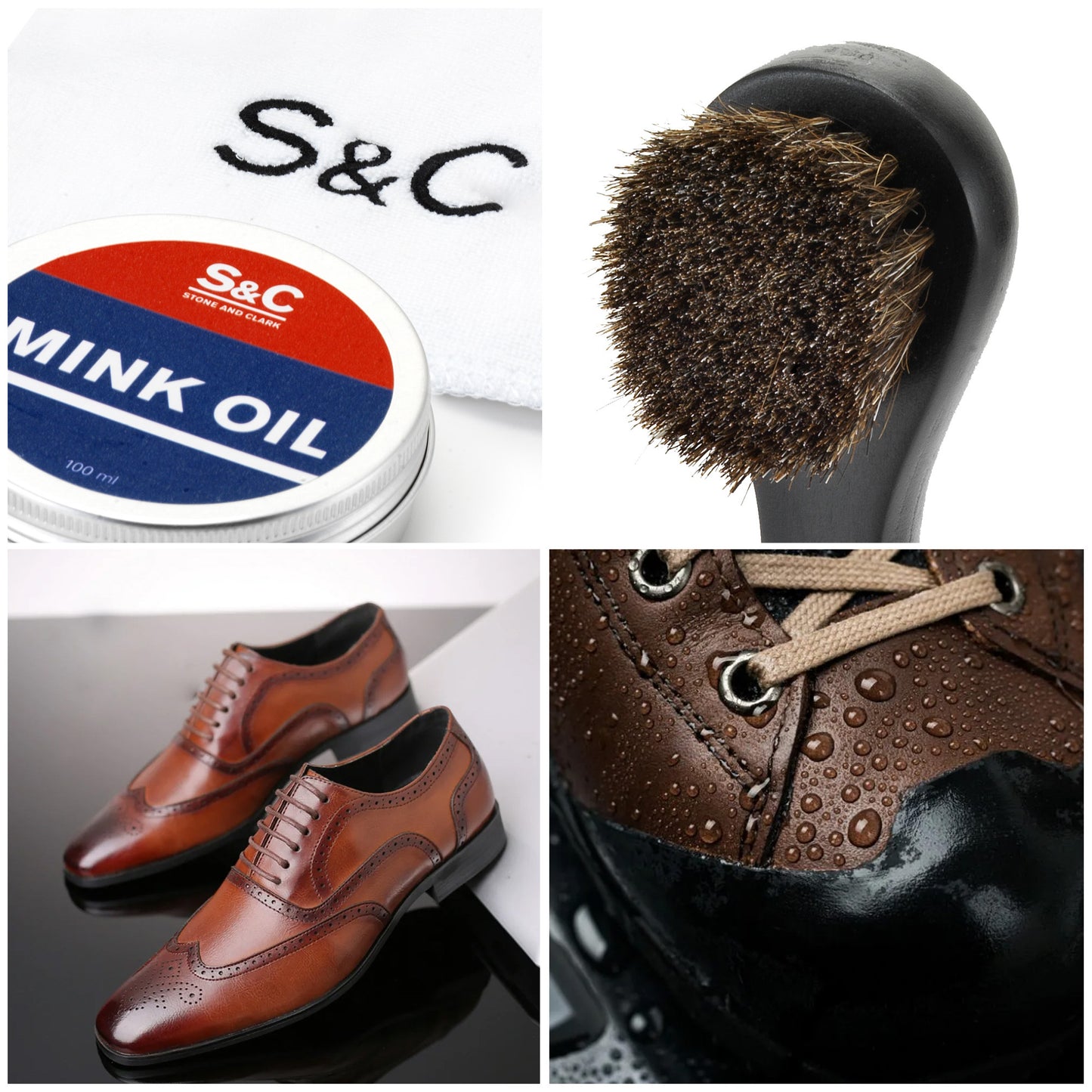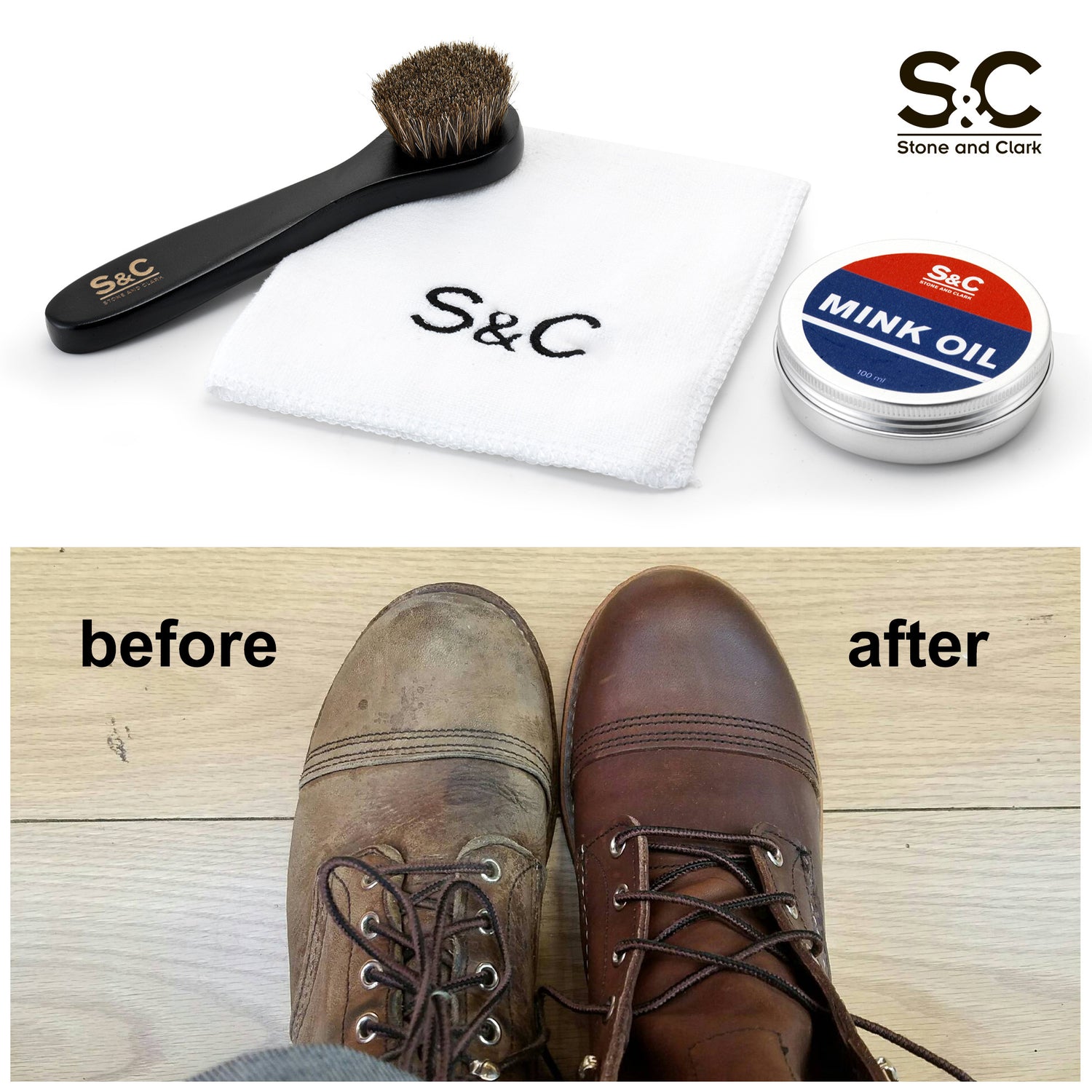 Revitalize Your Shoes & Boots
The kit includes an expertly blended mink oil paste which acts as an excellent leather conditioner and softener. It has great permeability and can be easily absorbed so it works its magic both inside and out. This makes the fabric softer and more elastic; thus, making it more comfortable to wear. Aside from that, it also helps restore the sheen and shine of the leather.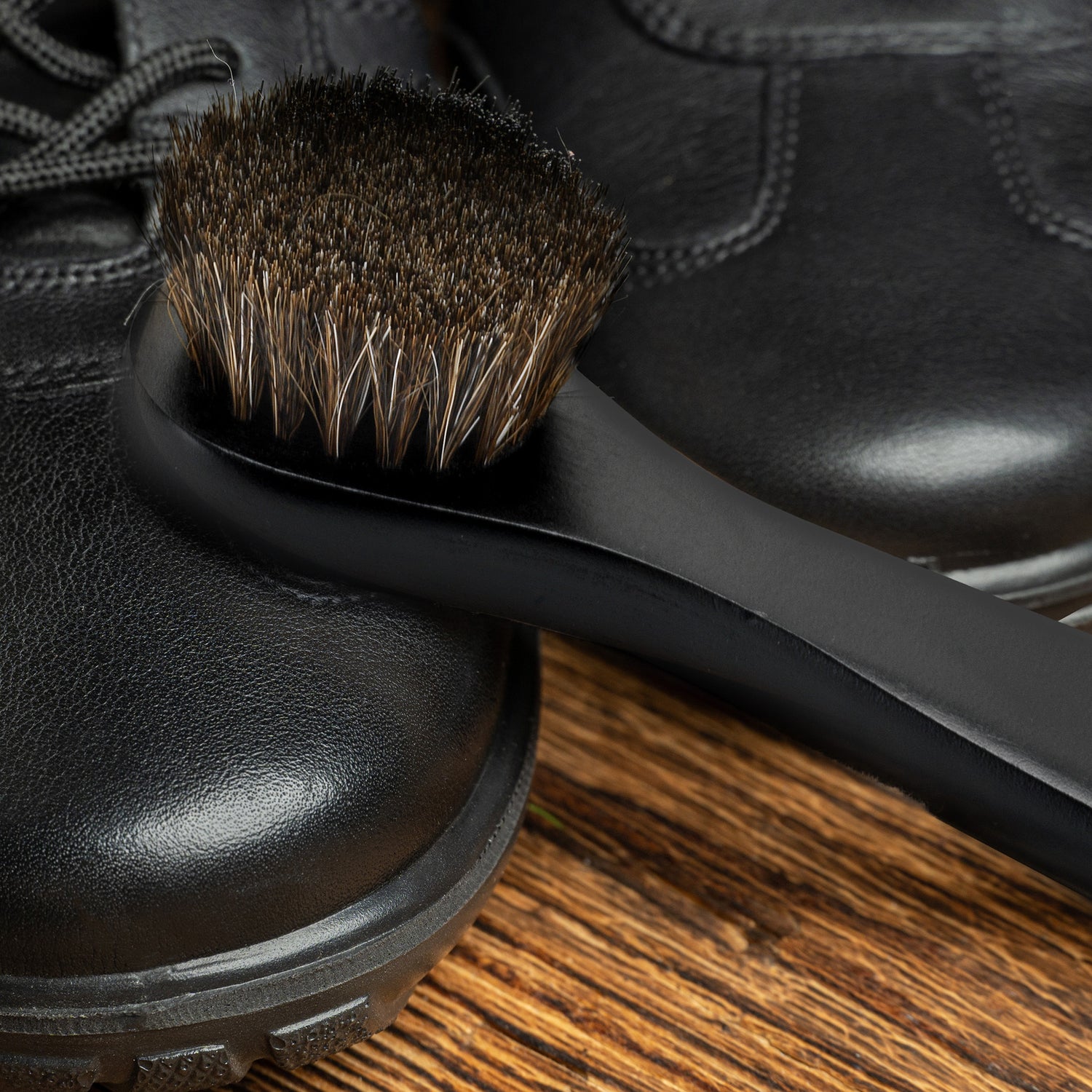 Looks Like New For Longer
Water marks and stains can wreak havoc on the overall look and appeal of your leather footwear. And the worst part? They can be quite difficult to remove and even become permanent.
This mink oil can help keep that from happening. When applied over the leather, it creates a protective barrier that makes the surface waterproof and prevents staining. This doesn't just help preserve your
footwear but makes it easier to clean, too!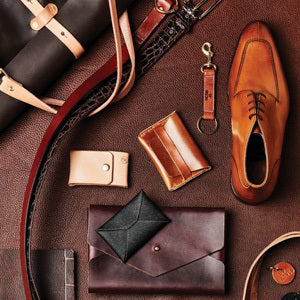 Everything You Need
Effectively caring for your leather footwear requires more than just a brush. This is why we've put together this set to make it more convenient and cost-effective for you - no need to shop for them individually.
The kit includes a 100ml mink oil paste in a resealable tin can, as well as a shoe brush with a black lotus and a laser-engraved logo. There's also a white towel with a logo in the set.
Step Forward With Confidence
Suitable For Most Leather Products

This mink oil kit can be used on various types of leather including tanned, full-grain, and other leather with a smooth finish. It's not recommended for use with suede or those with naps or piles.

Aside from shoes and boots, this cleaning and restoration kit can also be used with other leather goods. This includes wallets, purses, bags, jackets, and vests. You can also use it on gloves, belts, hats, and even couches or car seats.

Easy To Use

Before applying the mink oil, use the accompanying brush and towel to clean and remove dust and dirt on the leather's surface. Once you're done cleaning, scoop a small amount of the paste with the towel, then rub it all over the shoe or boot evenly. Leave it for a few minutes to give time for the solution to be absorbed.

After that, remove any excess paste and wipe and buff until the desired shine is achieved

A Useful Gift For Leather Lovers

Help your family, friend, or colleague take better care of their favorite leather footwear and accessories by gifting them this mink oil kit.

It's a complete package that's perfect for gifting during birthdays, holidays, or any other special occasion. They're nicely packaged in a box making it easier to gift wrap. And while you're at it, don't forget to grab a box for yourself as well.
Frequently Asked Questions
What is included in the Stone and Clark Mink Oil Kit?

The kit includes 100ml mink oil paste, a horsehair shoe polish applicator brush, and a cloth.
Can I use this product on all types of leather?

It's suitable for most leathers like tanned and full-grain, but not recommended for suede or leather with naps or piles.
Is the mink oil kit easy to use?

Yes, it's user-friendly. Clean the leather with the brush and towel, apply the mink oil, and then buff for shine.
Can this product be used on leather furniture?

Yes, it's suitable for leather upholstered furniture as well as shoes, boots, and other leather goods.
Does the mink oil leave any residue?

No, it dries quickly without leaving visible residue. Always test on a small area first.
How often should I use this product on my leather items?

Usage depends on the item's exposure to elements and wear, but generally every few months is sufficient.
Is the horsehair brush soft on leather surfaces?

Yes, it's designed to be gentle on leather while effectively cleaning it.
Can this mink oil be used on leather car seats?

Yes, it's suitable for leather car seats as well.
How long does it take for the mink oil to dry?

It dries relatively quickly but leave it for a few minutes after application for full absorption.
How do I store the mink oil when not in use?

Keep it in a cool, dry place away from direct sunlight.
Nice stuff
I used it on my leather purses and boots. Has no smell. I actually liked it on my chapped hands and feet. Good to put oil on frequently and buff out. It looks nice. Is waterproof
Works as it should
I used this product on a pair of reenacting boots. It worked as it should with no issues.
Most Needed for your Boots
When you buy a nice pair of boots and you want to protect them, mink oil is the answer. Mink oil will water proof your boots as well.This mink oil works just as I would expect. The way I did it was take an old toothbrush and use it to apply the mink oil to the seams and cracks and crevices on my boots. Then I used the brush to brush everything up and then the microfiber cloth to shine off the excess mink oil.If you have a lighter color leather, you can apply this mink oil and then brush it up and keep it looking nice. But you will find that some spots may darken. What I learned is this darkening will generally lighten up after a while. I can speed that process up by putting my boots or shoes in the sun for a few days.This set is a nice set and you can give as a gift if you know someone who has just bought some nice leather boots or shoes. It comes in a nice little box.
Old school set up,ready to go right in your wooden shine box
Mink oil is by far the best natural waterproofing product for all things leather. this set comes with large reusable tin of high quality mink oil( derived humainly) and a wood handle genuine horse hair brush so you can rub it into stitching and work it deeper into the leather.and a micro cloth to wipe of excess oil in a heavy duty red wite and blue cardboard box makes a great gift and if properly applied will add extra years of life to your boots .which is a big plus with good boots going for $200and up! Protect your investment and get you some mink oil!
Good coverage, will darken lighter colors
The media could not be loaded. Â I used this to waterproof my vintage boots. The product has no odor and is a uniform consistency. The brush is handy but I find a toothbrush does a better job of getting into the seams.Mink oil will darken lighter leathers so just be aware if maintaining exact color is important to you. Don't worry about blotching, the product soaks in and evens out if you set in the sun and are patient.Excellent conditioner and waterproofer.