Stone And Clark
Regular price
Sale price
$19.99
Unit price
per
Sale
Sold out
Buy On Amazon.com
Buy On Amazon.ca
Premium Leather Care - Your premium leather shoes deserve only the best care. Make them last longer with regular and thorough cleaning, polishing, and buffing made possible through our shoe brush.

Made of Pure Horsehair - Our shoe polish brush is made of soft Black horsehair. It's perfect for polishing leather goods without creating too much friction that might scratch the delicate surface.

Comfortable Grip - This horse brush comes in a portable and lightweight 6.6x2.1x1.5" size. The smooth beechwood handle provides a firm yet comfortable grip so you can use it for regular leather care.

A Durable Accessory - Leather is loved for being long lasting and this leather brush is designed to be the same. Made of heavy duty beechwood and horsehair, this brush can withstand constant use for years.

A Practical Gift - Any avid collector of luxury leather shoes will love to have this shoe cleaning brush in their care kit. It's a great gift for the holidays, birthdays, and any special occasion.
Share
View full details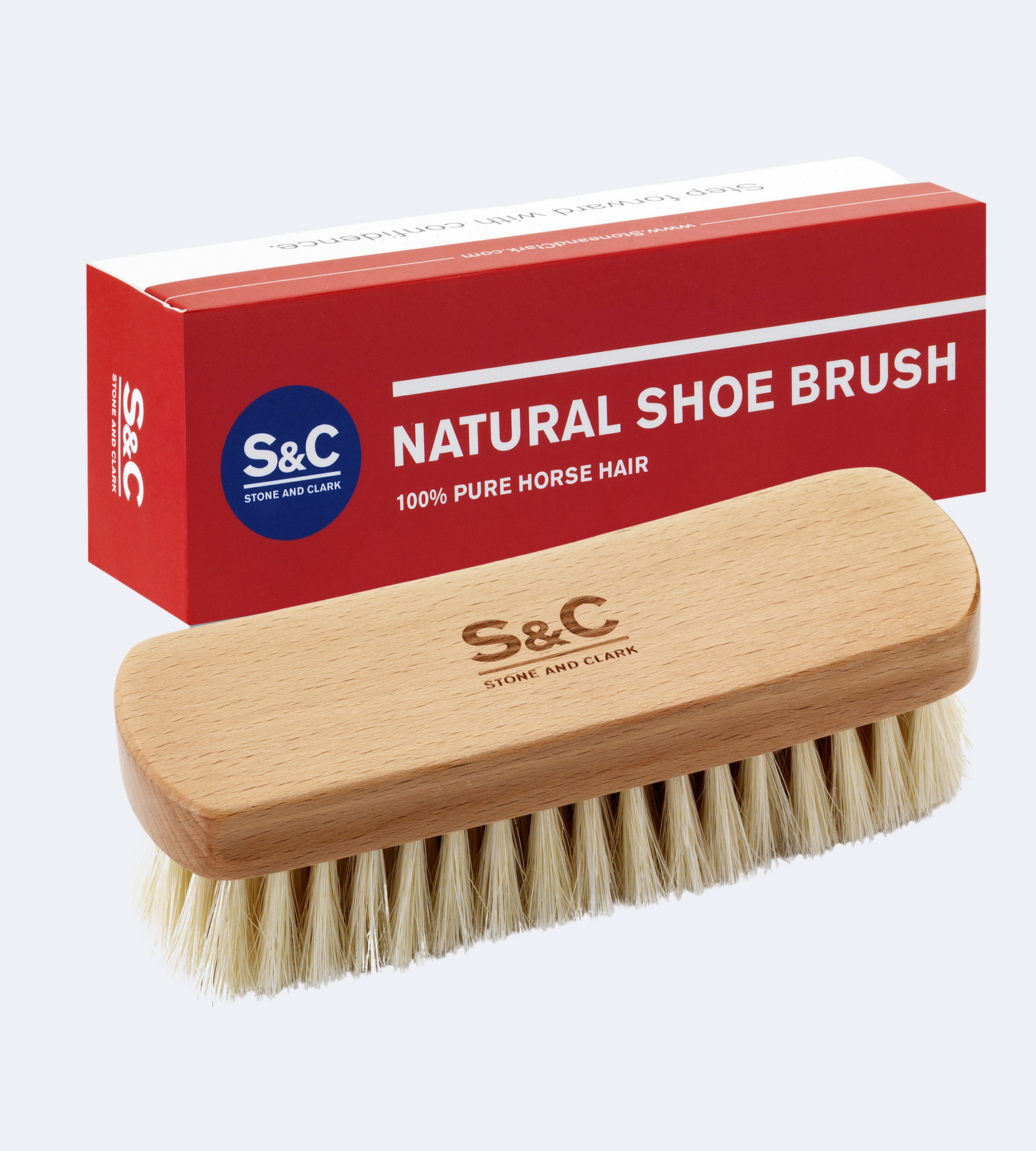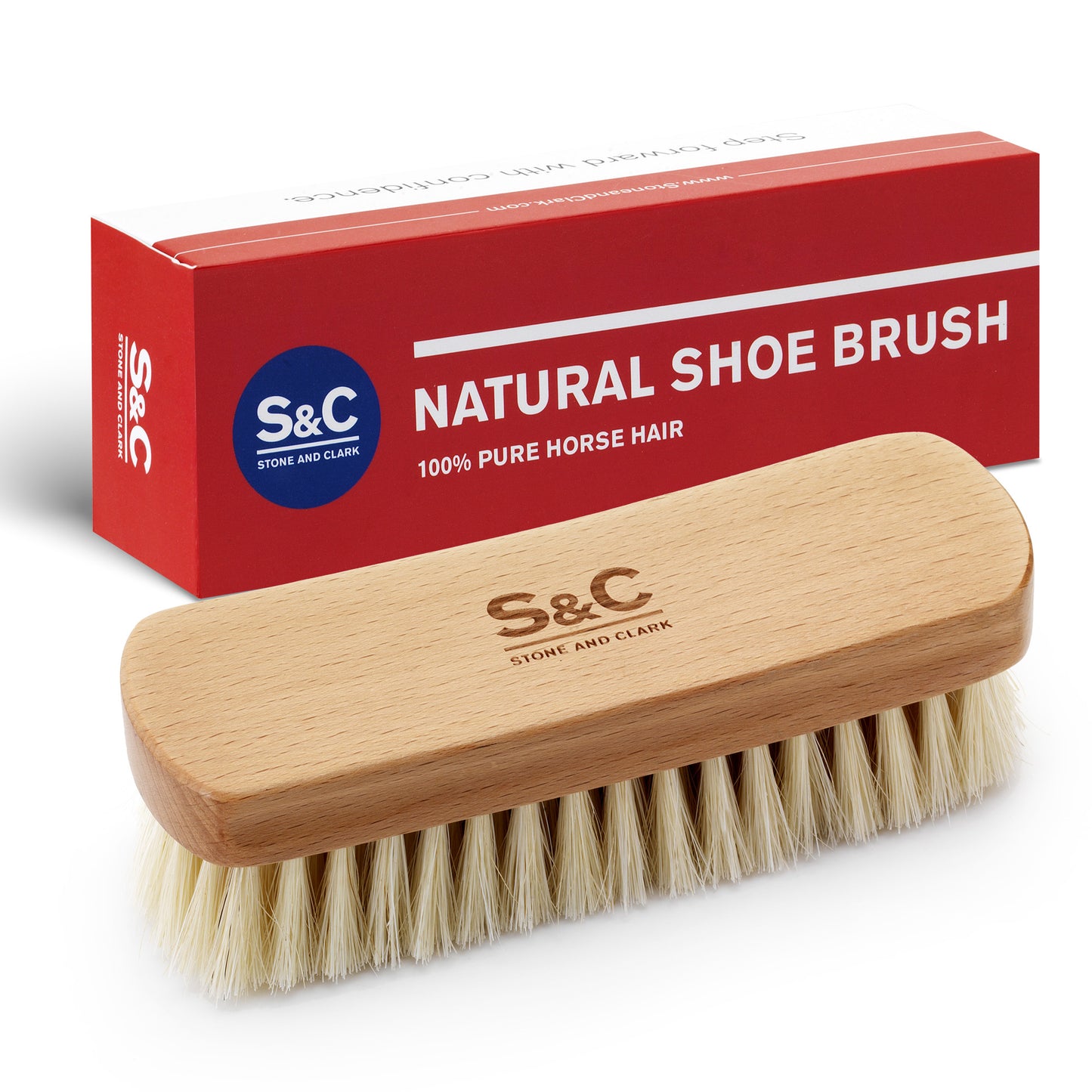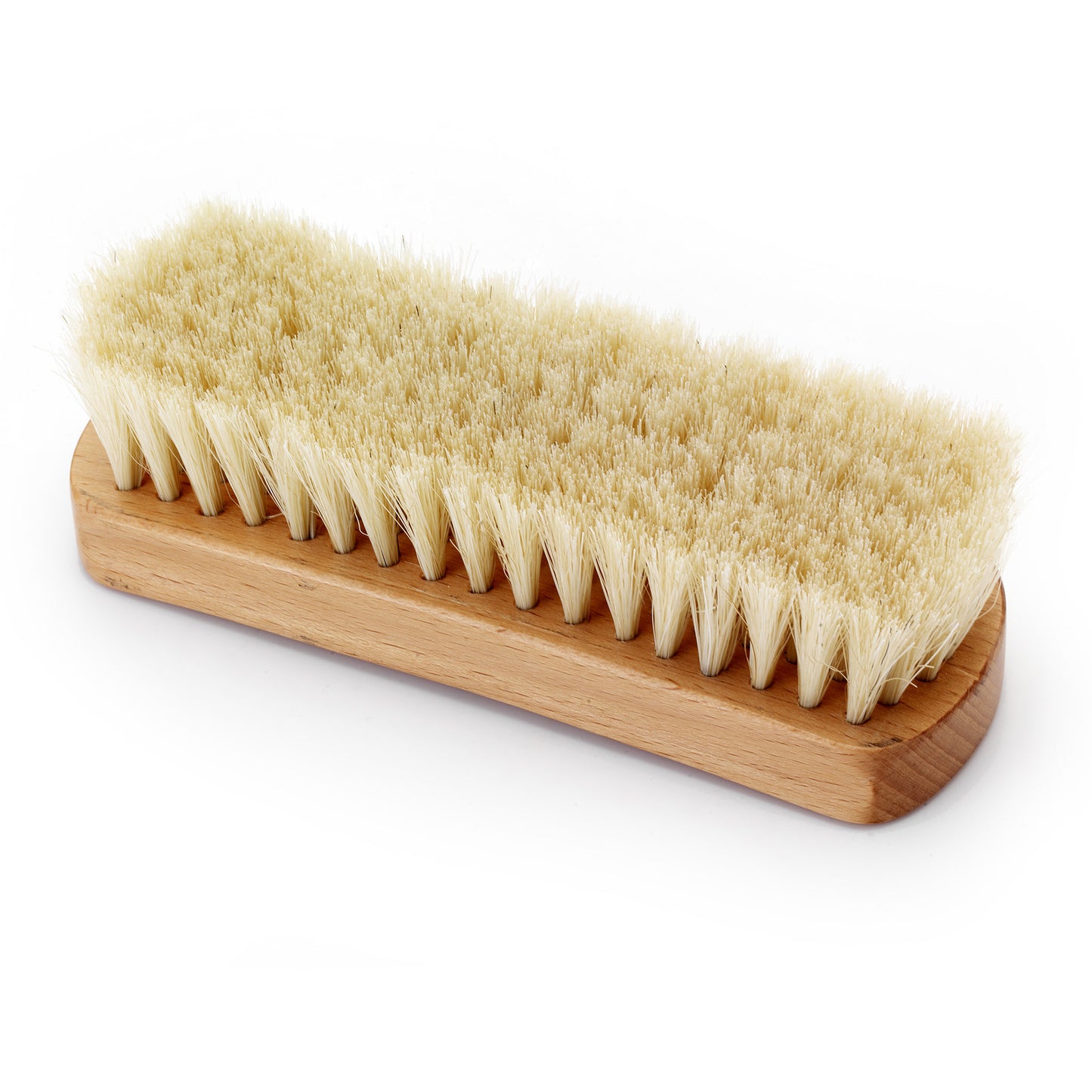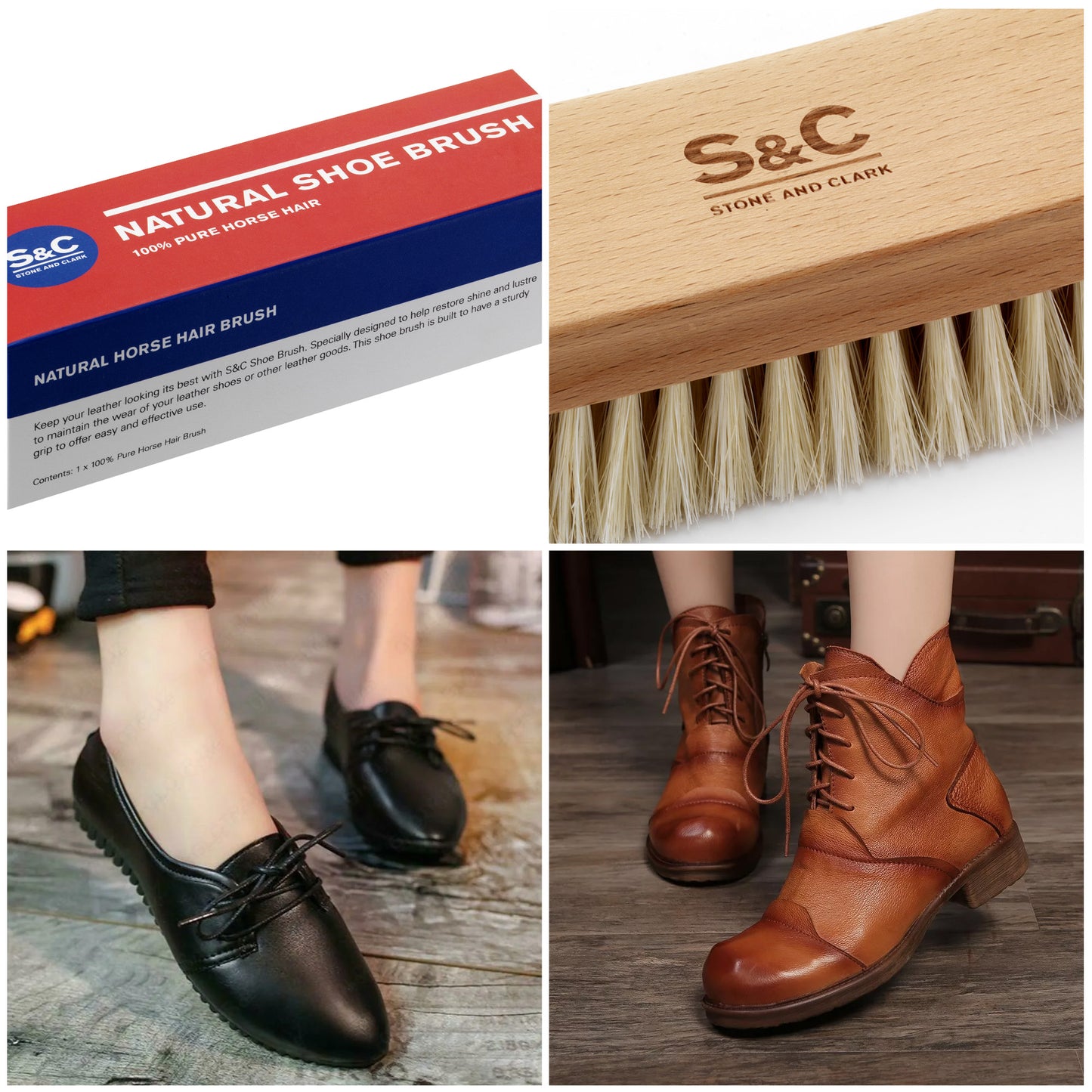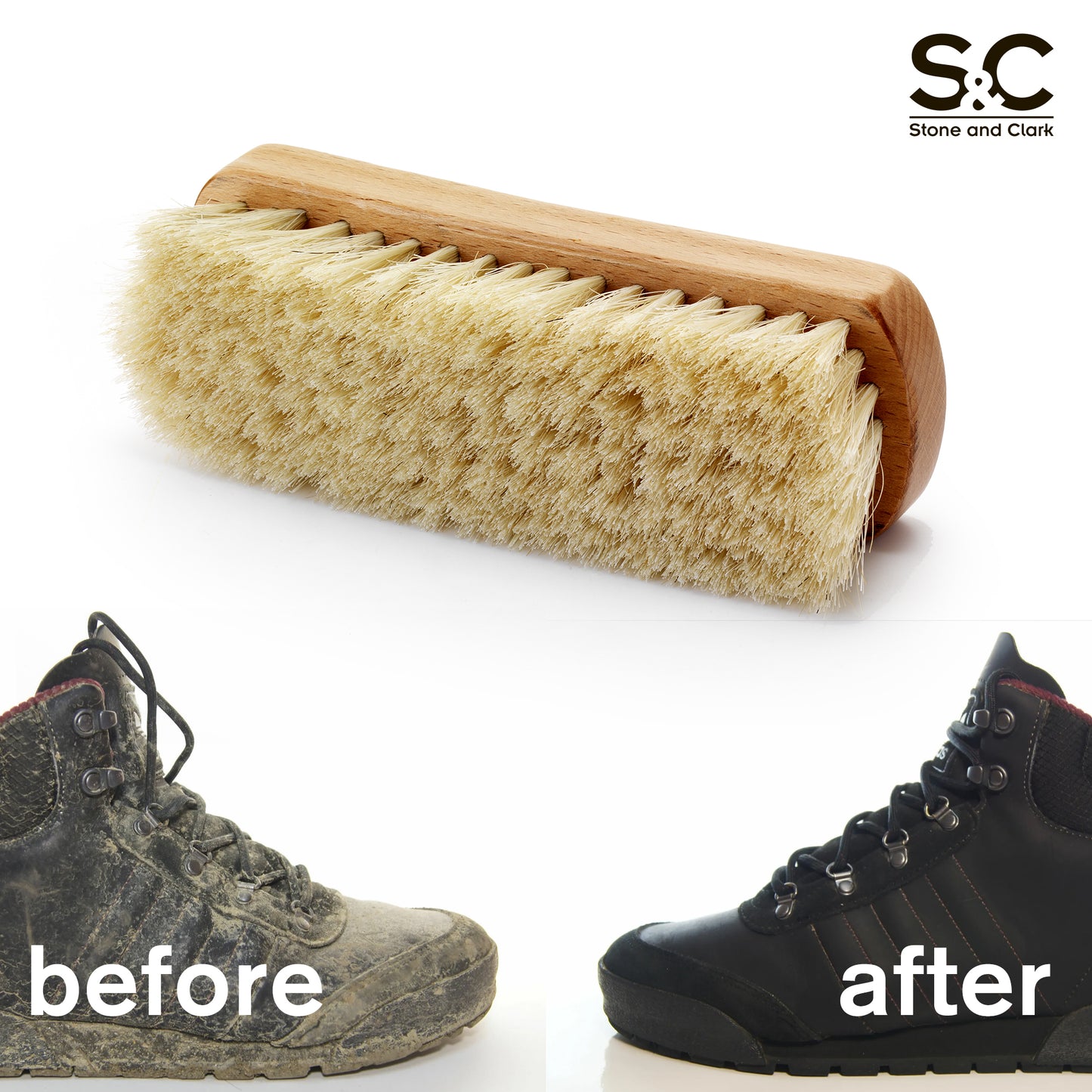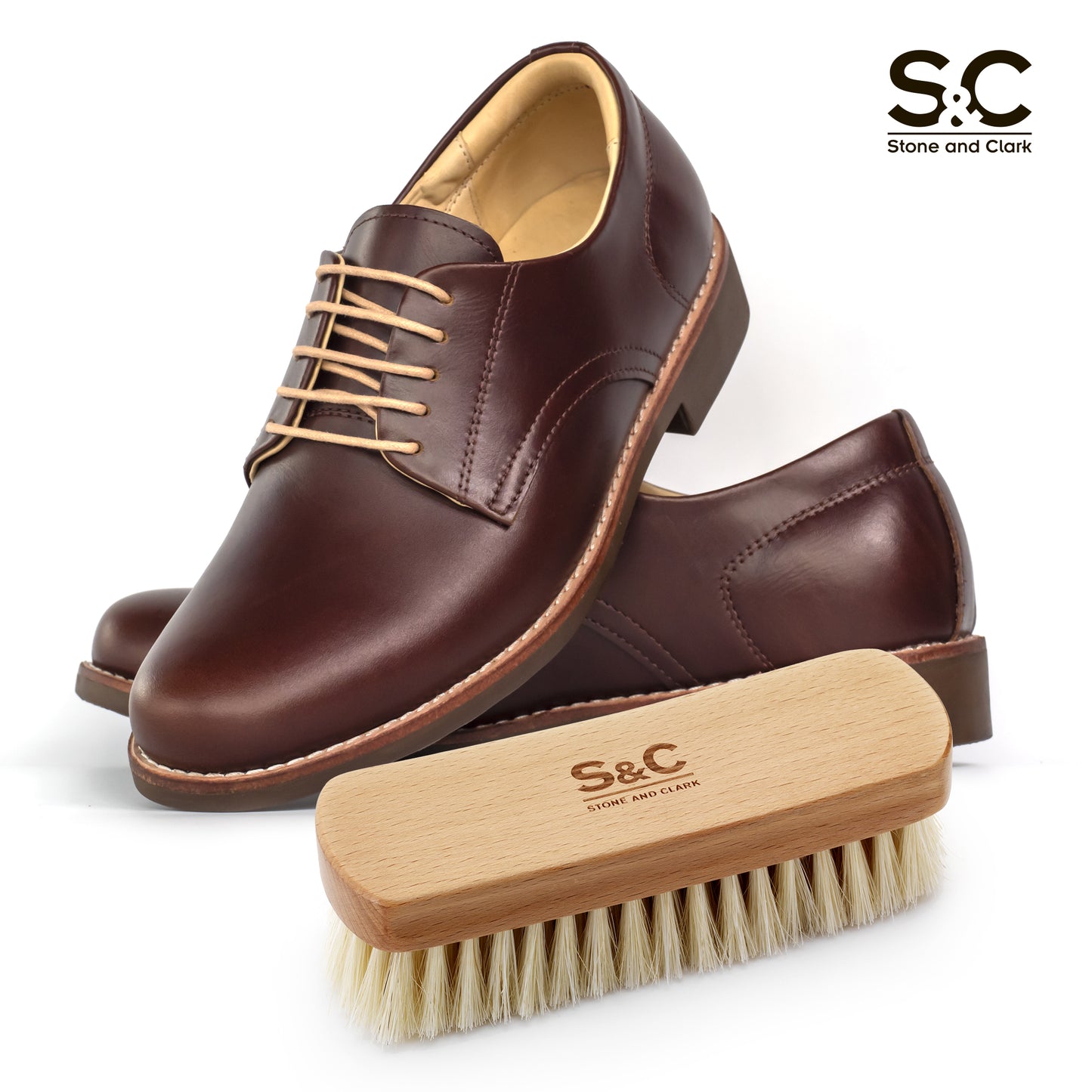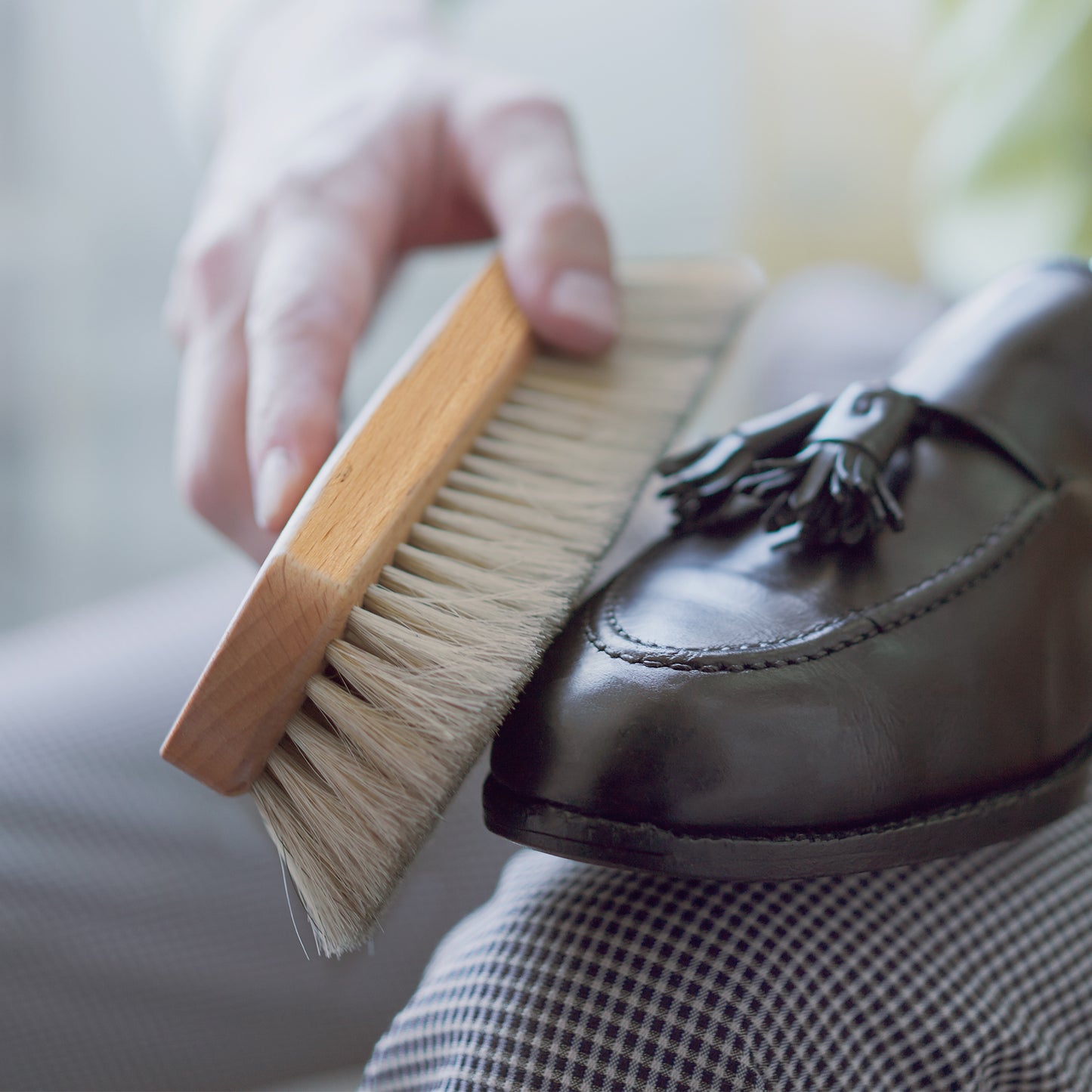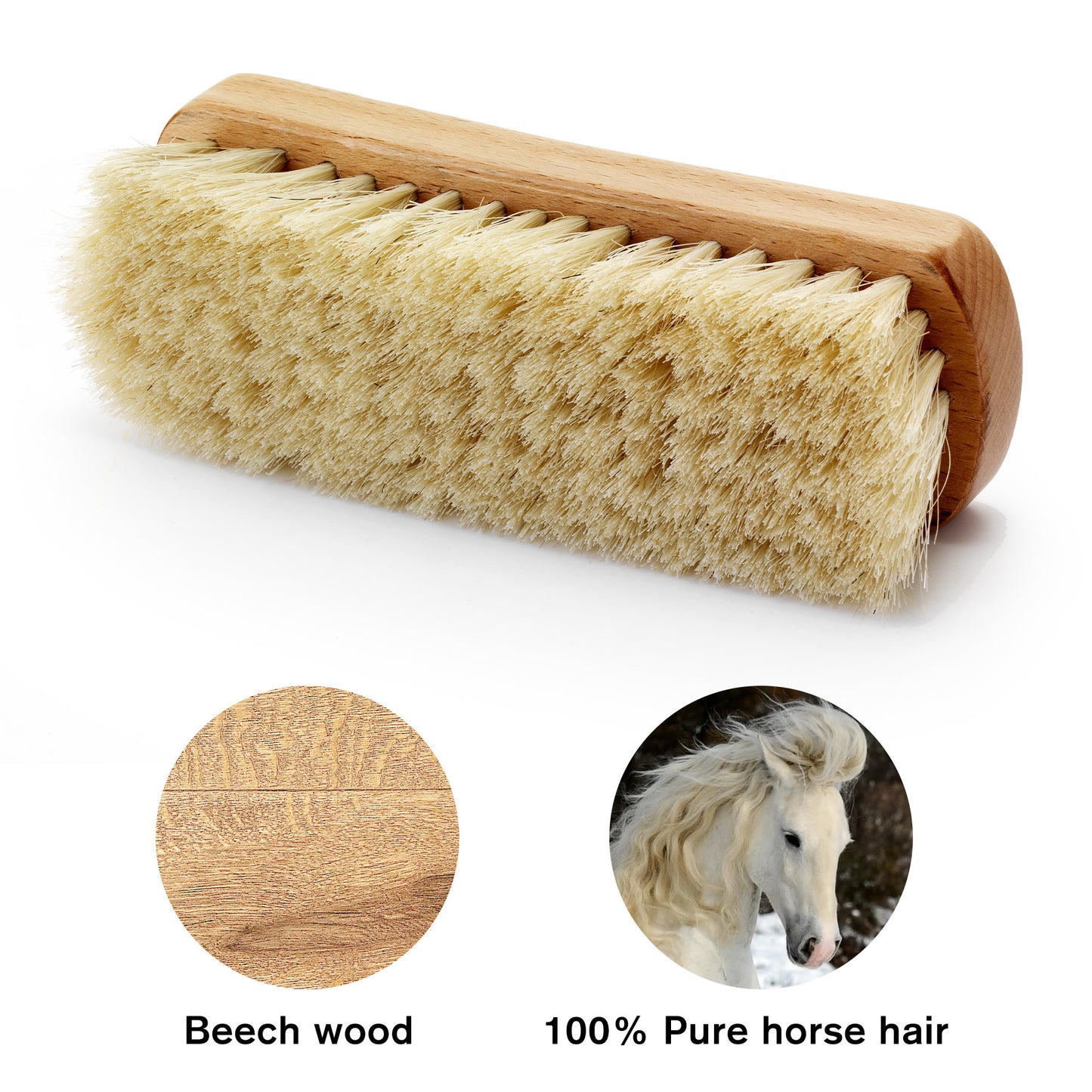 Suitable for all Leather Items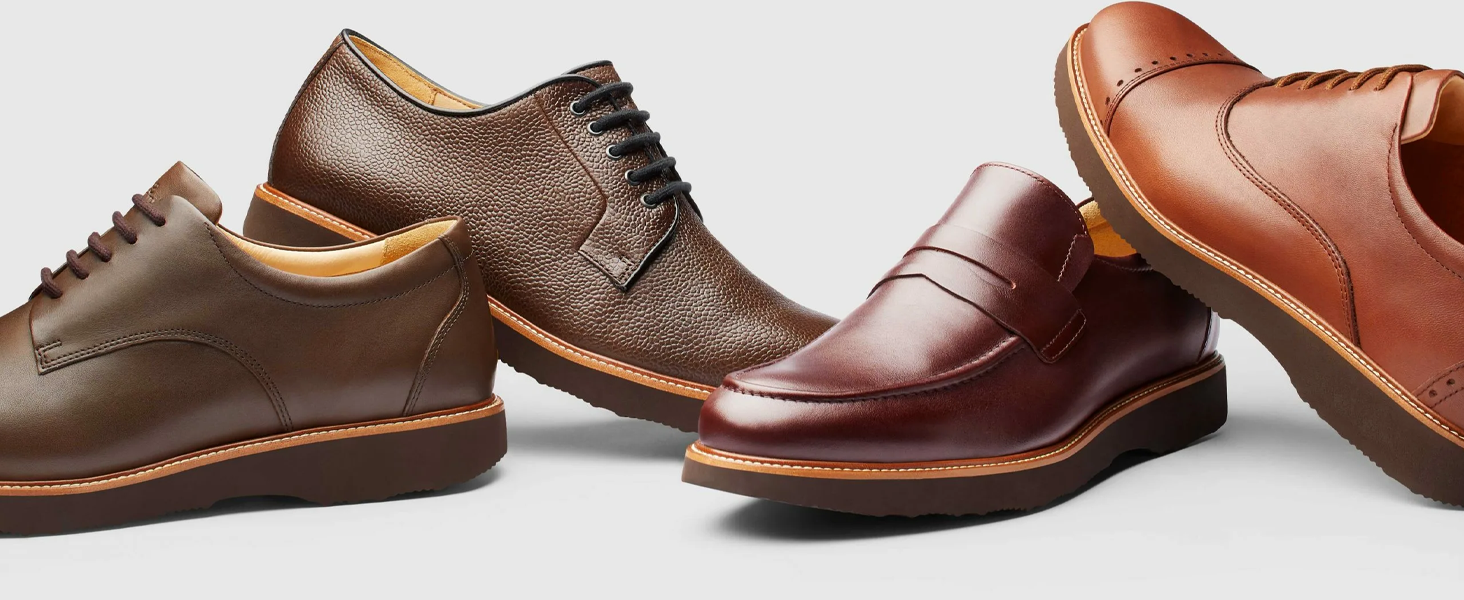 Revive Leather Shoes with Natural Horsehair Brush
Natural Horsehair Shoe Brush gently removes dirt & scuffs from leather shoes. Regular use maintains shoe appearance & prolongs life. Soft bristles are perfect for buffing leather to a shiny finish.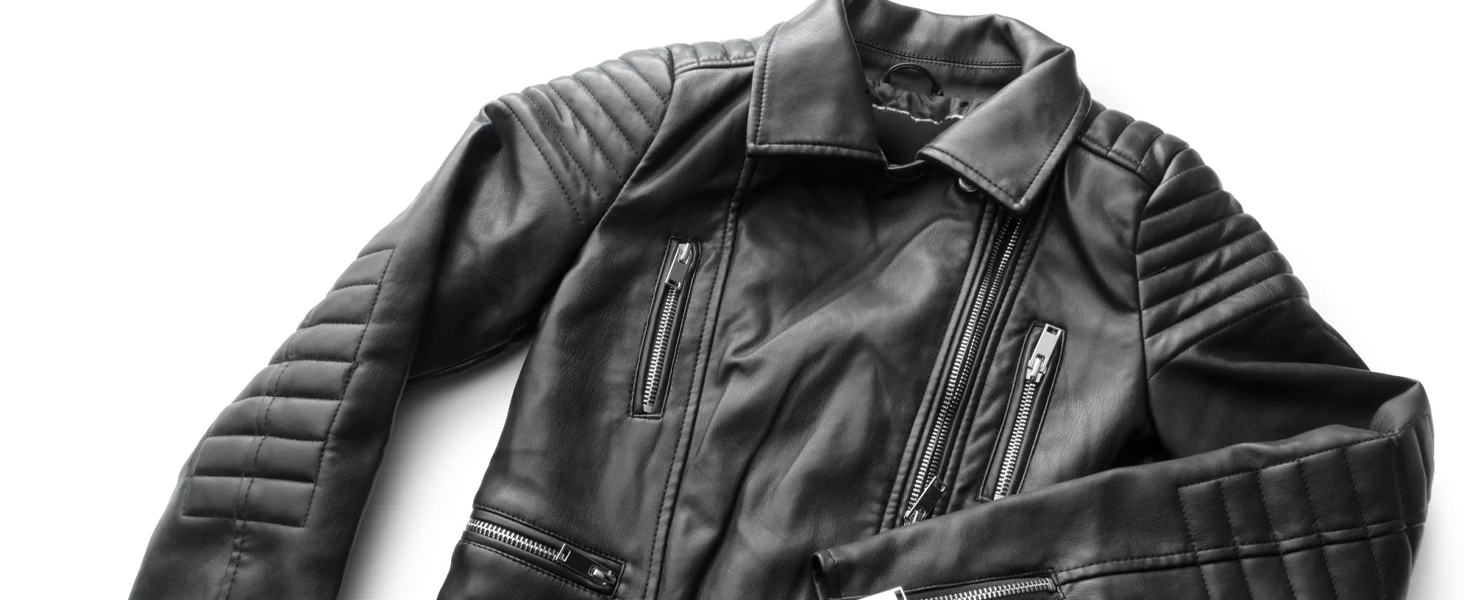 Maintain Leather Jacket Quality
A natural horsehair brush is great for cleaning & maintaining leather jackets, removing dirt & scuffs while applying conditioner with this brush to keep leather soft & protected.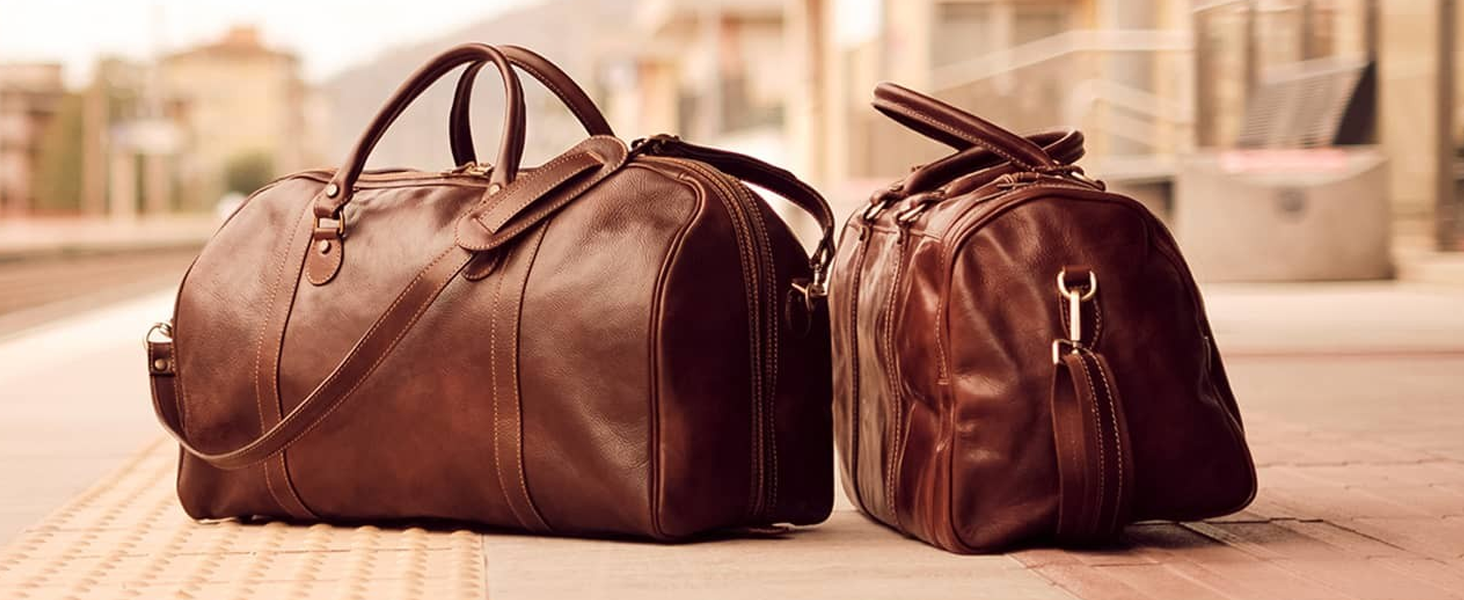 Perfect for Cleaning and Maintaining Leather Bags
A premium horsehair brush can also be used to clean and maintain leather bags and remove dirt, dust & scuffs gently without causing damage by using soft and flexible white horsehair bristles.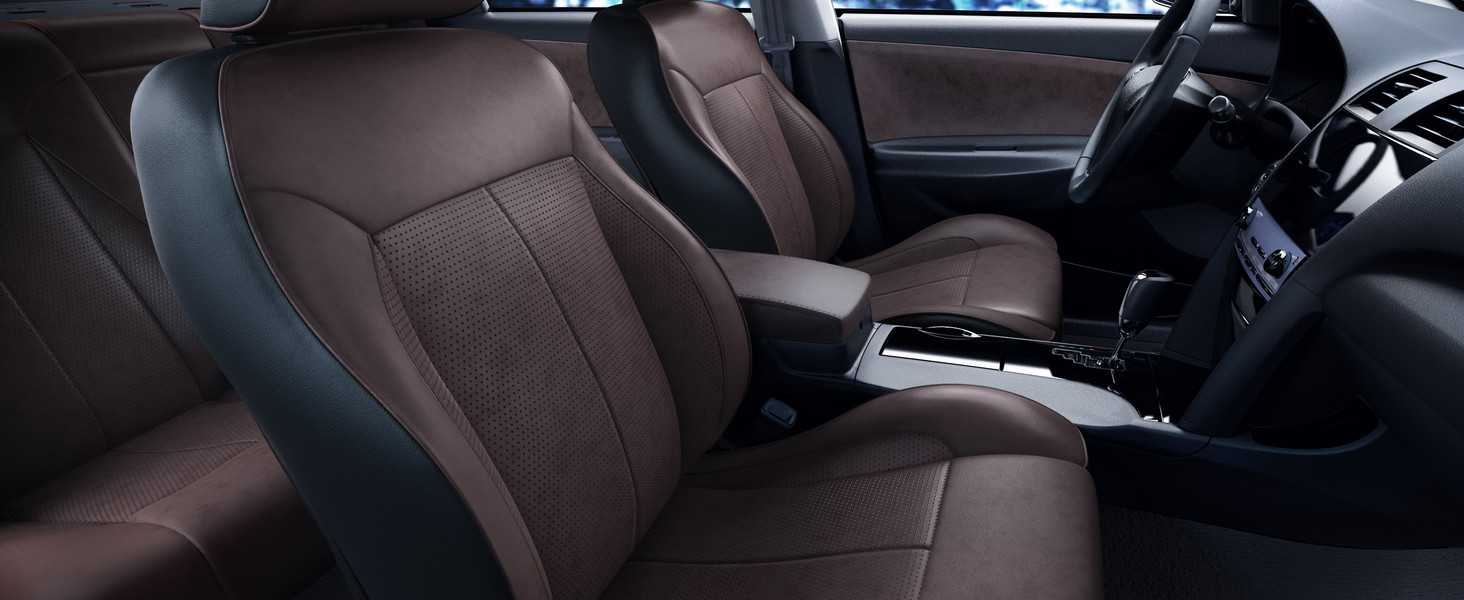 Cleaning & Maintaining Leather Car Seats
Natural Horsehair Shoe Brush can be great for cleaning and maintaining the overall appearance of leather car seats by gently scrub the surface of the seats and remove dirt, dust and grime.
Natural Wood Handle

The natural wood handle of the brush adds elegance, durability and a classic look and also provides a great balance to brush for easy to use.

Soft Bristle

The brush's soft bristles are gentle on leather and effective at removing dirt and scuffs, ideal for maintaining leather shoes and other leather items.

Comfortable Grip

The comfortable grip also helps to reduce hand fatigue, making it easy to use the brush for an extended period of time.
Frequently Asked Questions
What is the main purpose of the Stone and Clark Horse Hair Shoe Brush?

It's designed for cleaning, polishing, and buffing premium leather shoes and other leather goods.
Is this brush suitable for all types of leather?

Yes, it's gentle enough for various leather types without causing scratches.
Can the brush be used on items other than shoes?

Absolutely, it's also great for leather jackets, bags, and car seats.
What are the dimensions of the brush?

The brush measures 6.6 inches long, 2.1 inches wide, and 1.5 inches tall.
How do you use the brush effectively on leather shoes?

Gently brush the surface to remove dirt and scuffs, then use it to buff after applying polish.
How durable is the brush?

It's made of heavy-duty beechwood and horsehair, making it durable for long-term use.
Can the brush be used for deep cleaning of leather items?

Yes, the bristles can reach into crevices for effective cleaning.
How do I maintain the brush?

Clean the bristles regularly and store the brush in a dry place.
Is the brush effective for removing deep stains?

It's excellent for surface dirt and scuffs, but deep stains might require specialized treatment.
What makes the Stone and Clark Horse Hair Shoe Brush unique?

Its combination of soft horsehair bristles, ergonomic wooden handle, and versatility for various leather goods makes it stand out.
Bristles Fall Out / Shed
Be aware, mine has seen very little use, and is shedding bristles quickly. It works, but disappointing.
Well made ' and does the job '.
These brushes are good quality and i am very happy with them ' obviously i use a rag and water with a dash of vinegar to get a really high shine ' but the brush takes off dust ' and would definitely be suitable for applying polish '.
Great
Very fine soft brush great for nubuck and suede or any other shoe. Gets most the dirt off the shoe just by a light brush. I'm happy.
The one item missing from the shoe care kit.
This is the one item that did come as part of my shoe care kit, so I had to get it seperately. This is a well made brush made from traditional materials, to give a quality, traditional result.