Stone And Clark
Regular price
Sale price
$19.99
Unit price
per
Sale
Sold out
Buy On Amazon.com
Buy On Amazon.ca
A Value Set Of 2 - Included in this set are 2 dauber horse hair brushes. Straightforward and easy to use, these brushes will make the shoe-shining and conditioning more convenient and easier.

Upgrade Your Leather Care - With bristles made of soft and fine horsehair, these dauber brushes are great for the unique texture, grain, and look of soft leather. It won't leave scuff marks or scratches.

Luxurious Shine - Maintain your leather's luster and beauty with regular application of moisturizer polishes. Use a dauber shoe brush to evenly coat your leather shoes and keep it looking good as new.

Comfortable To Use - Made with smooth lotus wood handles, these brushes offer a firm yet comfortable grip. Easily maneuver the shoe polish brush and reach tiny corners as you're shining or buffing.

An Impressive & Thoughtful Gift - Any leather footwear collector will appreciate receiving this practical set for Christmas or their birthday. It's a welcome addition to any shoe polishing kit.
Share
View full details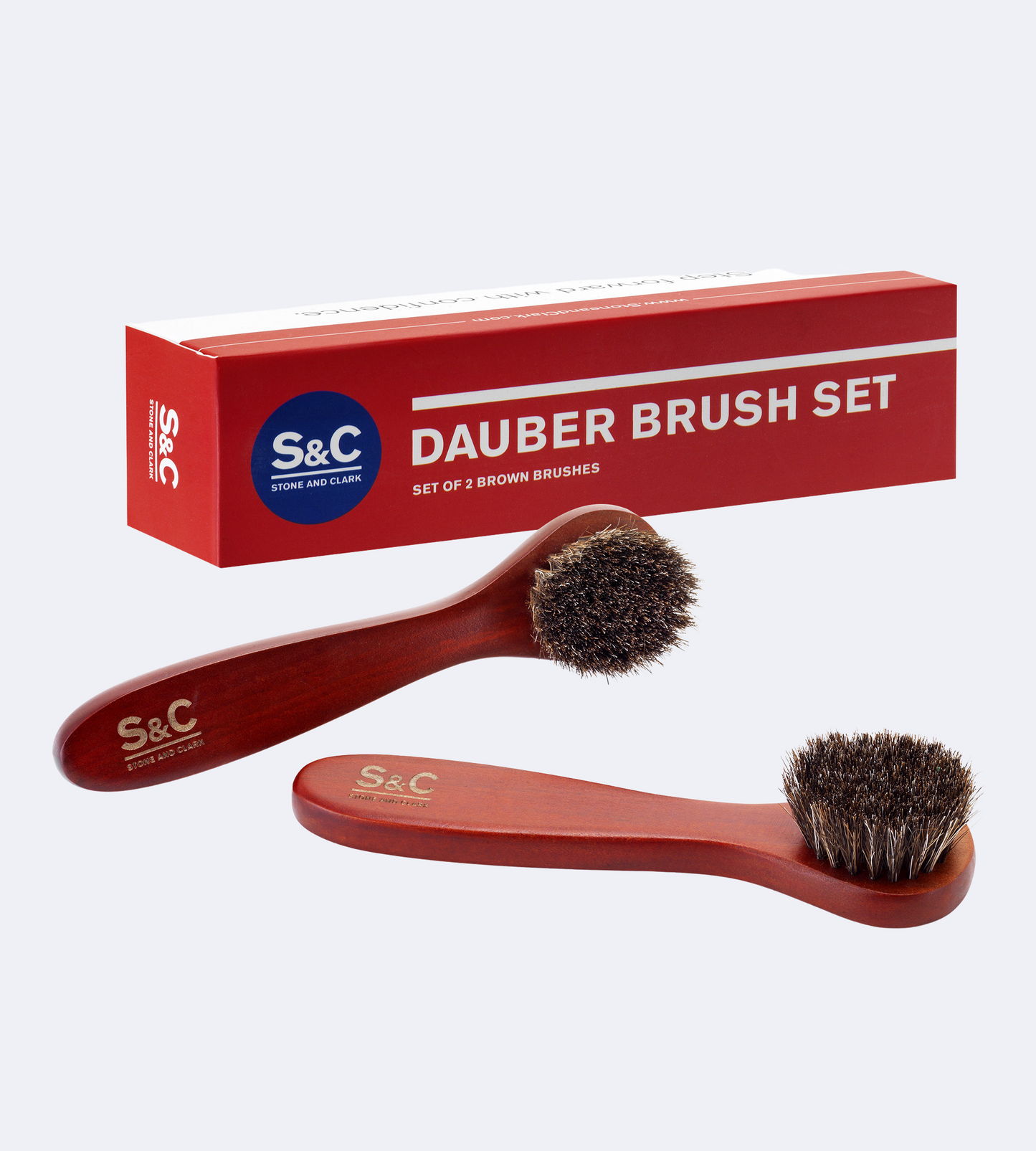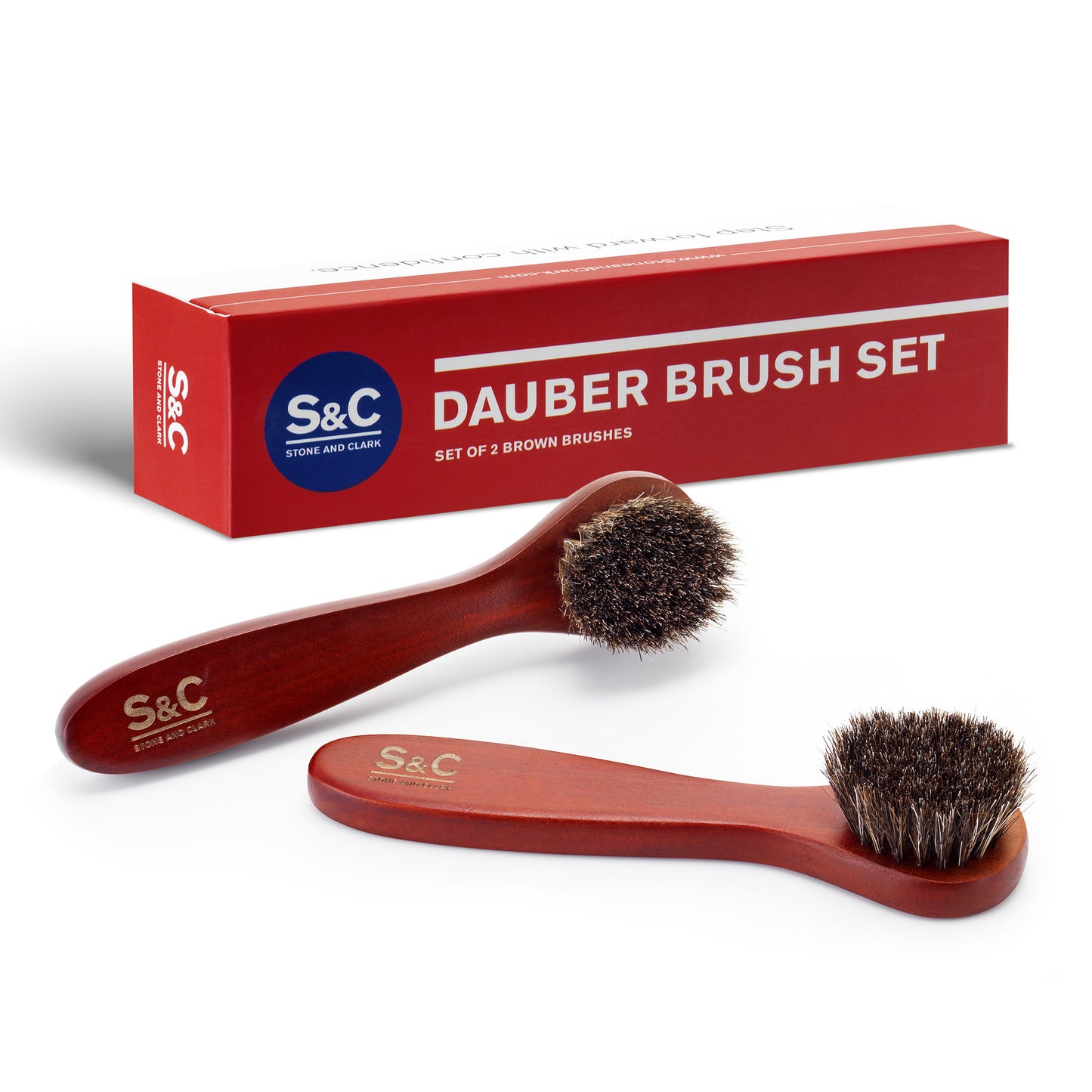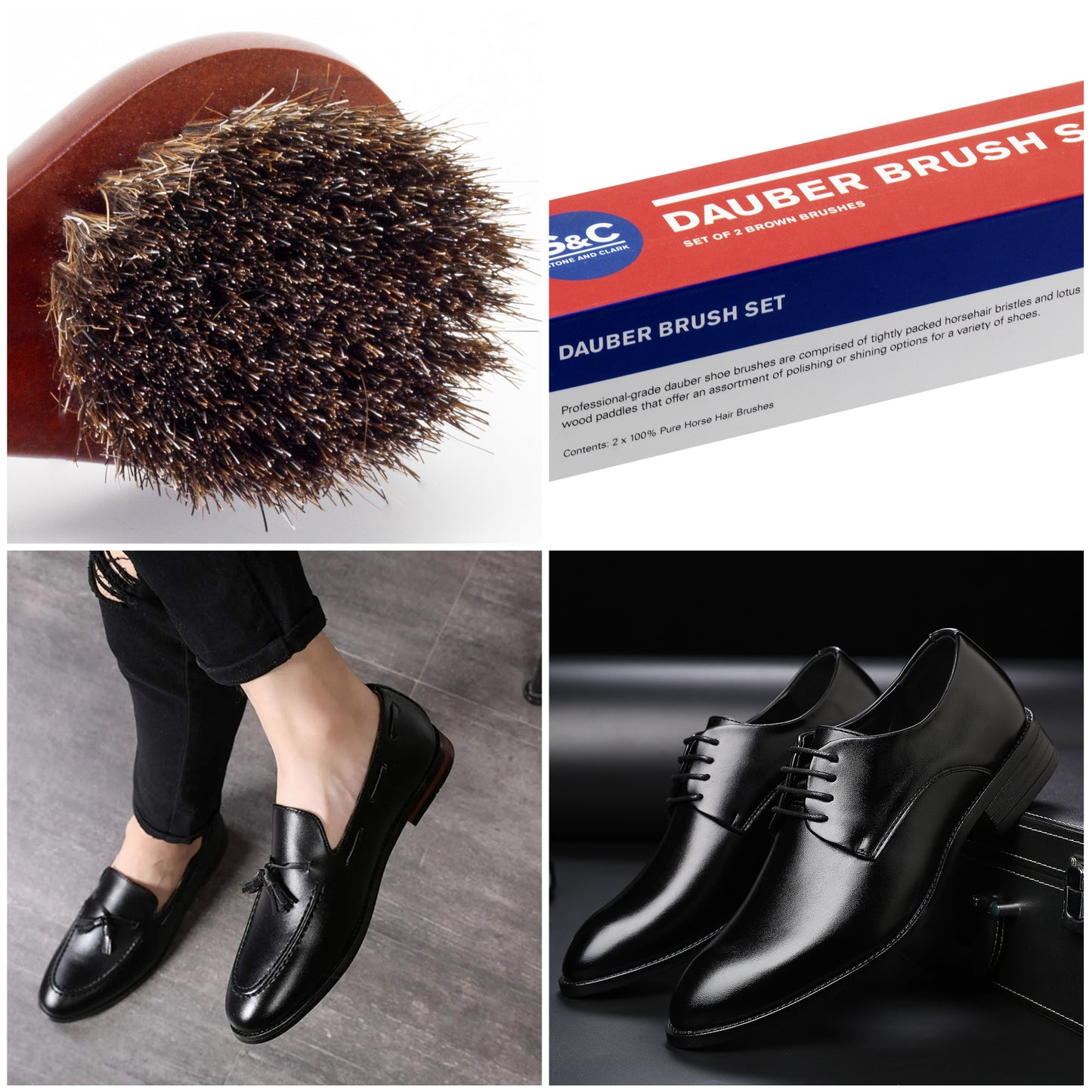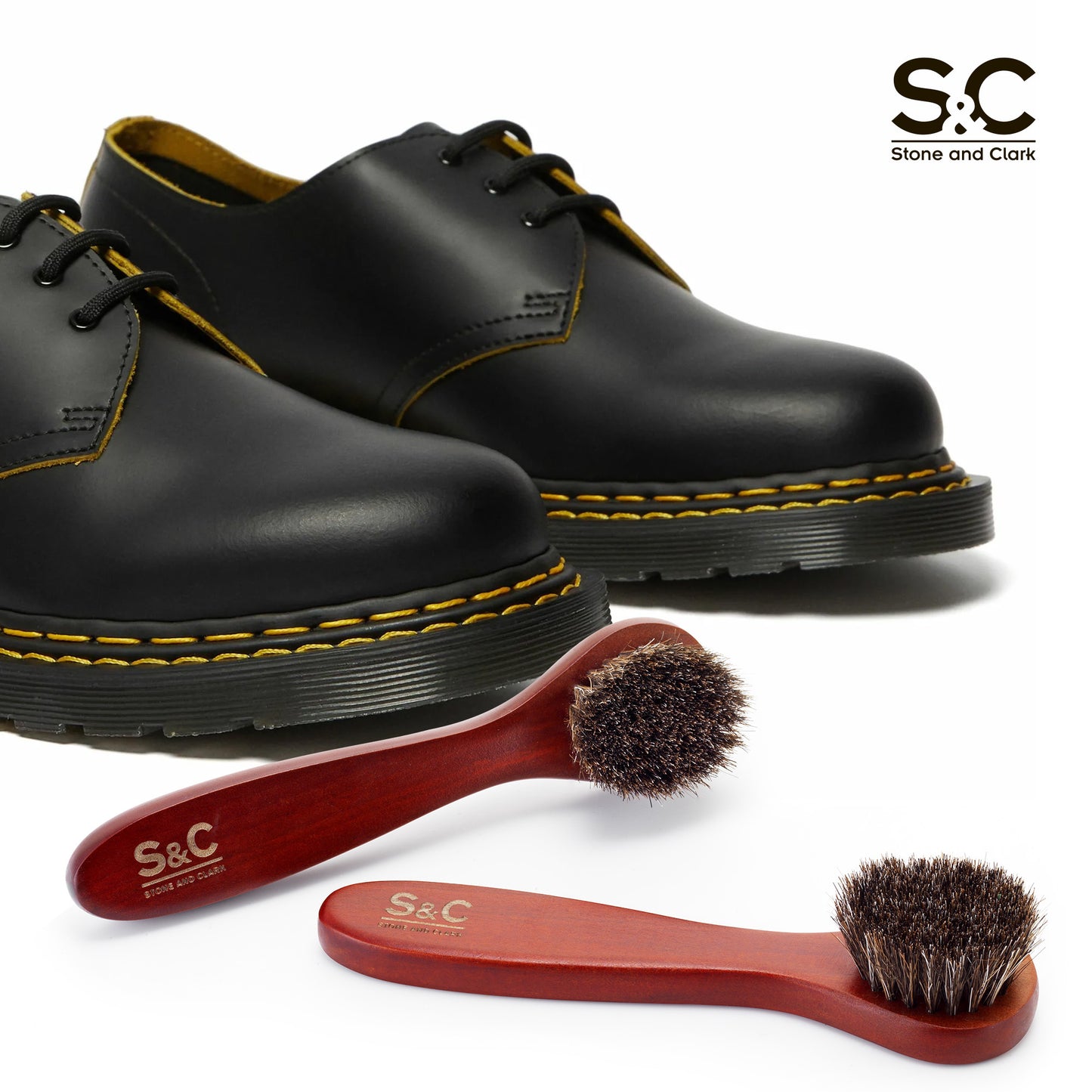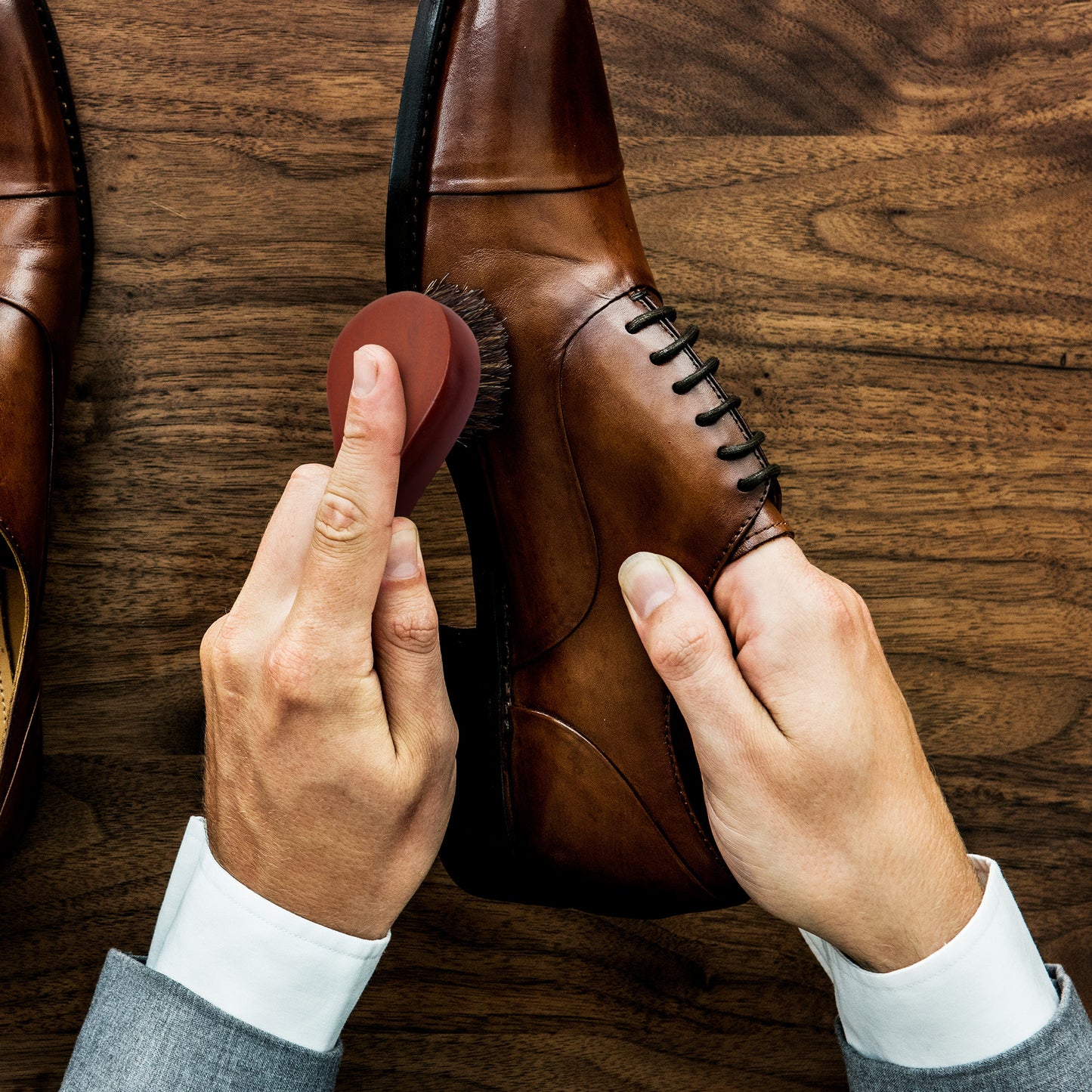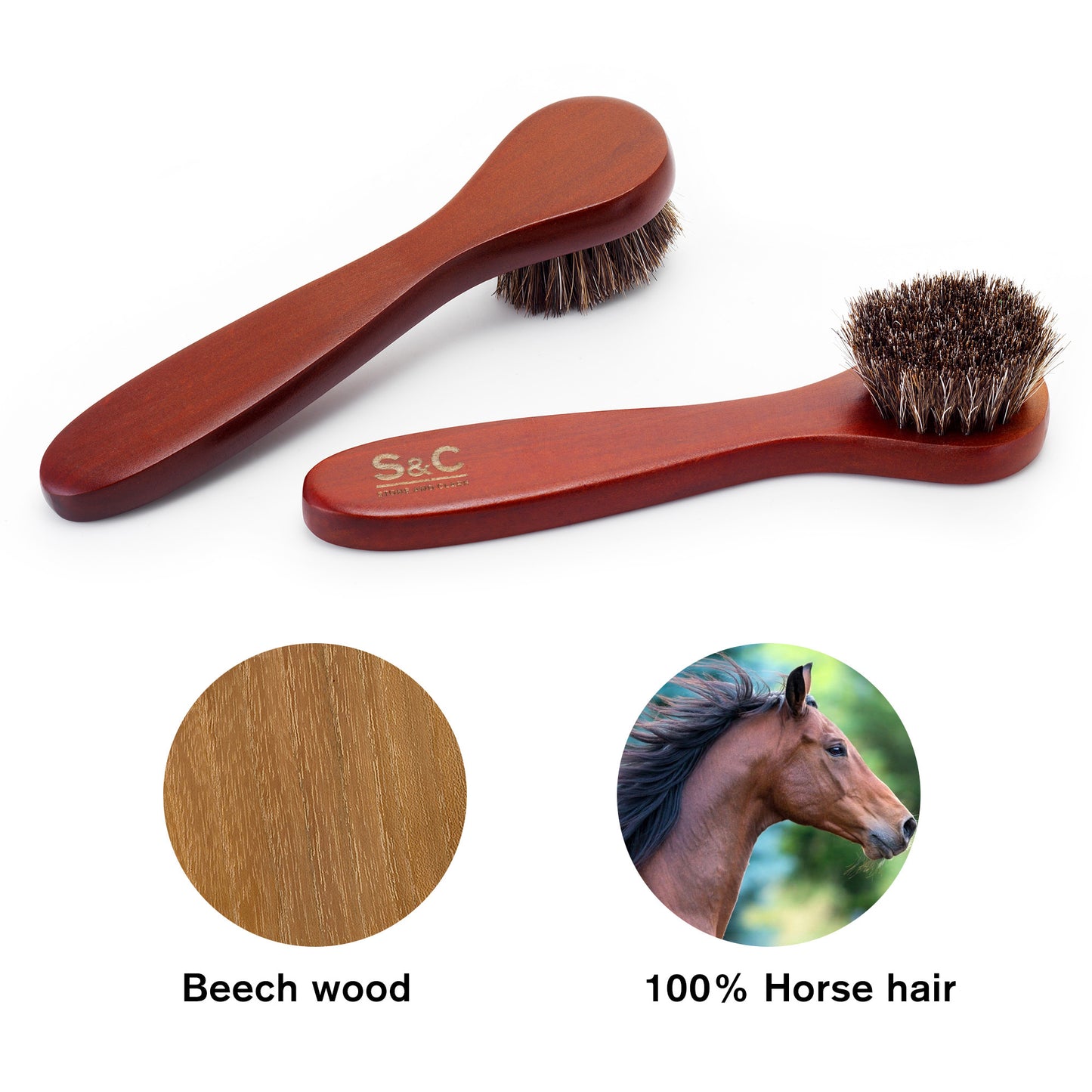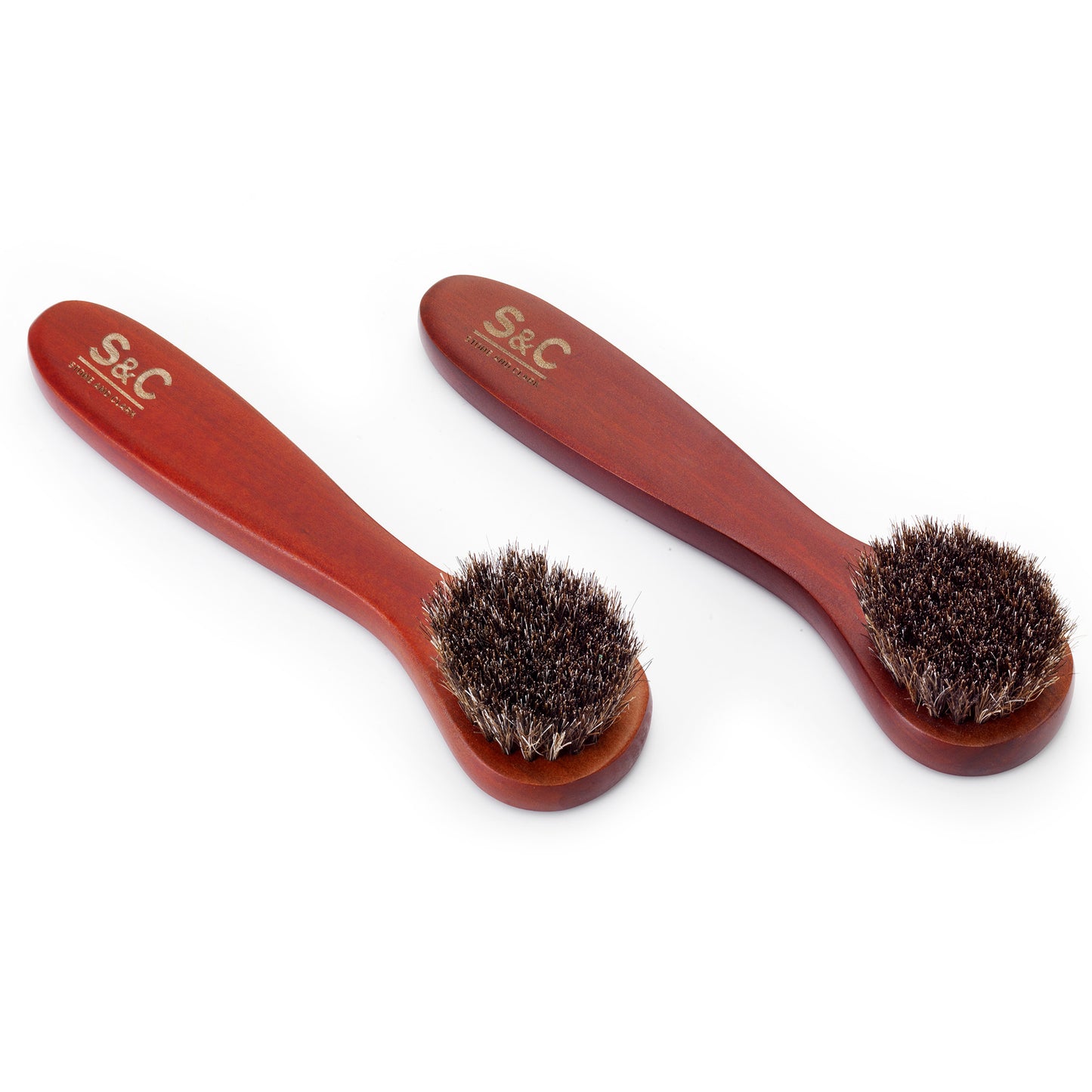 How Do You Keep Leather Shiny and New?
Leather is lauded in the fashion world for distinctive texture, appearance, and its overall luxurious reputation. Good quality leather is also highly durable. But if you want your leather goods to last as long as possible, you need to know how to take good care of them.
Leather that is not properly cared for can become dull, faded, and irreparably cracked. Don't let your investment go to waste by using the right care techniques and tools. We've got one to get you started.
The Dauber Brush Set of 2 by Stone and Clark is a must-have for the shoe-shining process.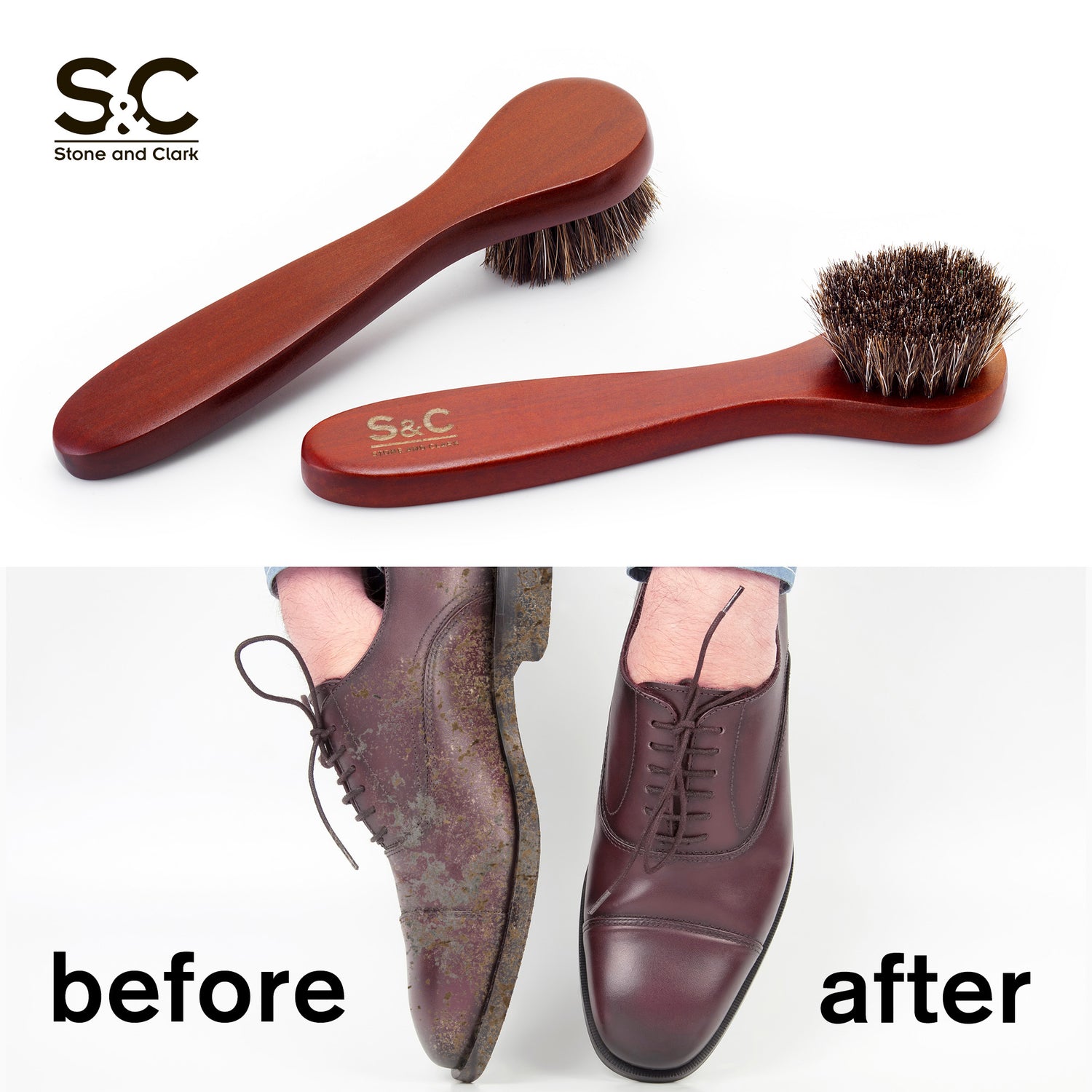 Love Your Leather
The shoe-shining process is an essential part of caring for your leather footwear. Leather can crack and look worn out if you don't apply special cream on the surface. These brushes can help you conveniently apply these creams and waxes evenly while keeping your hands clean. They are also useful for coating these conditioning agents on other leather goods like shoulder bags, totes, wallets,and purses.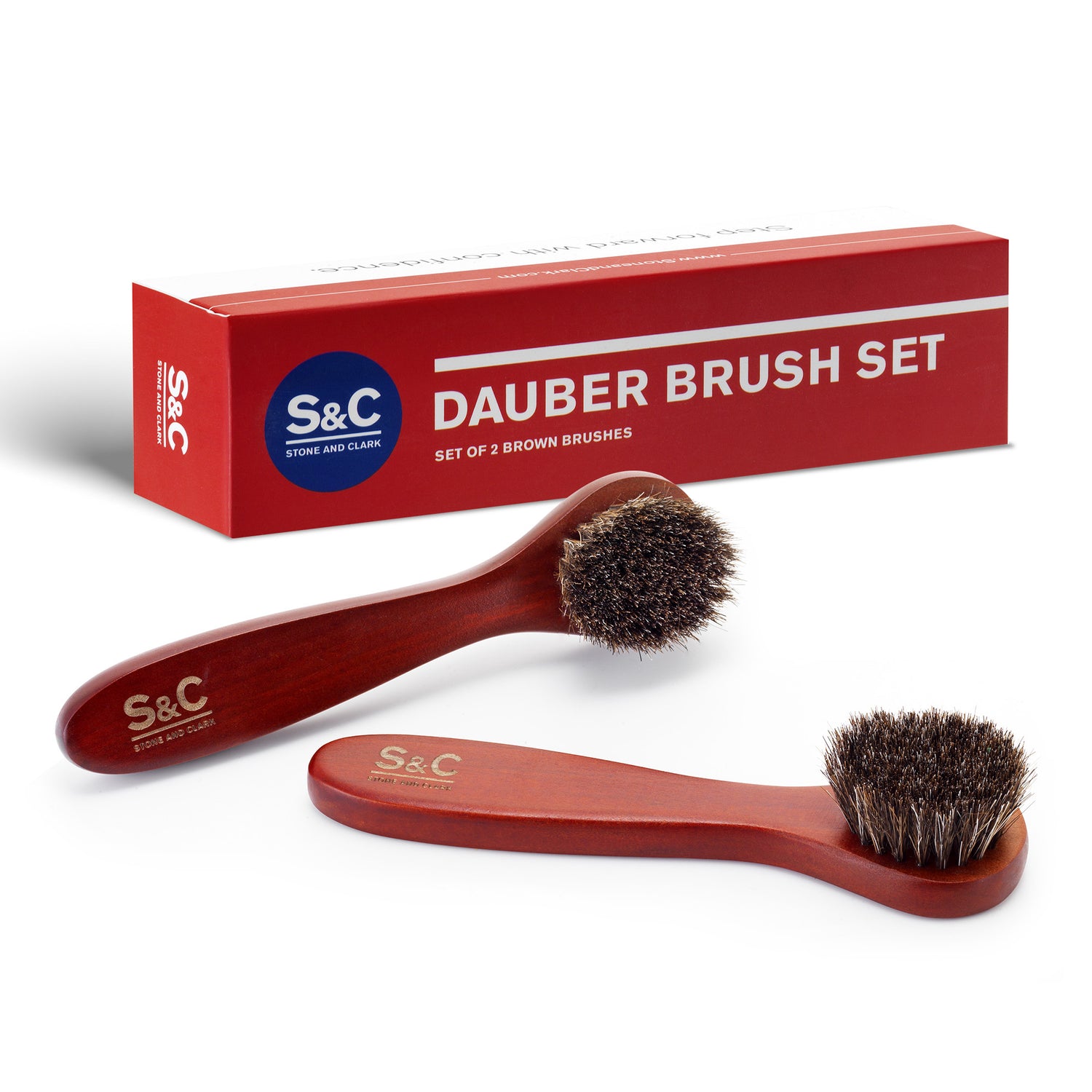 Made of Experts For Experts
We love leather and have poured out this passion into the creation of our premium brushes. These dauber brushes were created by leather experts to cater to the unique expectations and standards of discriminating leather artisans, designers, cobblers, and collectors.
We used premium white horsehair for the bristles
which are soft and fine so they won't damage the
leather surface or mark it with stains and dents.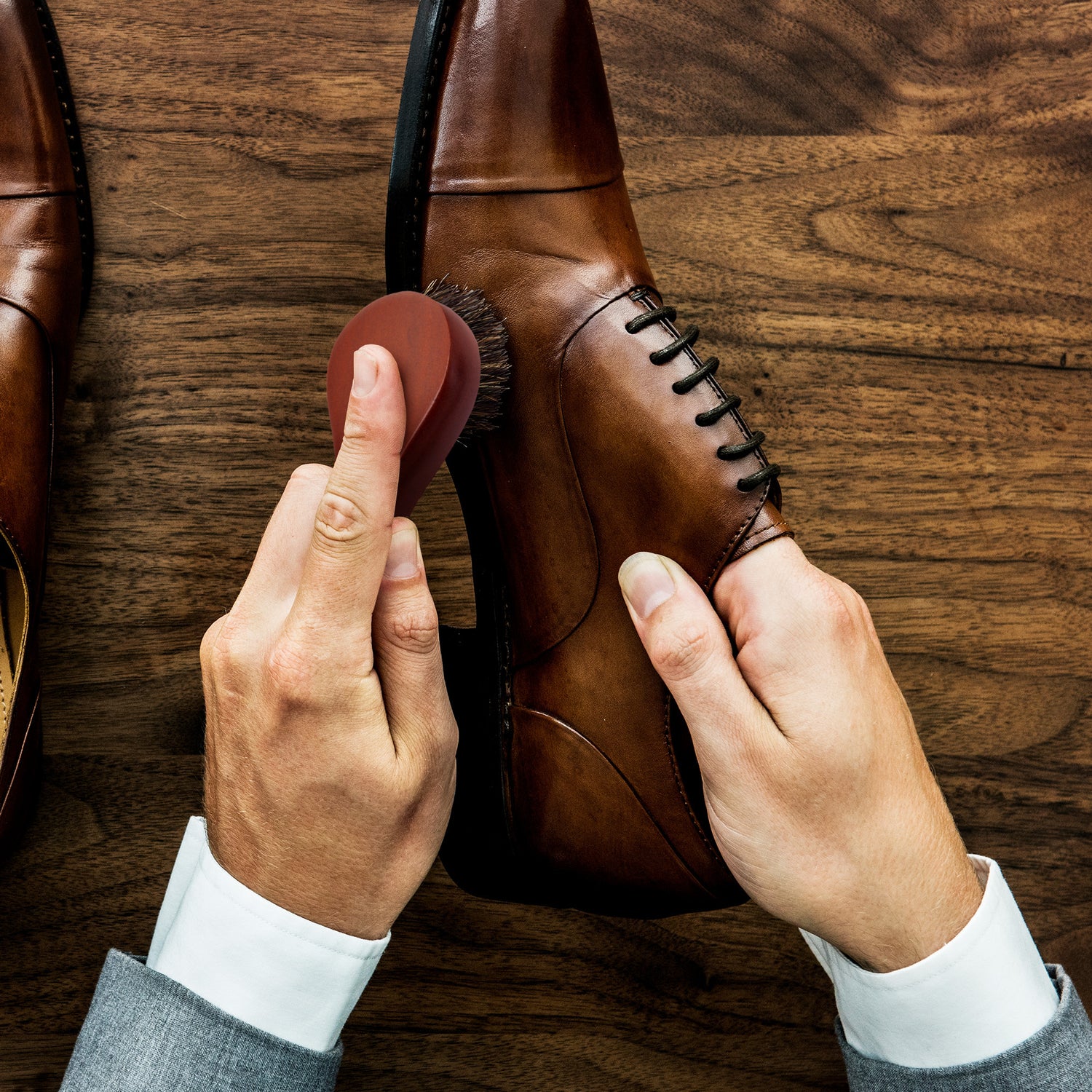 Comfort & Convenience
they are convenient and easy to bring along with you when you travel out of town for that important business trip. You can also stash a brush in your office or car for quick clean-ups and emergency polishing. The lotus wood handles make it easy to hold and maneuver the brush in case you need to spot clean hard-to-reach sections on your brogue shoes or leather bag interiors.
Shine Confidently

Your leather shoes deserve to be flaunted, but you can't do that if you are self-conscious about how they look.

Don't be afraid to make a statement with your luxury leather footwear. Make sure your leather shoes are always in tip top condition. In addition to being used for shoe-shining and applying polish, our dauber brushes are great for quickly removing debris, dirt, and dust stuck in the surface of your leather.

Easy to Use

Give your leather shoes the expert care that they deserve. Follow these quick steps to keep them clean, lustrous, and looking brand new.

1. Carefully brush off any dust, dirt, mud, or debris stuck on the surface of your shoe.

2. Dab the brush on your choice of shoe cream or polish.

3. Evenly apply the product by brushing it carefully on your shoe using small circular motions.

4. Repeat as necessary to make sure the cream penetrates the leather surface

Create Your Best Life

We are a brand with a deep commitment to help our consumers live their best life. We offer creative, cost-effective, and sustainable solutions for your unique needs and preferences.

Each and every one of our products is designed to help you live with confidence, comfort, and joy.

Let us be your partner in creating the life that you want for you and your loved ones. Whether it's your lifestyle, home improvement, or child care, we'll help you reach your goal.
Frequently Asked Questions
What are the bristles of the brushes made from?

They are made from soft and fine horsehair.
Will the brushes leave scuff marks or scratches on leather?

No, the horsehair bristles are designed to be gentle and won't scuff or scratch the leather.
What is the main use of these dauber brushes?

They're used for evenly applying polish and moisturizer to leather shoes and other leather goods.
What are the handles of the brushes made from?

The handles are made from smooth lotus wood.
Can these brushes be used for shining and buffing?

Absolutely, they are ideal for both shining and buffing leather items.
Can these brushes be used with any shoe polish?

Yes, they're compatible with most shoe creams and polishes.
Is this set suitable for professional leather care?

Yes, it's ideal for both personal and professional leather maintenance.
Will the brushes fit into a standard shoe polishing kit?

Yes, their size allows them to fit comfortably in most shoe care kits.
How do I maintain these brushes?

Clean the bristles regularly and store them in a dry place.
What makes the Stone and Clark Dauber Brush Set unique?

The combination of soft horsehair bristles, ergonomic lotus wood handles, and versatility for various leather goods makes them stand out.
A good choice, particularly for boots
Very good horsehair dauber brushes. I use these on boots and sometimes on leather bags (applying Leather Honey or another conditioner). American-made, the brush heads are a little larger than the ones I tend to use on shoes, and they only just fit into a standard pot of shoe cream. Nonetheless they are good. The horsehair is soft enough and doesn't shed (after the first few uses). And they are sturdily made, all round.
They work
Slightly smaller than I expected, a few hairs came out during use - otherwise exactly what i was looking for.
Nice quality
Just the right density and softness to make applying heavy shoe cream a breeze. It was perfect for what I was looking for and they came in 1 day. I can highly recommend this douper set.
Well Made Daubers
I'm impressed with the quality of the Stone and Clark products. These daubers are well made and the bristles and wood appear to be high quality. They work very well.
Good for shoe polish
I got this pair for applying shoe polish to my black leather boots. The brush feels of nice quality and soft. It applied the polish nicely onto my boots. The brush didn't break apart nor did the bristles come out.