Stone And Clark
Regular price
Sale price
$19.99
Unit price
per
Sale
Sold out
Buy On Amazon.com
Buy On Amazon.ca
Complete Shoe Cleaner Kit - Get everything you need to keep your kicks spotless in this travel kit. It comes with a 3.5 oz. cleaning solution, hog hair shoe brush and towel.

Use Without Worries - Our sneaker cleaner kit is safe to use on most types of shoe fabrics. It works on all shoes and sneakers including white, leather, suede, nubuck , boots.

An All-Around Sneaker Cleaner - The set comes with a 4.8 x 1.7 x 0.5 in hog hair shoe brush with 0.8" long bristles and a 8.7 x 8.7" microfiber towel that you can use on any type of footwear.

Enjoy Clean Shoes Wherever You Go - Bring this travel shoe cleaner kit for sneakers with you to work, school, or on your travels.

A Practical & Thoughtful Present - Help your family and friends take better care of their favorite sneakers! This shoe cleaning kit is a great gift for birthdays, holidays, and other special occasions.
Share
View full details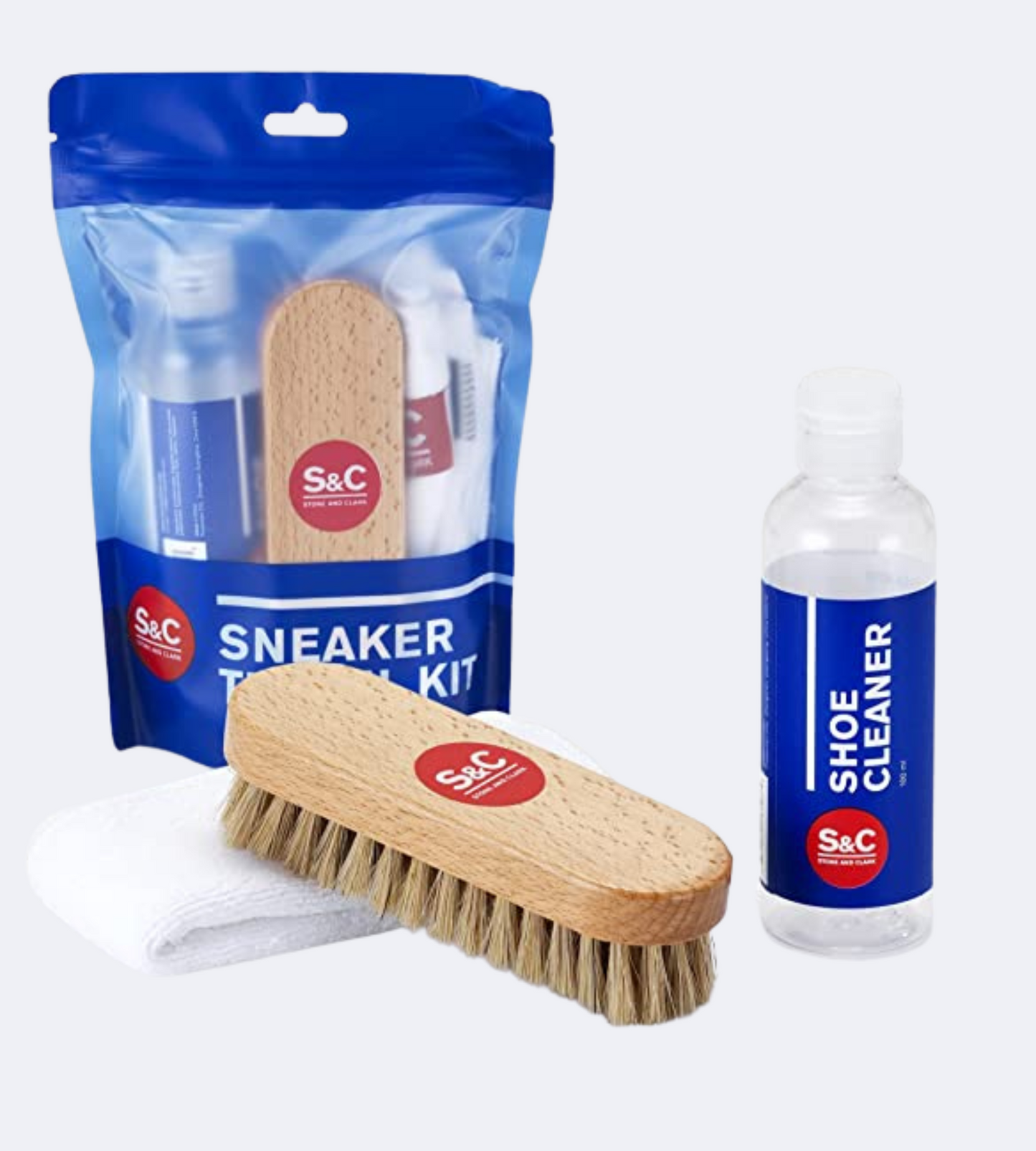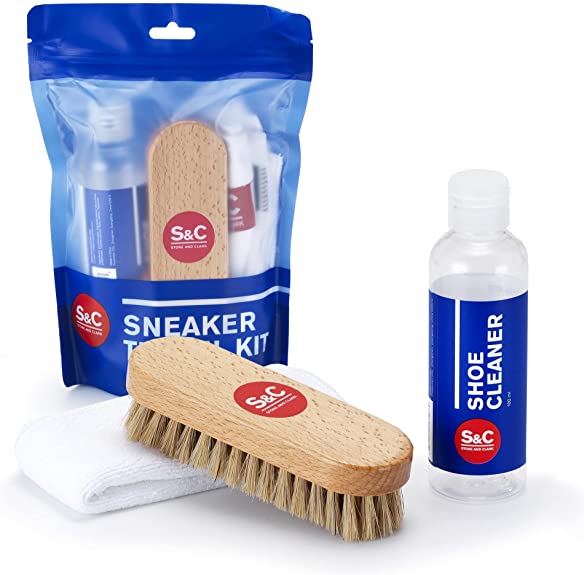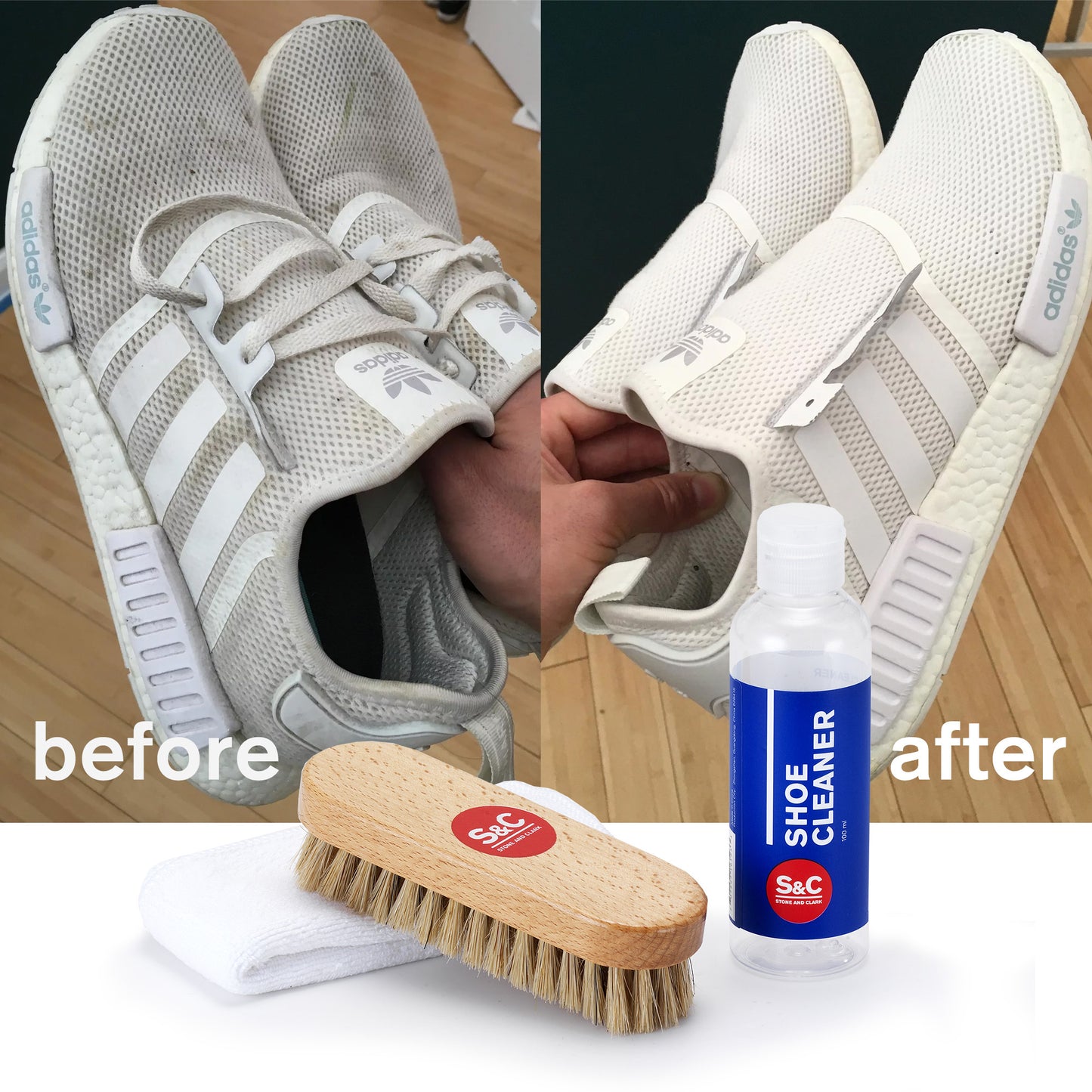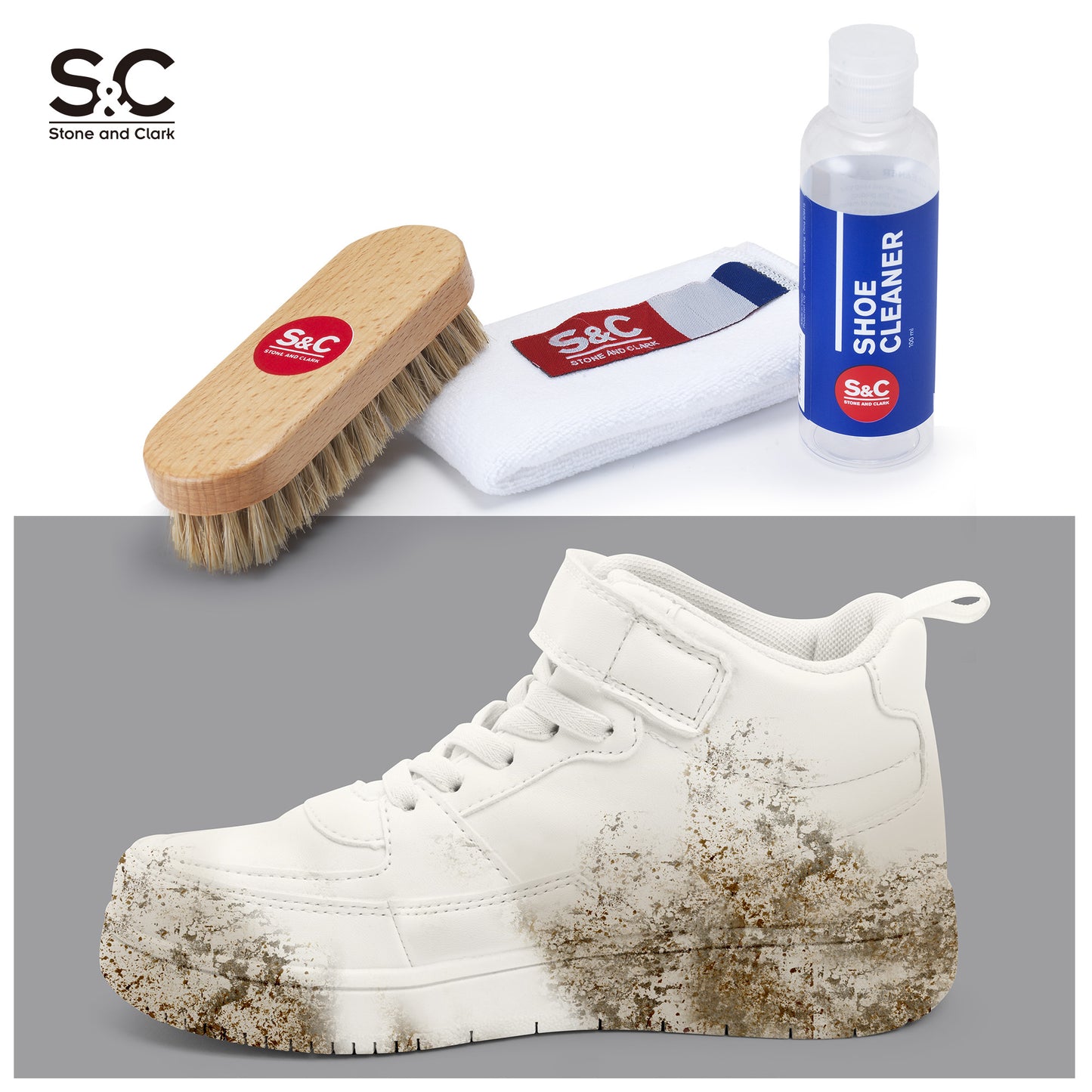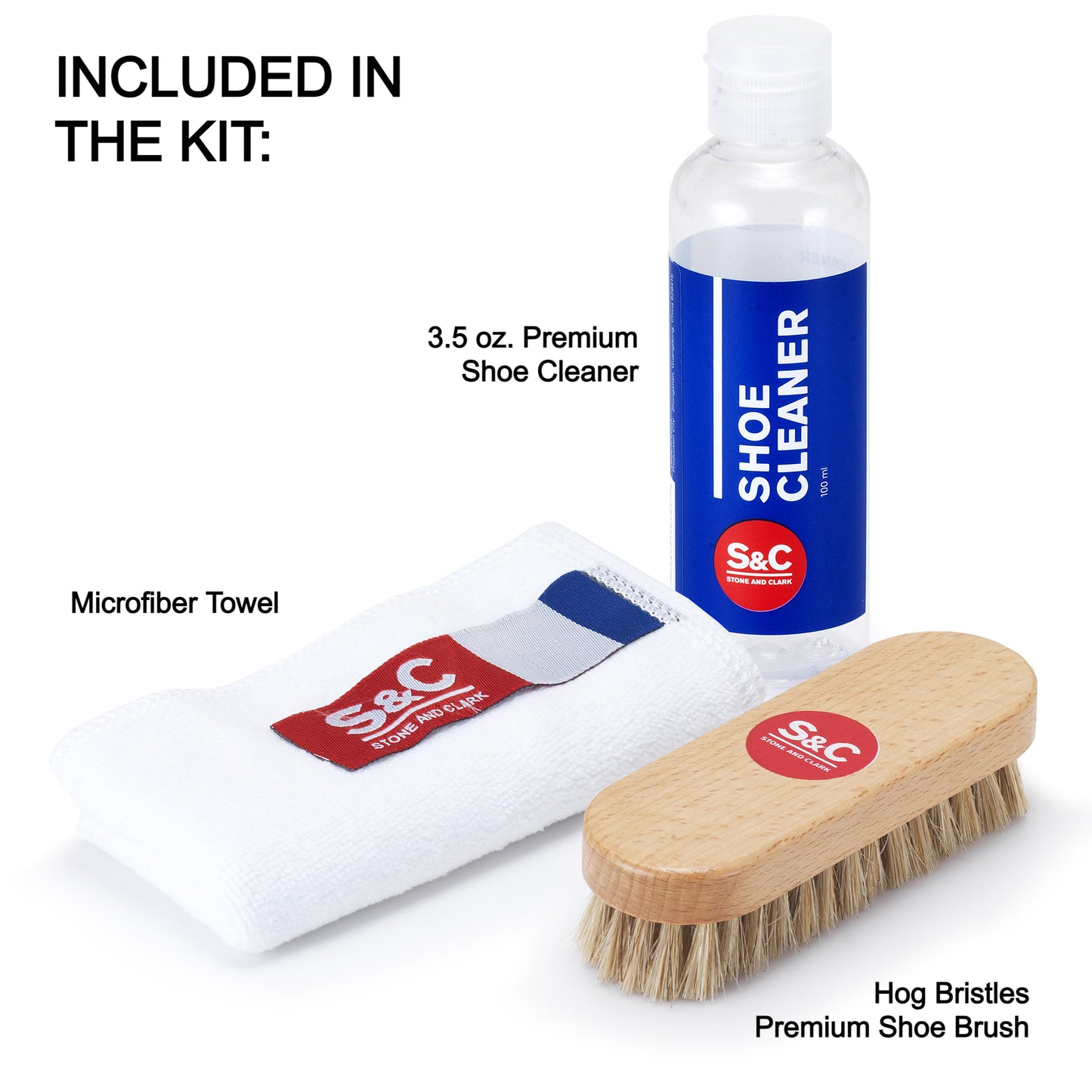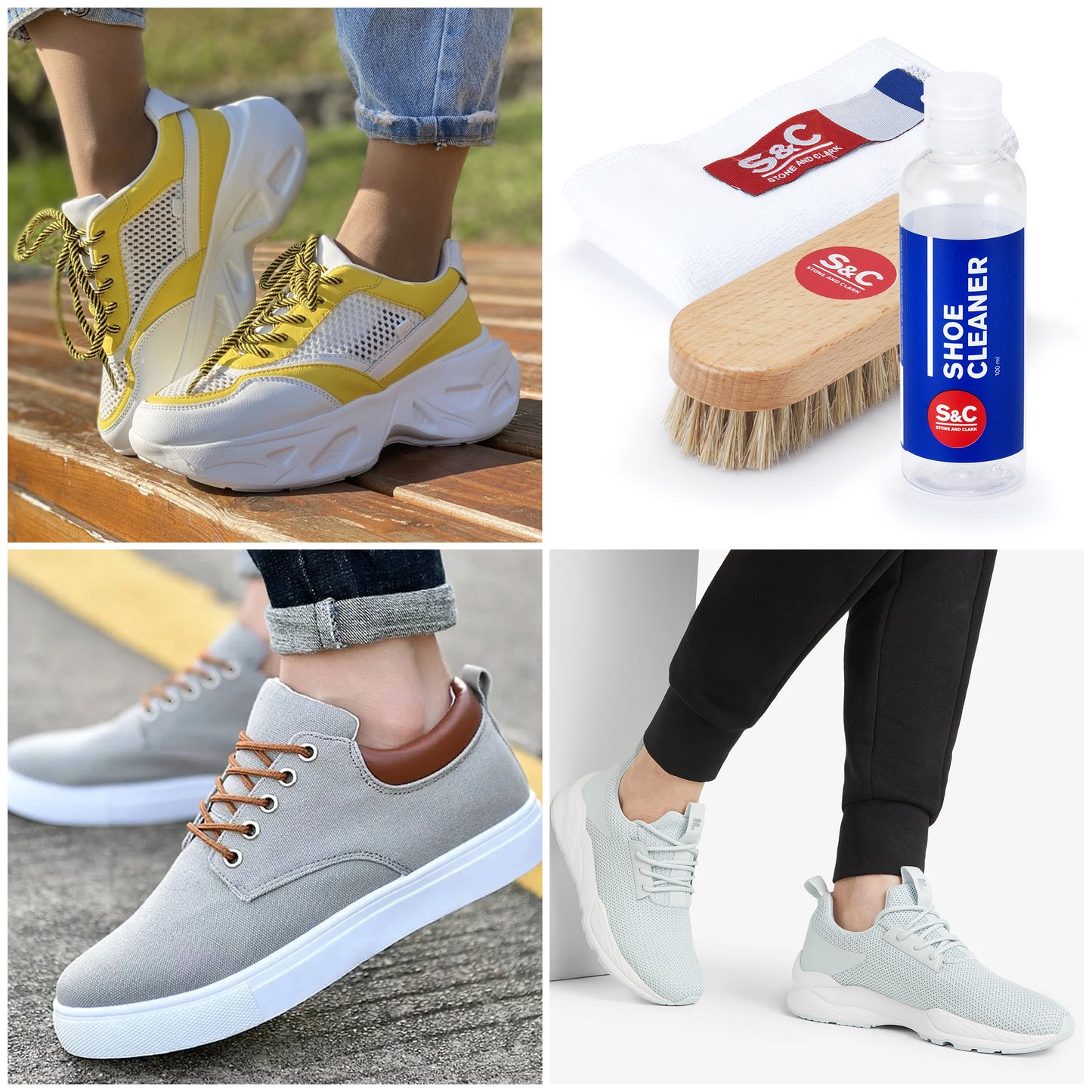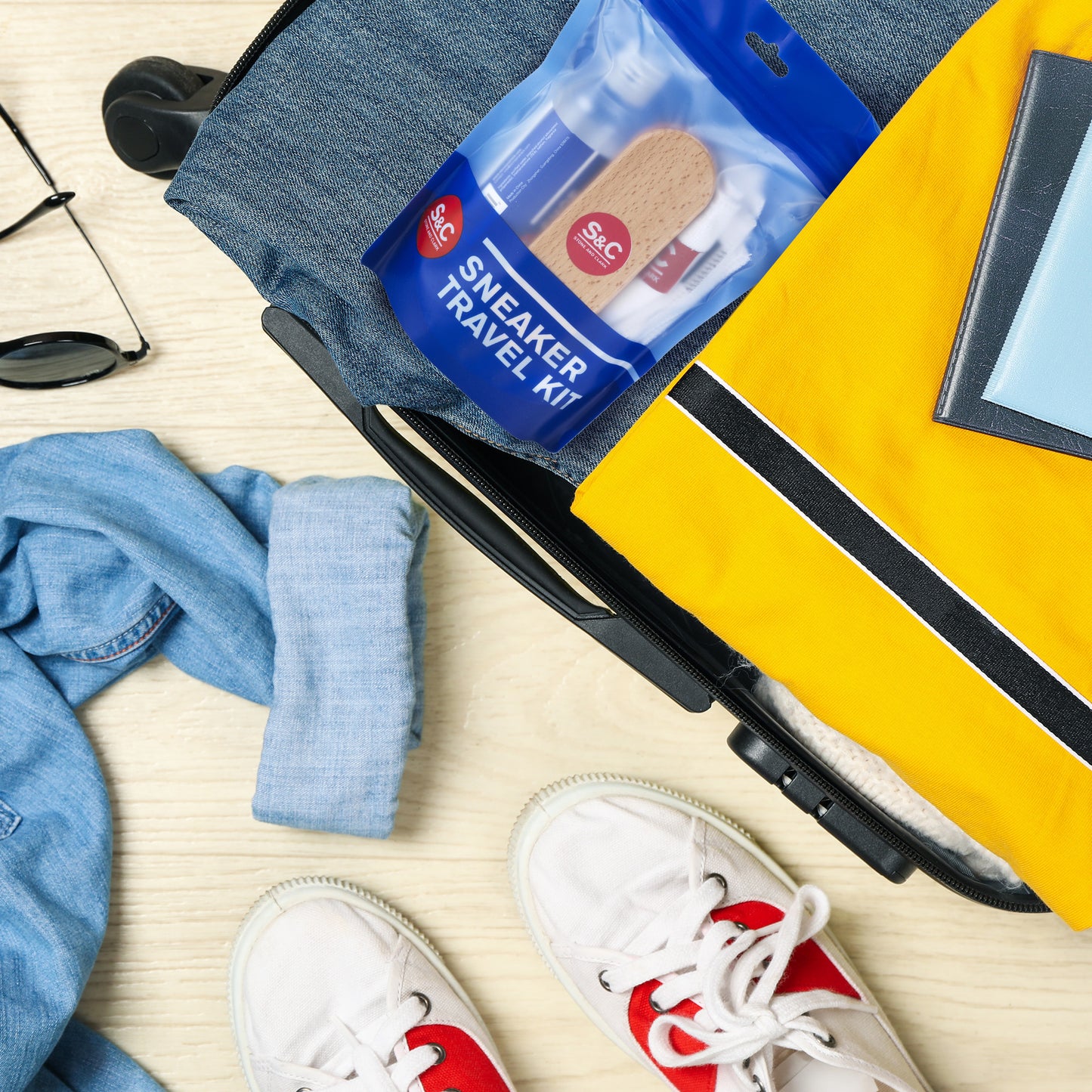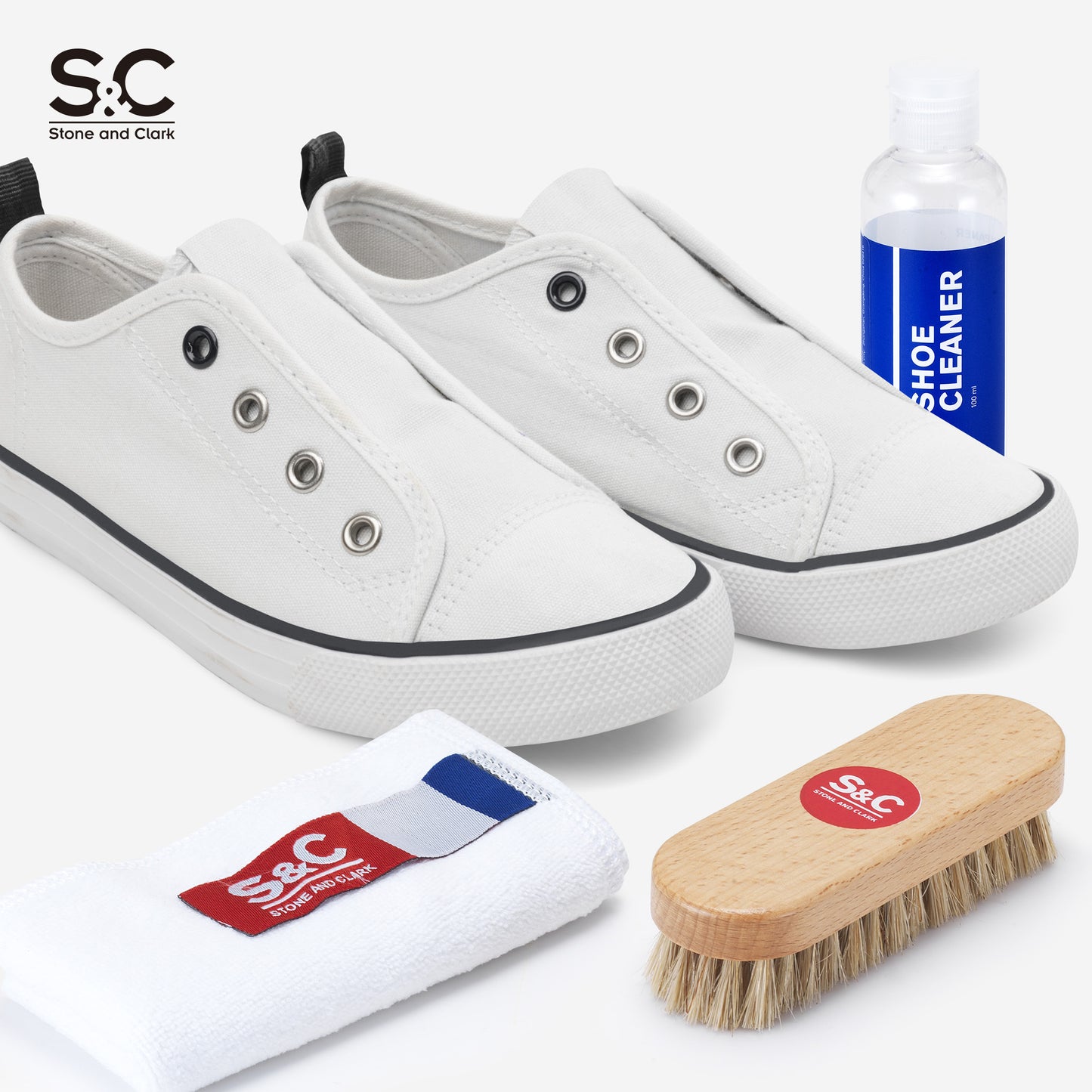 Need Help Keeping Your Sneakers Looking Fresh?
Keeping your sneakers clean can be a struggle, especially when it comes to those you use almost every day. Within hours of leaving the house and commuting to work, your shoes start to attract all sorts of dirt, grime, scuff marks, or even stains. Not only do these make your kicks look bad, but they may also inflict some long-term and permanent damage to their structural integrity and overall appeal. Luckily, all is not lost - all you need is the right sneaker cleaner kitto restore your beloved kicks to their former glory!
This Sneaker Travel Kit from Stone and Clark presents a convenient solution to keeping your favorite sneakers looking crisp and clean on-the-go!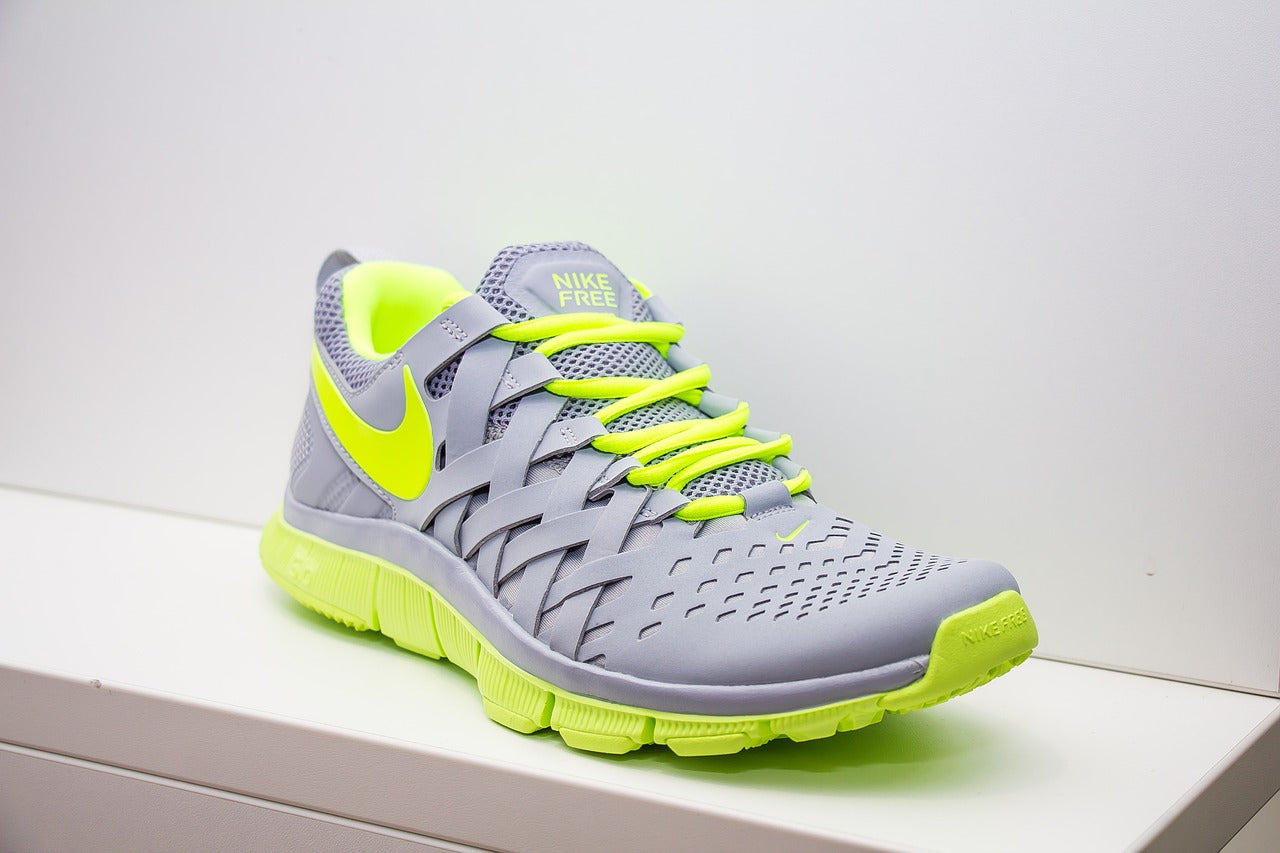 Get Those Sneakers Squeaky Clean
Our sneaker cleaner solution is formulated to effectively remove loose and caked-on dirt and grime on both the shoe's surface, as well as those hiding in cracks
and crevices. It's also more cost-effective since you only need to use a small amount of the solution in every shoe cleaning session. You can easily clean up to several pairs of sneakers with
this 3.4 oz. bottle!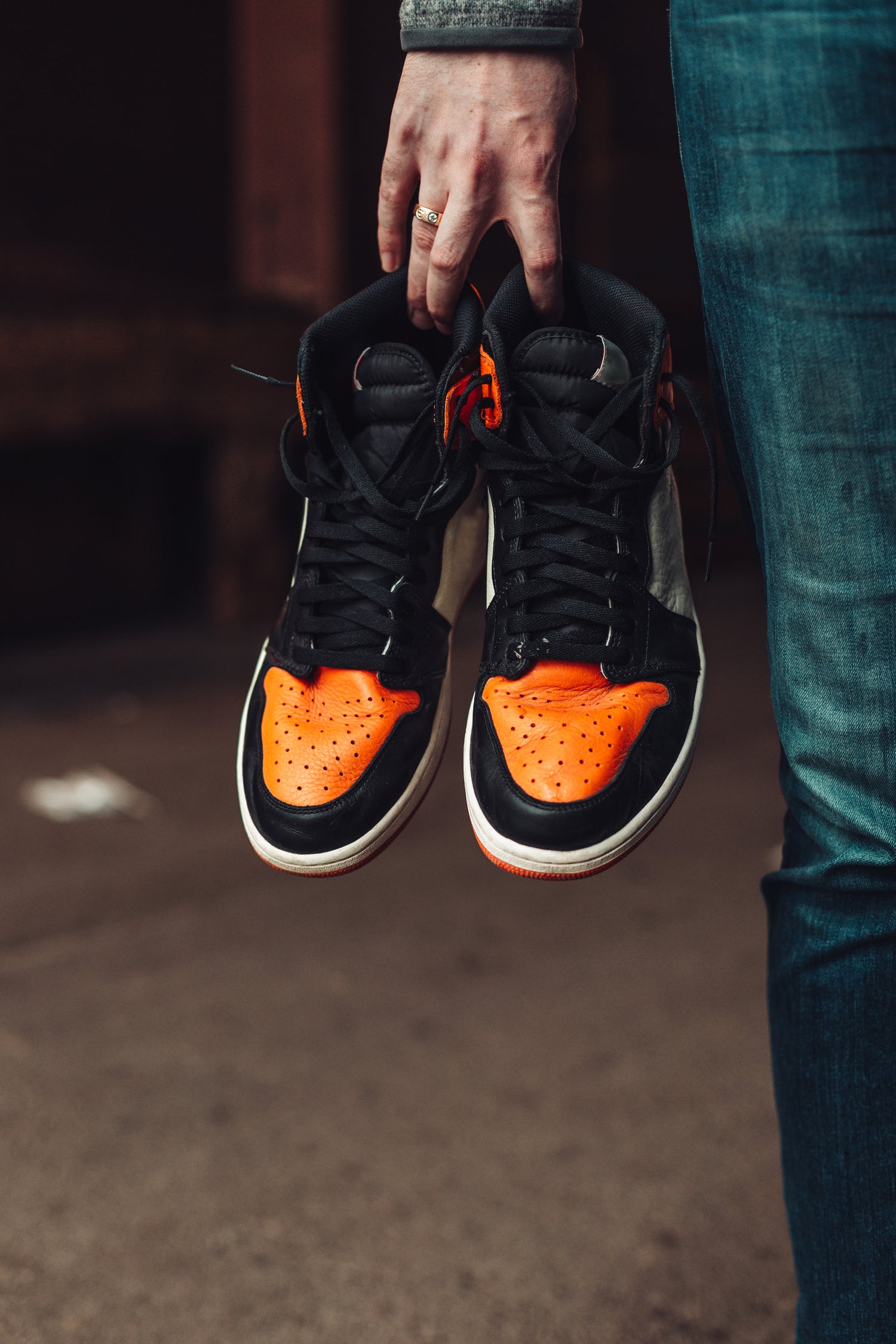 Cleans Your Shoes Without Unexpected Surprises
Some cleaning solutions can be harsh on certain shoe
fabrics. At worst, they can cause the colours to fade and make the fabric so stiff that they become prone to cracking. Not with this sneaker care kit. Because our solution doesn't contain harsh abrasives or substances,it doesn't alter or change the colour or finish of the fabric. You can confidently use it with both plain and multi-colored sneakers.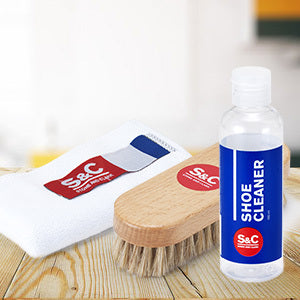 Take It Anywhere
Going on a trip? Want to make sure your sneakers
look pristine during the commute or when you arrive at
your destination? You can do that with this sneaker shoe care kit.
Aside from the cleaning liquid and tools, you'll also receive a stylish travel case that can comfortably hold all of the
items included in the package. It's compact and secure,
and won't take up much space in your pack or luggage.
Conveniently Packaged For You

This white shoe cleaner kit comes with everything you need to keep your kicks collection and beaters looking fresh and clean. Aside from a 3.4 oz. cleaning solution, the kit also includes a pig hair shoe brush and a 8.6" x 8.6" white microfiber towel. Use these to prep the sneaker before applying the solution and to clear away any excesses.

Works For Most Types Of Sneakers

Sneakers come in a wide range of styles and can be made from various types of materials. And if you're like most, you probably have a few of these stocked in your cabinet or rack. The good news is that you don't need different cleaning kits for each of them.

This kit works on different types of sneaker fabrics. You can use it on nylon, canvas, vinyl, mesh, cotton, or rubber and it'll be just as effective

A Great Gift For Sneakerheads

A Great Gift For Sneakerheads

Looking for a present for that sneaker-loving family member or friend for their birthday or the holidays? Why not give them a gift that will help them care for their prized sneaker collection?

This sneaker cleaner kit is a practical and utilitarian gift that they'll surely appreciate. It's complete, effective, and comes in a Zip lock case or packaging that's ready to be handed out.
Frequently Asked Questions
Is the cleaning solution safe for all types of sneakers?

Yes, it's designed to be safe on most shoe fabrics, including white, leather, suede, nubuck, and boots.
Can the kit be used for footwear other than sneakers?

While it's optimized for sneakers, it can be effective on various types of shoes.
How do I use the cleaning solution effectively?

Apply a small amount of solution to the brush or directly on the shoe, scrub gently, and wipe off with the towel.
Is the kit suitable for travel?

Yes, it's compact and perfect for on-the-go shoe maintenance.
Will the cleaning solution alter the color or texture of my sneakers?

The solution is formulated to clean without causing fading or stiffening of the fabric.
How much cleaning solution is provided in the kit?

The kit includes a 3.4 oz. bottle of cleaning solution.
Is the kit easy to use for beginners?

Yes, it's straightforward and user-friendly for both newbies and seasoned sneakerheads.
Can the kit remove tough stains and dirt?

Yes, the solution and brush are effective in removing tough stains and grime.
How do I store the kit when not in use?

Keep it in its case in a cool, dry place.
Is this kit environmentally friendly?

The kit is designed with consideration for environmental impact, but always check individual components for specific eco-friendly properties.
Perfect gift for our sneaker head
My grandson is obsessed with keeping his sneakers looking perfect. This kit was just what he needed fir traveling. He said it was one of his favorite gifts of the summer.
Better Than Expected
Happy to say this cleaner works great. I was able to clean my white sneakers with ease and quickly. It works on sneakers suede and boots. Smells scent almost fruity mixed with florals. Solution seems to go a long way doesn't take much to soap up. It comes with a 3.5 oz. cleaning solution, boar bristles brush and towel. Overall, I like it and will continue to use this for quick and easy spot cleaning.
Works Well
This kit is great for travel. You can poke it in with your privies in its original zip bag and it does not drip or damage anything. It is nice to have presentable sneakers (and it works on things like shoes and sandals as well) when you arrive somewhere for a meeting, etc.
Works super well!
My son gets his shoes pretty messy and this helps so much to keep them look nice. Takes stains out wonderfully!